60,000 Q&A topics -- Education, Aloha, & Fun
topic 56353
How to do copper electroforming onto wax surface
A discussion started in 2010 but continuing through 2019
December 20, 2010
Q. I started to work shape with wax for Art. I would like to copper plate the surface to a good thickness and then remove the wax with heat and replace the backing with clay.

Here is the problem that I can anticipate....How to make my wax conductive?

one solution is to buy this very expensive conductive paint and apply it to the surface prior to copper plating.

I also have considered using a Lacquer and covering it with carbon powder from a laser printer/photocopy machine.

Do you have any suggestions before I make a big mess or need to re-mortgage my house.

Thank you

Pierre
Pierre Bolduc
starving artist - Bragg Creek, Alberta, Canada
---
December 24, 2010
A. Simplest and cheapest solution is bronze powder(finest),second solution is graphite powder ,and third is to leaf gilt it with imitation gold leaf.Hope it helps and good luck!
Goran Budija
- Zagreb,Croatia
---
September 17, 2011
A. Gold powder or bronze powder, mixed 2 parts lacquer to 3 parts powder to 16 parts thinner.
Majed janineh
[last name deleted for privacy by Editor]
holy land arts - Bethlehem, Palestine
---
---
August 28, 2019
Q. Hello
At present, I'm conducting a copper electroforming process on a wax model which got coated with a conductive paint. I've used copper sulphate solution as an electrolyte and copper pipes as electrode. With a basic 2v, I've started the process. After some time a yellow powderish layer was formed on the model and I don't why this is happened.
Can anyone explain me what the mistake I've done.
Aditya Ram
Research - India
---
September 15, 2019
A. Hello Aditya,
Is the acid copper solution proprietary or made up by you? Secondly, high phosphorus copper anodes should be used in acid copper plating and anodes should be bagged. Solution agitation? Anode to cathode spacing? Temperature? Brightener? I would recommend you do some research on acid copper plating, and provide us with your total process.
Mark Baker
Electronic Plating - Winston Salem, North Carolina USA
---
---
September 13, 2019
Q. What are the consequences of using a non-phosphorized anodes in a copper sulfate electroplating bath?

I do a fair amount of copper sulfate plating and electroforming in my studio as a Hobbyist. Typically I use type M water pipes as my anodes. Recently I picked up some nice and heavy scrap bus bar and large gauge wires that I would like to use for my anode but I'm wondering if there are a serious down side to using this scrap.
Please advise as I could save a lot of money here! Thank you in advance!
Raphael Lyon
artist - Brooklyn, New York, Usa
---
September 2019
A. Hi Raphael. Professional electroplaters usually have scrap bus bar hanging around, and have far more temptation to try to save money than an artist, yet they use the proper anodes anyway. So the answer is that bus bar (electrolytically pure copper) does not constitute a proper anode.
On the other hand, I think that an artist usually working with type M copper water pipe as an anode will probably not see any any difference or any additional problem from using bus bar copper instead; they are both 99.9% pure copper and quite similar :-)
I have puzzled for a while about how artists & hobbyists can sometimes get successful results from approaches that professionals eschew. Although part of it is that professionals demand compliance with much more rigorous testing, I now believe that another part of the difference is that professionals are always striving for "equilibrium" processes because they will use the same solution sometimes for years, and they need things to not shift on them and solutions to not grow contaminated, and not require manual intervention like removing anodes, cleaning them, etc. -- whereas artists & hobbyists are often satisfied with "one offs", and not really caring about the condition of the solution after they have plated their part. Non-phosphorized anodes dissolve too fast, raising the copper concentration, and at a certain point what happens is the anodes cannot dissolve as required and become 'passive'. You might find topics 31751 "Copper anodes are passivating" and 47124 "Passive anodes in the acid copper plating bath" interesting.
Regards,
Ted Mooney, P.E. RET
finishing.com - Pine Beach, New Jersey
Aloha -- an idea worth spreading
---
September 16, 2019

Thanks Ted. That is the kind of simple yet thorough help that I've come to expect from this site. I believe you are absolutely right- in particular the passivating problem! This happens to me- I'm often at pains to figure out why and usually just try watering down the solution until it works again! As far as corrosion or smut on the anode I DO clean them off occasionally but more importantly I don't use a bubbler so all that stuff ends up at the bottom of the tank rather than all over my work. Thanks again!
Raphael Lyon
- Brooklyn, New York USA
---
September 2019
When you get a chance, give us a link or send us a pic of something you copper plated or electroformed :-)
Regards,
Ted Mooney, P.E. RET
finishing.com - Pine Beach, New Jersey
Aloha -- an idea worth spreading
---
September 21, 2019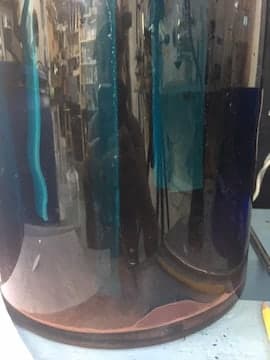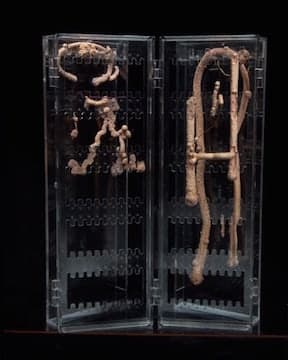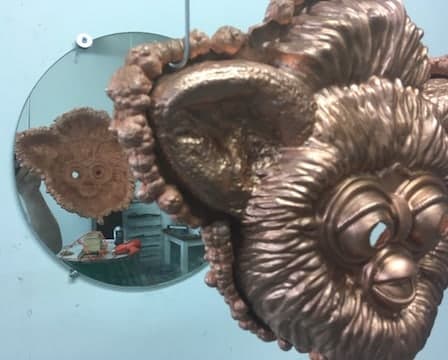 nb
I'd like to follow up briefly about non-phosphorized anodes.

Ive noticed that the main problem is that they drop a lot of copper dust on the bottom of the tank, its one of the reasons I don't use a circulation/ bubbler- (as is probably likely with other hobbyists) Would it be possible to compensate for the lack of phosphorous in the anodes by simply adding some phosphoric acid into the solution? Its easily come by and quite inexpensive .
Raphael Lyon
[returning]
- Brooklyn, New York USA
---
September 2019
A. Hi again Raphael. Thanks for the pictures.
I doubt that adding phosphoric acid will improve anything.
Professionals use polypropylene anode bags (pillowcases) to contain those specs of copper metal/powder.
Regards,
Ted Mooney, P.E. RET
finishing.com - Pine Beach, New Jersey
Aloha -- an idea worth spreading