Where the world gathers for
plating, anodizing, & finishing Q&As since 1989
-----
Help with antique galvanized bathtub restoration

Q. How do you refinish a galvanized old bathtub and do you put any thing on the inside and what if you have rust inside, what can I do to fix it. I do want to use the bathtub. Help, please.
Deb Harrington
- Ottumwa, Iowa
2001
---
A. Hi Deb. If it's rusted inside it's probably best to paint the inside. Scrub off whatever rust and scum you can with a scrub brush and Spic 'n Span [affil link] or anything like that, then a primer designed for galvanized metal -->
then whatever color paint you want.
Luck & Regards,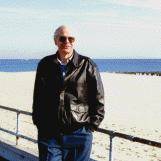 Ted Mooney
, P.E.
Striving to live Aloha
finishing.com - Pine Beach, New Jersey
---
---
RFQ: Hello,

I have an antique zinc bathtub that has holes in the bottom of it. I am looking for anyone who can lead me in the right direction to get it repaired. I live in California but am willing to send it anywhere and pick it up.

Any help would greatly be appreciated.
Debra G
[last name deleted for privacy by Editor]
- Los Angeles, California
2001
Sorry, this RFQ is outdated, but technical replies are welcome. No public brand/source suggestions please ( huh? why?)
---
---
Q. I also have an antique galvanized bathtub on cast iron legs that needs refinishing.and would like to know the best way to approach restoration.
Also would like to trade photos of my tub with others.

Jim Lanier "World Famous Plumber"
Jim Lanier
Plumber - Tulsa, Oklahoma USA
2003
----
Ed. note: We're happy to post your photos here, Jim, and anyone else's. Attach them in e-mail to mooney@finishing.com


---
---
Q. We too have an old galvanized bathtub on legs. It has peeling white paint on it. Thought an auto body repair shop might strip it and repaint it...might be very cool.
Does anyone know the era of these tubs?
Thanks,
Marilyn Wilkie
- Dexter, Michigan, USA
2005
---
---
Q. I hope you can help me from making a mistake. I am in the process of restoring my grandmother's farm house (built in 1868) and have questions and need answers. I would like to install an antique cowboy galvanized bathtub (with an oak rim) which is a little rusted. How do I arrest the rust with out discoloring the galvanized metal? I've read "lemon" will discolor the metal. Do I use Naval Jelly? I have also found out that the tub will continue to put off (on the surface) a dusty powder to the touch, can I eliminate this discharge? the original tub(s) were left with the galvanized metal exposed. Would it be a mistake to paint the surface, and what kind of primer and paint do I use? I thought of using "auto" paint, applied by a auto body shop, ya or na? My last question is if the seams leak how do I repair this problem and with what materials?

Looking forward to hear your advise.
Betsy Klimmek
Home restoration questions - Sisseton, South Dakota, U.S.A.
June 3, 2010
A. Try 5-10% ammonium citrate solution (50-100 gm citric acid/1 lit water+add some ammonia+pH must be 3,5 for rusted spots, or 7 for galvanized surface).Solution for iron must be used on iron and second solution must be used on galvanized parts.Instead that you can use WD 40 or Balistol (oil based rust removers)+lot of elbow grease.Hope it helps and good luck!
Goran Budija
- Cerovski vrh Croatia
A. If you can separate the tub from any other components (wooden trim etc), then I suggest you get it re-galvanized.
This will arrest the rust, and likely seal any leaky seams (unless gross gaps), and you'll end up with a newly galvanized finish. If you want to accelerate the aging after this (it'll be shiny zinc initially), there are ways to do that explained elsewhere on this forum.

Geoff Crowley
Crithwood Ltd.
Westfield, Scotland, UK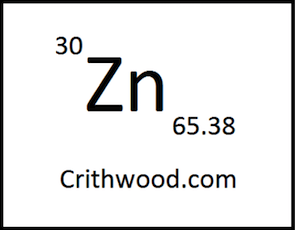 ---
---
RFQ: Does anyone know of a re-galvanizing company/person in the area of South Dakota, Nebraska and west of these states? I would appreciate feed back ASAP
Betsy Klimmek
[returning]
- Sisseton, South Dakota U.S.A.
July 10, 2010
Sorry, this RFQ is outdated, but technical replies are welcome. No public brand/source suggestions please ( huh? why?)
A. Ms. Betsy

I agree with Geoff.
There are no galvanizers in South Dakota. There are several in central and eastern Nebraska including: Hastings, Atkinson, West Point, McCook, and Valley.

Regards,
Dr. Thomas H. Cook
Galvanizing Consultant - Hot Springs, South Dakota, USA
---
---
RFQ: Is there anyone near the Kansas City, MO area that can repair an antique 1800's galvanized cowboy bathtub? The fixture is newer, but the drain is original. There is a large 1'x1' fiberglassed patch job on the bottom and in order to cover up the rust and patch job they painted the outside of the tub and glazed the inside. The cast iron feet, drain, and oak trim are in excellent condition.
Jackie Schwab
- Kansas City, Missouri, USA
June 25, 2019
Sorry, this RFQ is outdated, but technical replies are welcome. No public brand/source suggestions please ( huh? why?)
---
RFQ: Wondering if you found anyone in the KC area as I just acquired one of these tubs that needs some attention as well.
Kelley Cummings
- Fort Scott, Kansas
July 10, 2019
Sorry, this RFQ is outdated, but technical replies are welcome. No public brand/source suggestions please ( huh? why?)
---
---
Assortment of old enamel bathroom appliances in Sardinia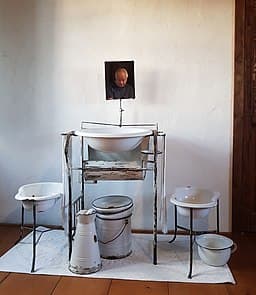 Etan J. Tal, CC BY-SA 4.0, https://creativecommons.org/licenses/by-sa/4.0, via Wikimedia Commons
Q. I've got an old metal baby bathtub with white enamel that is chipped in various places. What is the best way to resurface this so it will be durable and long lasting?
Teresa McFarlanf
- Lone Pine California
November 18, 2020
A. Hi Teresa. The original finish was probably vitreous enamel (porcelain enamel) which is essentially melted glass rather than paint, and something a consumer won't be able to do. Unless you can afford a professional restoration, appliance enamel is probably the best you can do.
Luck & Regards,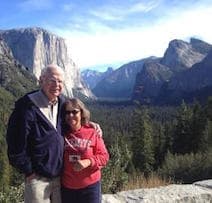 Ted Mooney
, P.E. RET
Striving to live Aloha
finishing.com - Pine Beach, New Jersey