Where the world gathers for
plating, anodizing, & finishing Q&As since 1989
-----
Hard chrome plating chipped off
Q. Q.I'm from Bangalore and we do hard chrome plating for piston rods.
We are facing chip off issue at the chamfer edges.
Base material is C45.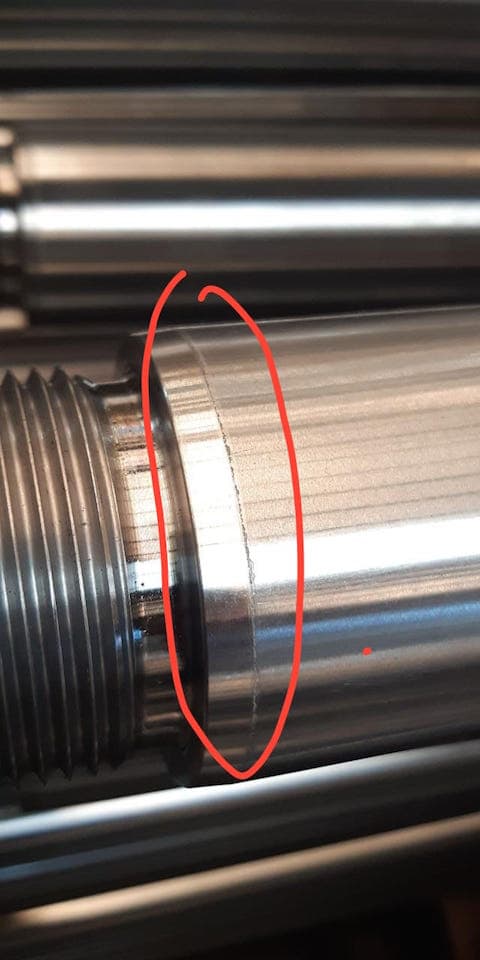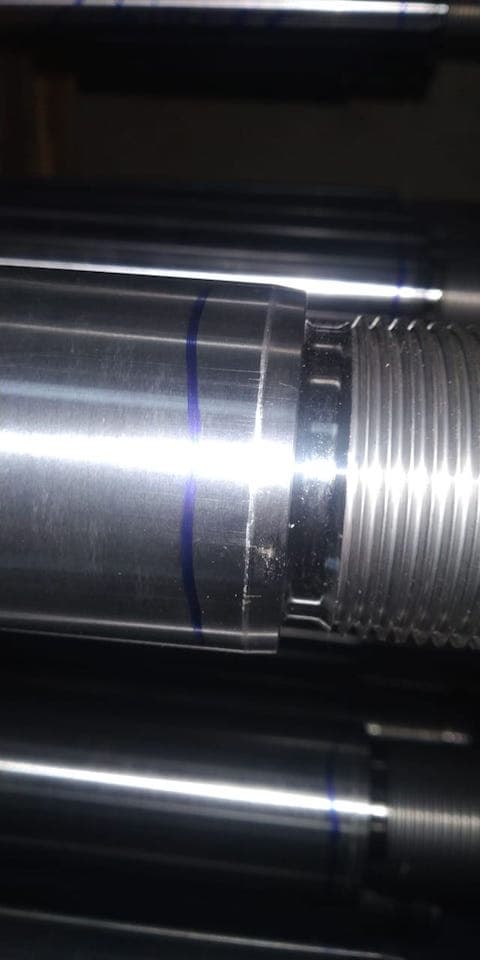 Can you anybody please help to come out from this problem.
Raham Thulla
Employee - Bangalore, India
December 30, 2019
A. Your fixturing is wrong.Consult somebody who is experienced in HARD CHROME plating.
Avinash Vidhate
- Maharashtra, India
A. I think it's a problem with the pre-worked piece. It happens to us on stainless steel pistons when the seat for the chrome plating is not well radiated.
In rectification this problem is encountered.
Andrea Mar
- italia
August 31, 2022
---
---
---
Closely related historical posts, oldest first ...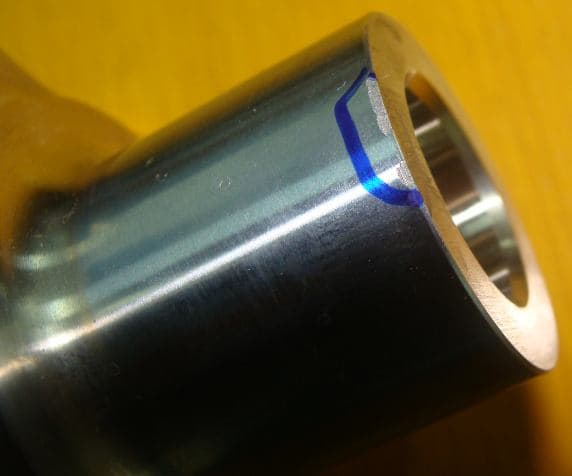 Q. I have a problem with the trunion of Chromed part. The tip of the trunnion has been peeled off, more clearly when the tip of the chrome was polished to form a radius at the tip precisely at the end of the chamfer. Material is Stainless.

I have done several actions, but the results still exist, for example:
Modification to the masking equipment,
Controlling the rinsing solutions,
Changing the method of current flow,
Controlling the anode and cathode.

My Question is:
for hard chrome plating is there any method for checking against the surface which has the possibility of peeling, if any, whether the method should be used?
What exactly is causing the hard chrome peeling?
Adi Nugraha
Quality Engineer - West Java, Bandung, Indonesia
May 21, 2010
---
A. I would call that "edge chipping". The first fix that I would try is to put a much larger radius on the corner lip of the part.
You are extremely probably getting a gross excess of plate at that point. Proper conforming anodes will reduce or eliminate that problem. Thief or robber cathode may do the trick, but will take a bit of racking experience and a bit of trial and error to find the right fix.
Lastly, it appears that the part is ground. Bad grinding or wrong grinding material/practices can ruin any chrome, regardless of how good it is. That is because the part gets very very hot for a fraction of a second under the wheel. Tiny cuts and the proper wheel with great cooling flow will help.
Since the part is stainless, you may need a better etch or even a woods nickel strike.

James Watts




- Navarre, Florida






A. I believe that to get really good adhesion of hard chromium to stainless a Woods nickel strike is required. Nickel chloride 240 and HCl 250 mL/L, 3-10 A/dm2 (30-100 A/sq ft.)




Don Baudrand




Consultant - Poulsbo, Washington


(Don is co-author of "Plating on Plastics" [affil link to the book on: Amazon or AbeBooks ])


---
"Electrodeposition of Chromium from Chromic Acid Solutions"
by George Dubpernell"
from Abe Books
or

Affil. Link
Your purchases make finishing.com possible
A. Hi,
What I can se of your picture is that at the etching structure is good enough to get a good adhesion. I think at the part is not activated in the chrome solution correctly.

A grinding operation should not remove the chrome from the part.

Try to activate the part in the chrome solution 1,8 Amp / dm2 for 5 minutes go to 2,5 Amp/dm2 for 5 minutes after that ramp it up to 35 Amp/ dm2 or what your parameters is.

If you etch in a another chrome solution don't rinse the part before the plating solution.

The most important it to do a correct activation is in the chrome to get a good adhesion.

Best regards




Anders Sundman


4th Generation Surface Engineering
Consultant - Arvika,
Sweden




---

Q. I appreciate your responses.
Actually, the edge of the part is formed to radius 0,5 after hard chrome using fine sandpaper.
Before hard chrome the shape of edge is chamfer -- does this have an effect?
Usually the indication appears after hard chrome operation, it's like a bulb at the edge; sometimes we found a hollow surface at the edge area.
If this point has gross excess, what contaminated the edge?
This is the pre-treatment process we do:
- Mech wash
- Masking
- Lotoxane Cleaning
- Alkali Cleaning
- Rinsing D/O
- Rinsing O/F
- Rinsing C/F
- Sulphuric
- Rinsing D/O; O/F; C/F
What's the requirement for woods nickel strike? Where do I place the process?
Thanks for your advice.

Adi Nugraha

[returning]




- Bandung, West Java, Indonesia




May 26, 2010




A. From what I see, I am of the view that the fault lies in post plating grinding operation; use specific grinding wheel with lots of coolant as there is a lot of localised heat that is generated when you grind, and lastly: Never start Grinding from the beginning of plating but plunge the wheel a few mm inside and take a cut inside out. Good luck.
Mahendra Gargatti
- BELGAUM, KARNATAKA, India
---
---
Q. Hello Everyone.

We are into hard chrome plating of barrel bore of small arms. We are facing a problem of chip-off when the gun is fired. Can someone kindly suggest the cause of this and remedial measures that can be taken.
Sahil Arora
Small Arms Factory - kanpur, UP, India
July 20, 2017
---
? Hi cousin Sahil. I think you probably need to start by telling us whether the barrels are aluminum (what grade), stainless (what grade), or carbon steel (what grade). Thanks.
Regards,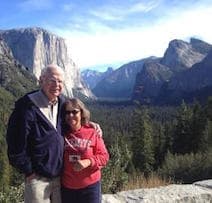 Ted Mooney
, P.E. RET
Striving to live Aloha
finishing.com - Pine Beach, New Jersey
---
---
Chrome chipping in Rails of 3 piece Oil Ring
Q. I work in a firm where we manufacture piston rings. We are facing an issue of chrome chipping in Side Rails of 3 piece Oil rings. We assemble the rings in the form of mandrel. our bath is sulphate bath. We use ultrasonic and jet wash for initial cleaning and we also have a separate tank for etching.
Bath density - 18 Bé to 22 Bé
Current density - 4 ASI
Temp - 58-62 °C
Balaji tv
Engineer - Chennai, India
October 25, 2017