Where the world gathers for
plating, anodizing, & finishing Q&As since 1989
-----
Why does nitric acid corrode nickel faster than sulfuric acid?
May 10, 2010
Q. Why can 50% nitric acid corrode nickel at a faster rate compared to 50% sulphuric acid?
Cia Ming Thong
Industrialist - Kuching, Sarawak, Malaysia
---
May 10, 2010
A. Hi, Cia. I am not a chemist but my understanding is that nitric acid is an oxidizing agent at all concentrations whereas sulfuric acid is just a mineral acid, rather than an oxidizing agent, except at very high concentration.

Regards,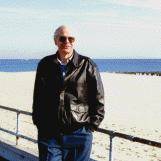 Ted Mooney
, P.E.
Striving to live Aloha
finishing.com - Pine Beach, New Jersey
---
May 11, 2010
A. Stripping nickel in acid is a mass transfer limited process. The nickel nitrate needs to diffuse into the bulk solution and the evolved hydrogen bubbles need to float out of the bath.

If you compare the viscosity of sulfuric acid to nitric acid, you'll notice sulfuric is a lot thicker. Comparing viscosities tends to give you a good idea which liquid has better diffusivity, which lends way to the fact that mass transfer is not happening as readily in sulfuric acid.
Robert H Kinner
- Toledo, Ohio, USA
---
May 13, 2010
A. What Ted says about nitric acid being an oxidising agent is correct. Plus all nitrates are soluble and hence more of the corrosion products go into solution allowing the acid to attack the underlying metal.
Ciaron Murphy
- South Wales, United Kingdom
---
May 18, 2010
Q. Hi Ted, at low concentration, sulfuric acid IS a weaker oxidizing agent compared to nitric acid. But what I want to know is 50% nitric acid to 50% sulfuric acid comparison. Is 50% sulfuric acidalso a weaker oxidizing agent compared to 50% nitric acid? If it is correct, why? In my understanding, oxidizing property directly depends on the strength of oxidizing species (NO3- for nitric acid and SO4-2 for sulfuric acid). Is there any scientific idea to explain it?

Hi Robert, viscosity is a physical property, it cannot be used to explain the chemical property like corrosion. So, according to idea that you have mentioned, what chemistry concept can you use to convince me? Please against it if you think my statement is incorrect...

Hi Ciaron, not only nitrate ion, sulfate ion is also soluble in water, both nitric and sulfuric acid at 50% v/v can produce hydrogen ions to attack the metal, what I want to study is the different rates of metal corrosion in nitric and sulfuric acid.

Thanks.
Cia Ming Thong
[returning]
- Kuching, Sarawak, Malaysia
---
May 18, 2010
A. The redox reaction is nickel metal + nitrate ion react to form nickel cation and nitrite ion. Nickel is oxidized and nitrate (the oxidizing agent in this case) is reduced. This reaction in acidic conditions just happens more favorably compared to a reaction of nickel with sulfate in acidic conditions. You are correct in the sense that it is not a question of solubility or viscosity, it's just a matter of relative rates of reaction in the redox equations.

Jon Barrows
, MSF, EHSSC
GOAD Company

Independence, Missouri
---
May 25, 2010
A. Cia,

Corrosion is not a chemical property. It is the wearing away of a material via dissolution. In a chemical reaction which involves solid/fluid interface, physical properties, such as diffusivity can be very important.

There are two types of corrosion reactions:
-kinetics limited corrosion - this is essentially corrosion which functions under Faraday's law. The anode and cathode will be located separately.

-diffusion limited corrosion - the anode and cathode are located at the same interface. In order for nickel to dissolve further, the nickel nitrate which has formed must first dissolve off of the surface. This is exactly what happens when you dip metal into acid, and why 50% sulfuric etches faster than 98% sulfuric.

Another thing to note is that the oxidation state of nitrogen is +5 for nitric acid and +5 for nickel nitrate. In order for a compound to act as an oxidizing agent, its oxidation state must be reduced as a product of the reaction. NO3- is an oxidizer when it becomes NO2-, NO, N2, etc. The oxidizer in both situations is H+, which gets reduced to Hydrogen. The Gibbs free energy of nickel nitrate is lower than that of nickel sulfate, which leads to a greater driving force, but this only gives information about equilibrium and not necessarily kinetics.

From a kinetics standpoint, proton dissociation becomes crucial. In order for redox to occur, a proton must come in contact with the metal. During proton transfer, ion transfer must also occur to minimize electrostatic forces (remember, the reaction site must act as the anode and the cathode all at once). This will happen most readily when the acid has not dissociated. The pka of the first proton on sulfuric acid (sulfuric is diprotic) is about -3. The pka of nitric acid is about 1.6, which means it is around 25 times more likely to occur in its undissociated form than sulfuric acid.
Robert H Kinner
- Toledo, Ohio, USA
---
---
Can we make Nickel Sulphate without Nitric Acid
July 24, 2015
Q. Is it possible to dissolve nickel in sulfuric acid without using nitric acid?
Vikas Devani
want to manufacture it - Ahmedabad,Gujarat, India