topic 5563
Non-Pitter for Nickel Sulfamate Solution
2000
I am doing heavy Ni plate around 0.100" in a sulfamate solution. Pitting of the sort caused by bubbles is a problem I battle constantly. I use air and flow agitation. None of the proprietary anti-pitters have done the job I want. It is requiring a tremendous amount of wetter to keep the surface tension at a low enough level for my rather unique application. The organic load becomes quite high requiring c-treatment. I have been experimenting in the lab with sodium lauryl sulfate along with some other additives. Foaming is a problem. I was hoping to find a good generic recipe I could tweak to my needs.
Patrick McLaughlin
- Oil City, Pennsylvania, USA
---
2000
Have you tried SNAP-AM from Macdermid? Do you constantly filter the tank? This will add to the total agitation. I normally used a 10u filter, but a 25u filter will probably work and give you a lot higher flow. This flow could probably be directed at the problem area.
By air agitation, most people mean a tube(s) on the bottom of the tank. By making a tube out of tygon or similar tubing , bending a SS rod to a desired shape, and wiring the tube to the rod, you can get the air agitation directed to the most needed place. Holes can be put in the tube with a hot piece of wire or by drilling slowly. A ss screw will plug any wrongly placed holes. I would run the tank at 120F. Less stress and less problem with pits.
James Watts
- Navarre, Florida
---
2000
Hi Patrick,
I think it is very difficult to plate 0,100 inch in a nickel sulfamate without pitting. I suggest you to do a machining after 0,39 inch and plate additionally for 0,39 inch. Because when you plate so much inch the nickel deposit tends to make pitting when the current will change a little over the parts area and the time in the solution is so long. I suggest also you should plate with a low current to make a better results. I don't believe the pitting depends on the wetting additive or the agitation in the solution. Best regards Anders Sundman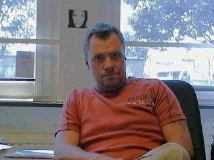 Anders Sundman
3rd Generation in Plating
Consultant - Arvika, Sweden


If you have a question in mind which seems off topic, please Search the Site