Where the world gathers for
plating, anodizing, & finishing Q&As since 1989
-----
Nickel sulfamate pitting problem
February 6, 2010
Q. Our customer is experiencing pitted nickel deposits from a proprietary nickel sulfamate bath. The bath is a new make up. The parameters are as follows: Nickel metal- 15.5 oz. per gallon, nickel chloride 0.1 oz. per gallon, boric acid 5.5 oz. per gallon and pH 4.1, temperature 140 °F. The plating line is reel to reel plating on carbon steel wire using S round nickel anodes in titanium anode baskets. The cd is approx. 60 asd. The plating tank has air agitation and gravity overflow from the wire passes on each end of the tank. The pits have no visible tail and are concentric circles. There is no wetting agent in the tank since earlier testing using a beta cell indicated it was not necessary. The pre-treatment is an alkaline soak clean, alkaline electroclean and sulfamic acid salt with appropriate rinses. The line speed is 18 meters/minute and the wire is about 3/4" from the anodes on both sides. We increased the boric acid 0.5 oz. per gallon and lowered the pH to 3.9 and the problem got worse. Does anyone have suggestions besides the obvious adding wetting agent? We can do the WA test in a Hull Cell. Thanks.
Doug Trageser
- Chattanooga, Tennessee USA
---
February 9, 2010




Doug,

A couple of suggestions

1. The drag in from the sulfamic solution might be high. this would cause the nickel plating efficiency to drop where the wire first enters the nickel station and cause some gassing that can lead to pits.

2. The boric acid could be too high. When the cold wire enters the nickel tank the boric acid can crystallize out on the wire. The boric is non conductive which will also lead too pits

3. It might be that a wetting agent is needed. Hard to duplicate a high speed reel to reel process in a hull cell.




Pat Mentone




St Paul, Minnesota






---

February 9, 2010




A. Hi Doug. Commercial nickel sulfamate in the last 15 years has not been dummied and carbon treated to the extent that the old popular trade name had been treated. Even with perfect sulfamate concentrate with use at your higher temps and higher c.d., breakdown product from the SN and from the S-rounds lower the efficiency and then the hydrogen starts to cling to the cathode. In the real world without continuous dummying and continuous sulfur free carbon it is virtually impossible to operate without a surfactant.




Robert H Probert




Robert H Probert Technical Services





Garner, North Carolina





adv.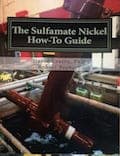 "The Sulfamate Nickel How-To Guide"

by David Crotty, PhD
& Robert Probert

published Oct. 2018
$89 plus shipping