60,000 Q&A topics -- Education, Aloha, & Fun
topic 54023
Baked zinc plating vs. zinc without bake
A discussion started in 2010 but continuing through 2020
January 5, 2010
Q. I need to know what the differences with parts being plated zinc and baked and not baked. Is there a visual difference between these two plating styles?
Cathie Magub
Buyer - Phx, Arizona, USA
---
January 6, 2010
A. Hi, Cathie. I don't think you would be able to see the difference. The baking is not for appearance, nor corrosion resistance, nor any other property of the zinc coating actually. Rather, the plating process causes hydrogen embrittlement of hardened steel, and the baking is to drive out the hydrogen. Soft steel does not need or get baking, and hardened steel requires it.
Regards,
Ted Mooney, P.E.
finishing.com - Pine Beach, New Jersey
Striving to live Aloha
---
January 8, 2010
A. Hi Cathie,
If the base material strength(before plating ) is more than 1000 Mpa we need to do the Baking after zinc plating
and before passivation.

For both (soft and Hard) material we will do only the passivation as a final process.i think we are not able to see any differance. may be the passivation bath maintenance will be different while doing the two different parts.

Zinc plating is mainly for Corrosion resistance. this is not for 100 % appearance process.

If you want a Better appearance part. you need to go for powder or paint or any organic coating.
Kannan Boopathi
- Salem,Tami Nadu,India
---
---
Frosted zinc after baking
February 28, 2020
Q. When we are baking zinc plated parts a lot of times they are coming out of the oven frosted. What is causing this issue? Any help is appreciated!!
Matthew Gilberg
- fridley Minnesota
---
February 2020
A. Hi Matthew. A picture is worth a thousand words -- please send a good one to mooney@finishing.com for posting here. But if by frosted you mean like a window pane, with a crystal pattern to the zinc, like you'd see on a galvanized garbage can, it sounds like your hydrogen de-embrittlement oven is way too hot.
You don't chromate before baking, do you?
Regards,
Ted Mooney, P.E. RET
finishing.com - Pine Beach, New Jersey
Aloha -- an idea worth spreading
---
February 28, 2020
Q. To answer your question, we do chromate before baking. This is a hex yellow. I know this is not the correct way. It's my understanding that you can bake trichromates and sometimes we have frosting on those too. We bake our parts at 375°F and our ovens are calibrated on a regular basis.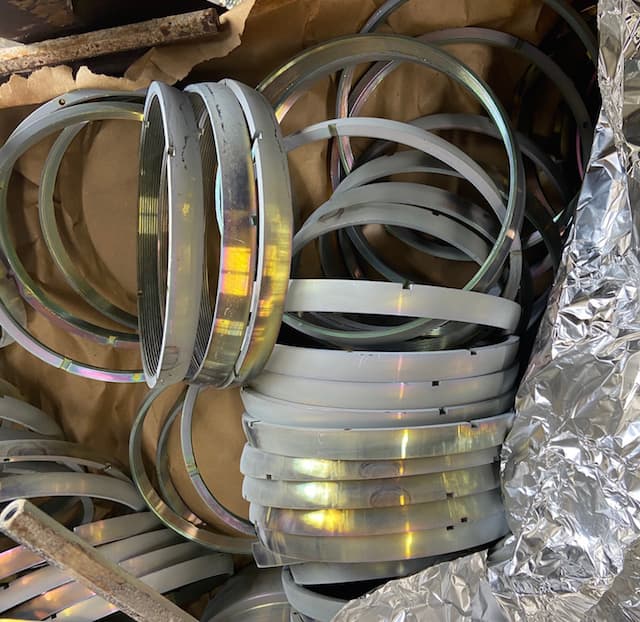 Thanks for your time and input.
Matthew Gilberg
[returning]
- fridley Minnesota
---
March 17, 2020
A. Hello Matthew,

We bake trivalent chromates without not so much discoloration nor brightness decrease, and we check post bake corrosion resistance regularly.

I would say that dullness you experience post bake could occur by:
- High (peak) temperature
- Too much bake time
- High organics in your zinc bath (often with low adhesion/peeling)
- High temperature in your zinc bath (often with low adhesion/peeling)
- Low chromate thickness / low zinc thickness
- Organic contamination in chromate

We bake our products for two hours at 375 °F immediately after chromating, but if some part shall be baked for more than four hours, you must re plate and chromate post bake, because chromate dehydrates too much in a long bake.

Hope it helps! Best of lucks :)
Daniel Montanes
N. Ferraris S.A. - Cañuelas, Buenos Aires, Argentina