60,000 Q&A topics -- Education, Aloha, & Fun
topic 5422
Electro-Polish Defects
A discussion started in 2000 but continuing through 2019
2000
Q. Hi. My name is Jacqueline Tong. I was reading an earlier message, letter 4795, and I have the same problem. We electropolish stainless steel 316L implant plates, and occasionally we get straight scratches or water stains-like marks on the surfaces. The problem seems to show up at random.
I am trying gather information on all possible causes:
1. If the problem is due to 'gas streaking', how should we correct this?
2. If it is due to contaminants or inclusions in the metal, how can they be identified.
3. Can waxy residues from previous surfaces treatments cause the problem?
4. Can other environmental factors, such as temperature, humidity, etc. be the cause?
Any help will be greatly appreciated. Thanks.
Jacqueline Tong
- Canada
---
2000
Q. Sorry,
I'm not able to help with the above problem, but I have a similar issue. We are electropolishing 316L Stainless steel. Occasionally we find a 'dry grey' contamination on the surface of the steel. It seems to be a mixture of phosphates and sulphates. Just wondering if anyone else has experienced this problem. If so, how can it be fixed?
Ivan Mooney
- Ireland
---
2000
A. To Jacqueline Tong and Ivan Mooney:
Electropolishing defects can be caused by a wide variety of problems in the substrate, the preparatory processes, and in the electropolishing procedures. It is generally not possible to pinpoint the cause of any specific complaint by remote control.
Regards,
Ed Bayha
Metal Coating Process Corporation - Charlotte, North Carolina
---
2000
A. Jacqueline, Ivan,
Most of the "must have" texts have pretty good treatment of electropolishing of stainless steel. The Electroplating Engineering Handbook perhaps being the most thorough. The AESF has an excellent illustrated lecture (slides & text) on electropolishing.
If you can send along some photos of the problems you are encountering you can probably get some better targeted responses. For example, one evidence of gas streaking is the path of the disturbance or "streak" compared to the way the part is racked. One evidence of contaminants would be their location relevant to the machining operations. One evidence of waxy residues would be a water break before electropolishing. Poor rinsing could leave grey salts on the work.
It can be very difficult to troubleshoot a process even when on-site, so I most certainly agree to a good extent with Ed Bayha that it is difficult, and sometimes impossible, to troubleshoot an electropolishing problem by remote control. His implication that you need a certain level of experience and training before you can troubleshoot effectively is a very good point too.
But on the other hand, the same thing can be said about every metal finishing processes we discuss here ... and after many years of such discussions, and receiving thousands of letters of thanks, we are not not about to to concede that posting trouble-shooting questions here is a futility :-)
Ted Mooney, P.E.
finishing.com - Pine Beach, New Jersey
Striving to live Aloha
---
---
June 25, 2019
Q. Last 3 weeks I have a problem to electropolish straight surfaces.
I get stains on the surface.
It's hard to see that on pictures, but I marked the stains as good as I could.

What can I do?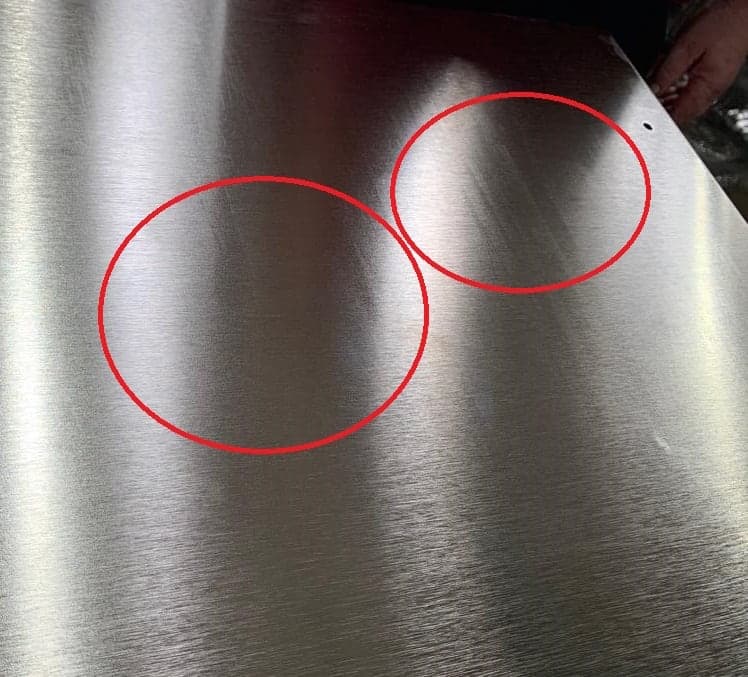 yakov agarunov
- israel
finishing.com is possible thanks to our supporting advertisers, including this shop: