Live! From beautiful Pine Beach New Jersey: Welcome to the world's most popular metal finishing website
topic 53766
Turning Manure into Electricity
A discussion started in 2009 but continuing through 2018
December 1, 2009
Q. Hello,

Recently I came across an article talking about how we could convert methane gas from manure into electricity. This interested me and I read further into the article. I proceeded to look further into the topic and decided to do this topic for science fair. But this article did not tell me about how I would conduct the experiment. So if someone could please tell me how this experiment would be conducted, that would be highly appreciated.

Thank you so much in advance!
Ruchika G
[last name deleted for privacy by Editor]
Student - Mississauga, Ontario, Canada
---
December 2, 2009
A. Hi, Ruchika. Purchasing or building such a generator for your project would probably be prohibitive, and a student project to develop improvements in generator technology would be beyond what is reasonable for you. So I wouldn't worry about the part where you convert the methane into electricity: converting a flammable gas into electricity is trivially simple for everyone to understand. They know that you can burn it in a steam engine connected to a generator, or in an internal combustion engine connected to a generator, or power a gas turbine with it, or feed it into a fuel cell. So personally I wouldn't try to demonstrate that portion of the project …
Rather, I think the heart of the project is to show that you can generate methane from manure or other biomass. If you can generate the methane and capture it in glass bottles similar to the ones used in electrolysis of water experiments, you can use the same "glowing wood splint" to show that you have generated a flammable gas which can be converted to electricity. Start out by looking up the formula for methane gas; then study how and why biomass can be converted to it; then see if there is a practical way to do it on a very small scale. Good luck.
Regards,
Ted Mooney, P.E.
finishing.com
Pine Beach, New Jersey
---
December 6, 2009
A. I think the question is regarding FUEL cell, like the Solid Oxide Fuel Cell, SOFC, who can be feed with methane and directly convert the methane like a battery to electricity.
But this is NOT new, I worked with SOFC in my time in University in 1990.
Google is our friend...
Bo Kønig
- Odense, Denmark
---
December 11, 2009
Q. Hello,

Thank you for your responses. Mr.Mooney, if I were to do that, how would I go about generating methane? Because, that would mean that I would need manure, which is easily accessible, but would I need ACTUAL manure, or would I be able to use the manure that you get at the garden stores too?

And Mr.Konig, do you think that I would somehow be able to obtain a Solid Oxide Fuel Cell? Or would that be way out of my league?

Thank you for the quick answers, this was very helpful!
Ruchika G.
[returning]
- Mississauga, Ontario, Canada
---
December 14, 2009

Hi, Ruchika; sorry I actually don't know. You need to investigate exactly how the reaction works and whether it can only proceed under large scale conditions or not. For example, we know that a compost pile generates heat and gets very warm in the middle, and the warmth assists the breakdown … so I don't know if composting can be done a test tube at a time. I also don't know whether garden store manure is denatured in a way that might inhibit the methane-forming reaction. I also think it's worth researching whether the manure from particular animals differs significantly in methane generation or speed of composting. I'm sure that simply googling "manure to methane" and "biomass to methane" will give you all sorts of great info. Good luck with it.
Regards,
Ted Mooney, P.E.
finishing.com
Pine Beach, New Jersey
---
December 26, 2009
A. I'd say that a solid oxide fuel cell is a bit above your level, though they are soon commercially available, but do a little research on fuel cell, the first was made in I think it was 1889 and those where quite simple, they where working with hydrogen and oxygen …
Bo Kønig
- Odense, Denmark
---
January 27, 2010
A. Methane is a product of decomposition of organic materials. Manure is a very good "feed stock," and all you really need is a closed container, organic material, warmth, and water. You might find this website helpful:

www.habmigern2003.info/biogas/Baron-digester/Baron-digester.htm

In the article he refers to "Gobar" a couple of times. Gobar is a quite well-known small scale development that supplied Indian villagers with a very simple digester that they could use to produce methane cooking fuel from cow dung, instead of burning the dung, which eventually depletes the soil. As I remember it, the original Gobar digesters were nothing but a truck inner tube that could be filled with cow dung and water, and left in the sun.

en.wikipedia.org/wiki/Biogas

Aside from fuel production, a benefit of using a methane digester is that it prevents methane from decomposing manure from getting into the atmosphere, where it is a very destructive greenhouse gas.

As a Canadian, it might interest you to know that one of the growing sources of methane is global warming. As permafrost and frozen bogs warm up, they generate large amounts of methane. Canada and Siberia are the main sites of this. I have wondered if it might be possible to spread large sheets of plastic over muskeg bogs, and catch the methane "swamp gas" as it bubbles to the surface, and they either collect it for fuel use, or at least burn it in a flare.
Stephen Olson
- Belfast, Maine, USA
----
Ed. note May2018: Sorry, the link to habmigern2003 is now broken, but "Baron digester" is an excellent search term.
---
December 9, 2017
A. For those that asked, methane can be produced from kitchen scraps, grass cuttings, animal waste, etc. - I just read that kitchen scraps from an average family can produce enough methane to run a grill for an hour …
I'm interested in learning more about methane generators -- I already have a 3000 watt generator that runs on propane, and a kennel that produces about 100 - 150 lbs of animal waste per day; now to learn enough to link it all together.
Al G Magaw
- Salmo BC Canada
---
---
May 16, 2018
Q. So, no one is going to tell us how to carry out the science fair activity are you? Anyway how can the gas be collected if the person doing the project is at a poor boarding school?
Natasha A
[last name deleted for privacy by Editor]
secondary school - Lusaka, Zambia
---
May 2018
Hi cousin Natasha. One thing people will probably be happy to teach you is that starting your posting with "Thanks Ted, Bo, Stephen, and Al -- but what I'm still wondering is …" will usually be a more effective approach than a whiny & entitled demand on other people's time :-)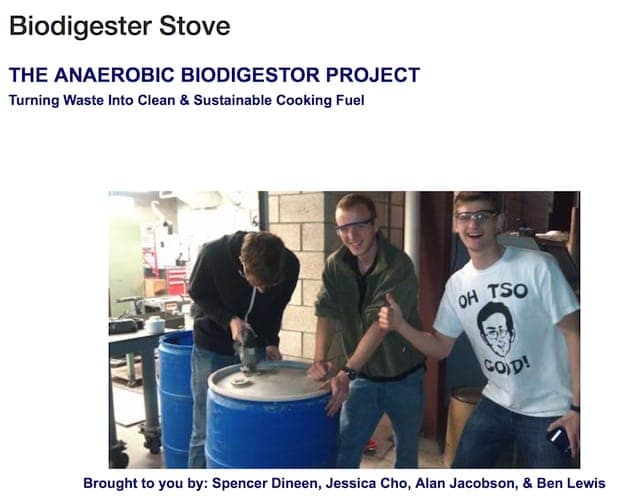 Please follow the previously offered advice for where to go for research info on this, but for specifically how to build a capture device, Stephen's hint about "Baron digester" is a great one. If you google that, you'll find that there there have been any number of good small-scale student-level efforts on this project which you can try to copy, including this interesting one =>

Best of luck.
Regards,
Ted Mooney, P.E. RET
finishing.com
Pine Beach, New Jersey
Striving to live "Aloha"
----
Ed. note Aug. 2018: The illustrated article is no longer available at its original location because wikispaces.com has closed down. But you can view it here.


If you have a question in mind which seems off topic, please Search the Site