topic 5338
Phosphate in CED Bath - Membrane Fouling Effect Of
2000
Q. We have done over 12 Cathodic Electro Deposition Plant Installation. For the first time we are experiencing the problem as below -
Recently about 10 months ago, we commissioned a CED plant. UF System operation for initial five months was very smooth. After the first regeneration , of course due to drop in permeate quantity, the system had an erratic behaviour and needed regeneration every 4 to 7 days.
The paint bath is controlled regularly by the paint supplier. After studying various parameters & membrane supplier's manual, we tested the CED bath sample for phosphate contamination. The recent sample tested for Phosphate content has the phosphate level very high. As against maximum tolerance limit of 550 ppm it has reached 1068 ppm. Is their any way to remove these excessive phosphates from the CED bath? Guidance from Your expert panel shall be appreciated.This will save the 7 kl bath from likely discard. Thanks,
VISWAHNATH R. MIRASHI
- PUNE, MAHARASHTRA, INDIA
---
2000
A. I wish I could help, since nobody else was able to yet. Unfortunately, I don't know much about purifying an electrocoating tank.
But phosphates are quite soluble, and difficult to precipitate even under ideal conditions, let alone in an electrocoating tank. And I don't think there will be any practical way of decomposing the phosphate radical. Some installations use a D.I. rinse before the electrocoating tank, and I may be beginning to understand why. I'll be listening for an answer too, Mr. Mirashi.
Ted Mooney, P.E.
finishing.com
Pine Beach, New Jersey
---
2000
A. About your only hope is to fix the cause of the contamination, which is probably poor final rinsing or excessive phosphate coating as Ted alluded to. A DI rinse is almost mandatory ahead of CED baths to avoid problems like this. Once you correct the cause I'm afraid short of dumping the bath you'll just have to let the symptoms dissipate on their own. Phosphate ions in the coating won't generally cause much problem, but of course you'll have to keep an eye on performance.
As long as phosphate levels are very high, I'd try to keep regenerating the membranes as much as necessary. Then replace them when the problem is over, they'll be aged badly by all the extra regeneration. There is no way no get the phosphate ion out without affecting the paint, maybe your paint vendor can recommend a method and then deal with the results by adding only the affected components, but that's a last resort before dumping the tank.
As for the cause, look first at rinsing, then check your phosphate coating to make sure it is the correct coating weight AND is adherent to the surface. Good luck
Jeff Watson
- Pearland, Texas
---
(2001)
Q. Dear sir:
I WANT TO KNOW ABOUT ED PHOSPHATE PROCESS. IRON AND ZINC PHOSPHATE PROCESS. SIR ALSO WANT TO KNOW ABOUT DEFECTS REMEDIES AND POSSIBLE CAUSES OF PHOSPHATING. WHAT'S EFFECTS OF pH.
Shaikh Rashid Mehboob
- Karachi, Pakistan
---
Digital version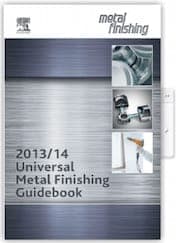 (No longer published, but Elsevier hasn't yet de-commissioned the online version of the Guidebook)
Download it before it disappears.
A. Hi cousin Shaikh. There are several good books on phosphating which cover these issues, including:
"Phosphating & Metal Pretreatment" [link is to info about the book at Amazon] by Freeman,
"Phosphating of Metals" [link is to info about the book at Amazon] by Rausch, and
"Preparation of Metal for Painting" [link is to info about the book at Amazon] by Spring.
For a quick introduction to zinc phosphating and other topics including transition metal coatings as an alternative, you can see recent issues of the Metal Finishing Guidebook =>
Best of luck.
Regards,
Ted Mooney, P.E.
finishing.com
Pine Beach, New Jersey


This public forum has 60,000 threads. If you have a question in mind which seems off topic to this thread, you might prefer to Search the Site