Where the world gathers for
plating, anodizing, & finishing Q&As since 1989
-----
Toxicity of old silver plated cup
Hello

I'd like to know these two aspects of the same problem: is toxic or safe to drink from an old silverplated cup which has some worn spots inside?

Also, would be toxic if I applied a home silver plating solution (you can find them on internet) which adds a layer of pure silver to silver plate, copper, brass, nickel and bronze?

I would be very grateful to your response.

Best Regards
Alex Hinextonw
amateur, learning and studying - London, U.K., Europe
July 13, 2009
A. Hi, Alex. The toxicity of those worn spots where there is no silver would depend on what that substrate is made of that has become exposed ... and I don't think either you or I actually know.
But it may be nickel-silver (that's what silver plated flatware is made of), and in that case it has a bit of an off-taste, but millions of people eat from it regardless.
Yes, you can apply a wipe-on silver plating, and I have no reason to feel that that would dangerous as long as it's well rinsed; we have an "FAQ: Silver plating at Home" on that subject. But it creates only a rather thin layer of silver; for more durability you might wish to send the vase to a plating shop for real silver electroplating. Good luck!
Regards,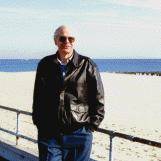 Ted Mooney
, P.E.
Striving to live Aloha
finishing.com - Pine Beach, New Jersey
---
---
Q. I have an old brass cup with the same plating problem, is it toxic?
JaCe Endsley
- Nowata, Oklahoma, USA
August 4, 2019
A. Hi JaCe. A former governor of New Jersey made the point that: " 'Toxic' is a matter of statute, not opinion", and I find it quite unlikely that Oklahoma has ruled such cups "toxic" :-) But realistically, the problem becomes "What exactly do YOU mean by toxic?". It's unlikely that there is any significant lead or cadmium in it unless it is very old or wasn't intended to be used as a cup. And it's probably quite unlikely that there is anything else acutely dangerous in the cup either.
On the other hand, it was intended to have silver plating on it, not to be exposed brass; and brass (a mixture of copper and zinc) is not actually a "food safe" surface. That is, although copper and zinc are essential nutrients not toxins, it is possible for too much of them to dissolve into the liquids under certain conditions like acidity (tomato juice, etc.). I wouldn't hide or dispose of the cup as being poisonous myself, but I would not plan on using it regularly either. But that's just me ... different people have different philosophies and sensibilities on such matters.
Regards,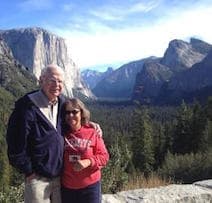 Ted Mooney
, P.E. RET
Striving to live Aloha
finishing.com - Pine Beach, New Jersey
A. Long back ( 50+ years) we used to drink coffee and milk in brass tumblers. However, for cooking, it was mandatory to coat brass with bright metallic tin. Otherwise food would go bad. The coating would gradually wear out with usage and it would be recoated. The coating process was called "Kalai" in Kannada. The experts would come to your door step to do the job. The would make a small fire with charcoal on the road side and blow it with a leather bellow. They would heat the vessel and rub it with a white powder (most probably ammonium chloride) to clean it. Then the hot surface is touched with tip of a tin rod which melts. When a few drops are formed the surface is rapidly rubbed with a cloth. Lo & behold - a bright shining metallic coating is produced! Now it is fit for cooking. The whole process would take not more than ten minutes. This is probably still in practice.
H.R. Prabhakara
- Consultant
Bangalore Plasmatek - Bangalore Karnataka India

Thanks, Prabhakara! I love to hear these Indian names and traditions. We have some threads about that here: try "Historical hand re-tinning of copper cooking utensils?" and "Re-lining/re-tinning of copper pots, pans, & cookware"
Regards,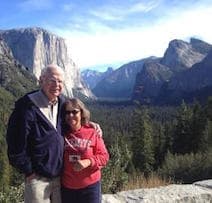 Ted Mooney
, P.E. RET
Striving to live Aloha
finishing.com - Pine Beach, New Jersey
A. That is interesting. We never used copper pots for cooking, only brass with tin coating. But huge copper vessels (called Hande) were used for boiling water (for taking bath) and they were not tinned. In fact, water stored in copper vessels is supposed to be good for drinking. It has antibacterial property like silver.
Terms like food safe, biocompatible, health hazard are not all equivalent or universal. I think they are highly contextual.
PS: Someone has described the process of tinning in Pakistan. This is identical to what I described earlier including the cultural social aspects. Those artisans mostly belonged to one community.
H.R. Prabhakara
- Consultant
Bangalore Plasmatek - Bangalore Karnataka India
---
---
Is corrosion in copper water vessel hazardous?
Q. Sometime back we bought a water filter where water is collected in a copper container after filtering. Filter itself appears to be made of activated carbon. The idea was that copper has antimicrobial properties and water stored in copper vessel is good for health. This is traditional knowledge.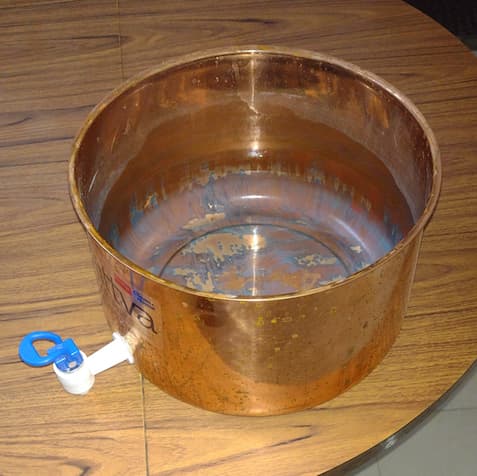 Today we thought of cleaning it. On opening, we find bluish patches typical of copper salts inside. This was to be expected. Especially it could have reacted with bleaching agents in water added by the city supplier of water. Now I am having second thoughts. Is it safe to drink water stored in such corroded a vessel?
HR Prabhakara
- Bangalore Karnataka India
March 3, 2023
A. Hi again, Prabhakara. In America copper is surely the principal piping material for both hot and cold water, so again, water being exposed to copper doesn't strike me as unduly dangerous. But dissolved copper salts are noxious; I believe they have even historically been used as an emetic.
I'd say if you taste nothing metallic and you see no faint blue tint to the water then there is not much to worry about.
Luck & Regards,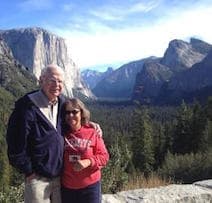 Ted Mooney, P.E. RET
Striving to live Aloha
finishing.com - Pine Beach, New Jersey




Thanks Ted. Water was neither bluish nor tasted metallic. So it must have been safe. Blue deposits could be easily cleaned while blackish oxide coating is tough. It appears cleaning the copper container periodically is the only solution. Still one would like to know the chemical nature of these deposits (chlorides/sulphates/nitrites etc) and how much of these our body can tolerate.
HR Prabhakara
- Bangalore Karnataka India
March 7, 2023
adv.: