World's most popular finishing site / Internet's friendliest corner
topic 52522
Grout cleaner stains on my stainless steel fridge!
A discussion started in 2009 but continuing through 2016 and beyond.
June 30, 2009
Q. I was cleaning the grout in my kitchen floor with this heavy duty grout cleaner that I bought at the big box store. While spraying the cleaner in the grout I did not notice that at the time had accidentally sprayed some on the bottom of my refrigerator, until it was to late! Now I have a "discoloration" all along the bottom of the bottom door. It looks sort of like you sprayed the door with something and then forgot to wipe it off. I tried stainless steel polish, but it didn't work. Help I need to fix this before my husband sees it!
Jessica Perez
hobbyist - Broomall, Pennsylvania, USA
---
July 1, 2009
Give your husband a break, Jessica: pour him a cocktail and start a nice dinner before you let him in the kitchen -- you don't have good news for him :-)
Regards,
Ted Mooney, P.E.
finishing.com - Pine Beach, New Jersey
---
July 8, 2009
adv.
Jessica, this is a very simple and quick fix with Scratch-B-Gone. This user friendly kit will remove everything from light scuff to deep scratch, rust and YES, even, chemical discoloration caused by acids used for grout cleaning. Just use our gray pad assembled as shown on our video and our very own Ultra Shine solution. Many grout cleaning companies have saved themselves many thousands in damage payouts by using our kit. Tell the Hubby you got it covered! Best.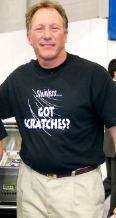 Barry Feinman
BarrysRestoreItAll
Carlsbad, California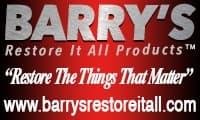 ---
July 9, 2009
Hi, Barry. Glad you have an answer for Jessica. But since you mentioned it, I think consumers should be warned about "grout cleaning". If we're talking about a detergent to whiten and clean old discolored grout lines, that's one thing; but if we're talking about a tile company using acid to remove grout stains and excess grout from tile, that is a disaster -- because it's not only the visible stainless steel that is attacked by the acid vapors, it's all the wiring and internal parts of the appliances as well.
You must remove grout from the surface of tiles by sponging only, even if you have to dump the bucket and do it again a dozen times. Don't let a tile company remove grout haze with muriatic acid; they have to sponge it away before it dries! If you can smell the acid, that's because it's in the air.
Regards,
Ted Mooney, P.E.
finishing.com - Pine Beach, New Jersey
---
July 10, 2009
Ted, you're absolutely correct about the wiring and internal damage.
adv.
However, the surface discoloration caused by corrosive chemicals like Muriatic acid and grout cleaners like Viper are quickly and thoroughly removed with Scratch-B-Gone. We have grout repair guys across the country using our kit to remedy just this problem and saving them from having to replace panels.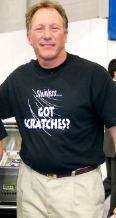 Barry Feinman
BarrysRestoreItAll
Carlsbad, California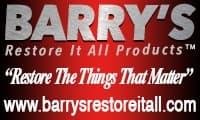 ---
September 18, 2009
A. While not too practical for the entire appliance. Electropolishing will completely remove the black or dull grey surface left after a hydrochloric acid (HCl, Muriatic acid) or HCl-containing cleaning products.
Cliff Kusch
electropolishing shop - North Vancouver, British Columbia, Canada
---
January 27, 2012
A. I used tile cleaner; the cleaner did a great job on my grout but it stained the bottom of my stove; I checked online and I got this site that said I should use baking soda and vinegar ... with smooth sandpaper. I just tried it ....it worked !
Mary Saunders
- Trinidad
---
---
August 29, 2012
Q. Dear Readers,

We are building a new house and for some reason our contractor poured muriatic acid to our tile flooring. All the chrome fixtures were damaged as well as the mirrors. We cleaned all the floors and cabinets with water and baking soda and intend to replace all the fixtures. However, after installing new chrome hanger rails inside the cabinets (more than a month after the incident) we found that its starting to rust once again. My question is, how do I remove all the muriatic acid fume residue in my bathroom? Please help me as I've asked so many people regarding this and no one knows the answer.

Thank you.
Michael Friedman
- New York, New York
---
---
November 13, 2014
A. I entered this blog due to the fact that all my steel appliances were stained badly by a grout cleaning chemical that was sprayed unto the surfaces.
adv.
I read the advice and ordered Scratch-B-Gone thinking i would lose my time with this product but never lost hope. I saw the video on youtube, followed the instructions and I was amazed! The dark spots from the chemical residue simply vanished like magic. Well i did have to use arm force in a straight line following the same direction as the original grain, but it was awesome. I even took a before & after picture if anyone needs proof.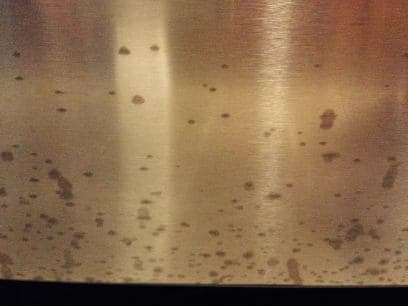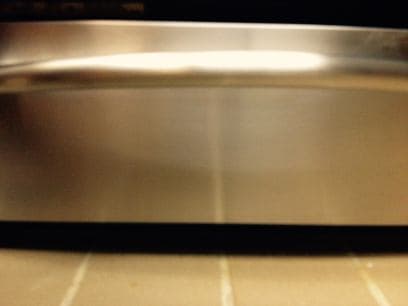 "
Thank you for the advice, will recommend this product to anyone interested.
My regards to all
NORA MORRISON
illustrator and designer - Boca Raton, Florida, USA
---
November 2014

Hi Nora. Thanks for the nice photos and careful fix!
But readers, we don't print "testimonials" because the internet is too anonymous; we've had many postings where the IP address of a supposed "satisfied customer" was the same as a company's website. What salesperson can resist posting free ads for his product? So, unfortunately, testimonials from strangers are always suspect :-(
Therefore if it's a testimonial to a product from one of our supporting advertisers, we label it as an ad; even though it probably is from a real satisfied customer, we're not going to run police background checks to prove it. And if it's a testimonial to a company which doesn't advertise here, we don't print it; no free advertising or we'd drown in spam. Apologies.
Regards,
Ted Mooney, P.E.
finishing.com - Pine Beach, New Jersey
---
---
December 9, 2016
Q. I read that Scratch-B-Gone [a finishing.com supporting advertiser] does a good job of restoring stainless steel. But what about those chrome fixtures I accidentally splashed with grout cleaner?
Pierre Desjardins
- Montreal, Qc, Canada
---
December 2016
A. Hi Pierre. Stainless steel is the same material through and through, so discolorations can be sanded/polished/buffed away. But "chrome" means a few thousandths of an inch of nickel plating followed by a few millionths of an inch of chrome plating. Please see our FAQ, "Understanding Chrome Plating".
An acid splash almost instantly removes the chrome plating, which allows the underlying nickel plating to tarnish to a very faintly yellowish color (compared to the faintly blueish tint of chrome plating). If you are okay with the yellowish staining and the tarnish, which will need periodic metal polish, you can remove all of the chrome with the grout cleaner or other mild acid. Otherwise it's not fixable. Good luck.
Regards,
Ted Mooney, P.E. RET
finishing.com - Pine Beach, New Jersey
Striving to live Aloha
---
---
October 25, 2019
Q. I have a brushed stainless steel fridge. The finish is damaged (I don't know how it happened; I was working out of town for 4 months and returned to several weird damages, of which this was one). There are permanent drip marks, water marks, smudges and the like. I've tried repeated rinsing and buffing, I've tried stainless steel cleaner, and still it looks like someone sprayed acid on it. It's not scratched, it's just dull, streaky, stained and spotty.

Any advice? Will Brasso work on brushed stainless? Jewelry polish? Anything? Many thanks.
Margery Kimbrough
- Los Angeles, California, USA
---
October 2019
A. Hi Margery. You can try those things but often such "stains" are not "stains" -- they're not something on top of the surface that can be removed like paint -- but are etched into the stainless. Thus, no cleaner may be able to remove them, and only polishing can help. Unfortunately it can be difficult for you to polish brushed stainless to a good match. I'd like to offer you the confidence that you can fix it yourself, but maybe not. Maybe see if there is a service available through the manufacturer first.
Regards,
Ted Mooney, P.E. RET
finishing.com - Pine Beach, New Jersey
Striving to live Aloha
adv.