Where the world gathers for
plating, anodizing, & finishing Q&As since 1989
-----
Applying a color onto a Zinc Die Casting

Q. Currently I am plating Cu Strike, Copper Pyro, Acid Cu, Nickel And Chrome On Zinc Based Die Casting.
I now have a request for Acid Zinc Plating, Brass Dye and Lacquer on Zinc Die Cast Substrates.
One Chemistry Supplier asked me to Skip Cu Strike and go directly to Acid Zinc, customer requested Cu Strike then Zinc plating.
Any suggestions?
Thanks,
Augustine Philip
Biz Owner - Malaysia
May 24, 2023
---
---
↓ Closely related postings, oldest first ↓
---
---
Q. I am the VP of Manufacturing and Engineering for a cable and conduit fittings manufacturer. We are looking for an efficient and inexpensive way to apply a blue color onto on of our ZAMAK 7 die cast zinc components. The color will be used for identification in the field. Internally, we only have the capability for zinc plating over steel.

We have tried a "Dykem" type of die system, which leaves much to be desired. Due to RoHS restrictions, we need to stay away from chromate or anything related to it. Is there a type of anodizing or other similar process that can be used on Zinc? My main concern is cost, and then coating buildup (due to internal threads).

What other options are there for applying a medium blue color to the surface of the zinc die casting?

Any suggestions would be much appreciated.
Larry Smith
VP Mfg & Eng. - Stratford, Connecticut, USA
May 1, 2009
A. Plated zinc can be dyed any number of colors, so I do not see why a casting could not be dyed, possibly with an activation step. Check with the larger companies that sell dye for zinc.
James Watts
- Navarre, Florida
A. There are at least 4 possible processes-blue colour for zinc , lustre colour for zinc(blue is one of possible colors) , blue nickel plating,and blue colored copper plate on zinc.Try to buy old but still very good book on metal coloring by D.Fishlock.Hope it helps and good luck!.
Goran Budija
- Cerovski vrh Croatia
---
---
Color Dying Ink-Washed Zinc Figurines
Q. I have 36 metal figurines that I'd like to dye 9 different colors for aesthetic purposes.

4x Red (Pantone 711C)
4x Orange (Pantone 158C)
4x Yellow (Pantone 7409C)
4x Green (Pantone 575C)
4x Aquamarine (Pantone 7465 C)
4x Blue (Pantone 307C)
4x Purple (Pantone 2612C)
4x White (Pantone White)
4x Black (Pantone 426C)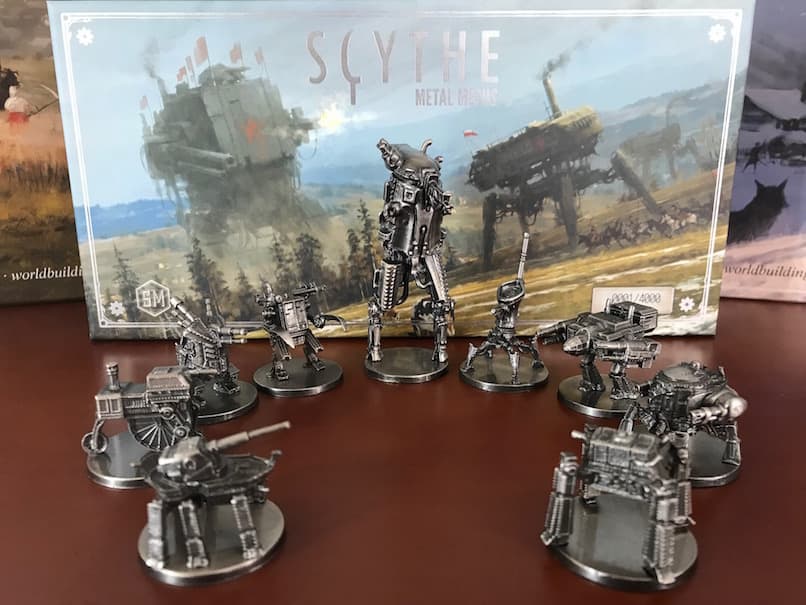 I don't need the colors to be exact, but I'd like them to be pretty close. I'm also looking for the color to still come through- I don't want it to be opaque, I want to still be able to tell that the figurines are metal.

The figurines are made of "inkwashed Zinc".

Looking for D-I-Y solutions, as well as potential project bids.
Cody Simonsen
Hobbyist - Provo, Utah, USA
February 28, 2020
Ed. note: Sorry, this RFQ for private contact is now outdated, but public technical replies are still welcome. No public brand/source suggestions please ( huh? why?)
---