World's most popular finishing site / Internet's friendliest corner
topic 51596
Interpretation of EDX spectrum result
A discussion started in 2009 but continuing through 2019
March 16, 2009
Q. Please help to explain what is the difference between Weight % and Atomic % in the EDX spectrum analysis result. And is EDX a qualitative analysis? Why can't it be a quantitative analysis. Thanks a lots from your help.
BC Loke
- Malaysia
---
March 19, 2009
A. Atomic % would be the % as a function of the number of atoms whereas wt % would be % as a function of weight.

EDX can be both qualitative and quantitative depending on whether you have standards.

Many times software has a "semi-quant" based on FP (fundamental parameters)
Terry Tomt
- Auburn, Washington
---
December 16, 2011
Q. Which quantitative result is accurate and should be used, weight % or atomic %?
Kunjapat Mugunan
- Malaysia
---
December 28, 2011
A. EDX is Energy Dispersive X-Rays (aka EDAX - energy dispersive x-ray analysis) and is dependent on the atomic mass of the elements being detected. The lower the atomic mass (and hence number) the less easy it is to detect. Hence, if you have a sample of mixed elements with wide ranging atomic numbers, the detector peak sizes will not be very representative of the exact atomic ratios of elements present. The best way to ensure good analysis is to run standards of the elemental mixes to see how the EDX spectra vary with the compositional ratios. The better measure is atomic % and not weight %, but the two can be interchanged by using the correct conversion factor.

Trevor Crichton
R&D practical scientist
Chesham, Bucks, UK
---
---
December 26, 2012
Q. In EDX results, we generally do not get the amount which we used to dope in the parent system. What may be the possible reason?
Shekhar Prajapati
- Allahabad India
---
---
March 24, 2015
Q. I do not have any knowledge of EDX method for Interpretation of two different Mix composition. There are traces of compounds like NaK, CaK, SiK, AlK and FeK.
Can it defined from the images of EDX? In many of the journal papers there are references of EDX which is necessary to give confirmatory comments on material?
Binod Singhi
Student - Silchar, Assam, and India
---
---
SEM-EDX Analysis for mineral oxide
June 25, 2016
Q. Dear!
I have SEM-EDX elemental analysis and I want to convert it into mineral oxide composition. How can I find the type of oxides present and their percentage based on EDX elemental analysis of a surface?
Zar Khan
- Pakistan
---
July 15, 2017
Q. How can atomic percentage of element in composition be calculated?

sawaira naz
- Faisalabad, pakistan
---
---
April 13, 2018
Q. In EDX results, we generally do not get the amount which we used to dope in the parent system. What may be the possible reason?
maryum butt
- Islamabad pakistan
---
April 2018

Hi Maryum. I'm not familiar with EDX and can't answer. But if a question remains unanswered for years, maybe the readers felt that it is too vague for them to easily dispatch?

Copying & pasting it again without further clarification isn't likely to be as effective as explaining your own situation in some detail. What you you doping with ... and what percentage are you unable to account for, 1% or 99%? Good luck!

Regards,

Ted Mooney, P.E. RET

finishing.com - Pine Beach, New Jersey

Striving to live Aloha
---
July 25, 2018
A. Maryum - when you say "doping" I think of relatively small amounts, in which case EDX is not the best technique.

Quite impossible without more information to say which (or more than one) of these or other factors may apply:
- you simply have a very low amount of dopant which EDX cannot accurately analyse
- your material is not homogeneous and you are analyzing an area with less/more material than average
- your material has peak overlaps which limit accurate measurement of the dopant
- your material is not well prepared (rough surface) or is not clean
- your sample is charging in the microscope
- you need to adjust your acquisition settings

I would recommend MyScope as a good source of (free) information:
http://www.ammrf.org.au/myscope/analysis/eds/accuracy/
Jenna Tong
- Gloucestershire, UK
----
Ed. note: Thanks Jenna!
---
---
September 26, 2018
Q. I prepared NiCoCr thin films. In my EDX data Wt% of Ni increasing with increase of Cr but Co content decreased . Let me know the reason ?
Easwaran Ranjith Kumar
- Coimbatore, India
---
---
March 25, 2019
Q. Hello can you please someone tell me how can I calculate atomic %? I have wt% in my SEM-EDX data. Is there a way for conversion?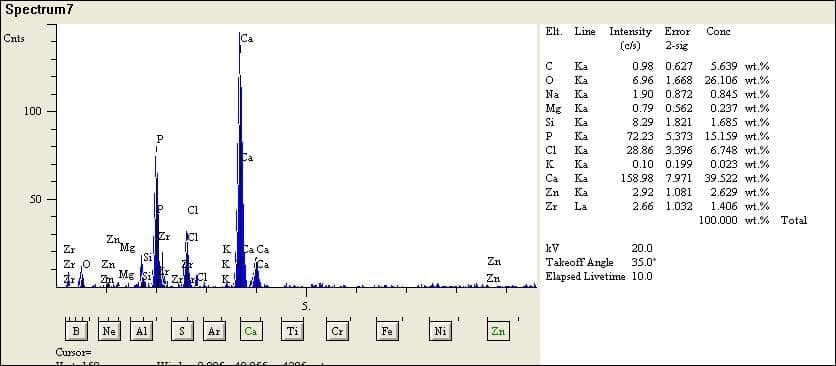 Hacer DENIZ ARISU
- Ankara, Turkey
---
April 3, 2019
A. Hi Hacer,

You may create 2 more columns, say column F and G, with column F as element wt % divide by its atomic weight, and column G as column F divide by sum of column F to derive each element atomic %.

PS: Sum of column G shall reach 100% also.


Regards,
David

David Shiu
- Singapore
---
April 3, 2019

Thank you very much David Shiu, this answer is very useful for me. I convert my data to % atomic and now it is easier to interpret.
Hacer DENIZ ARISU
[returning]
- Ankara, Turkey
---
April 11, 2019
Welcome, Hacer.

Regards,
David

David Shiu
- Singapore