topic 5195
Zinc-Iron Alloy Plating Questions
An ongoing discussion from 2000 through 2015 . . .
(2000)
Q. Has anyone seen/worked with zinc-iron plating? Apparently it has been discarded as a possible cadmium replacement on grounds of its appearance? Can anybody shed some light on this? Thank You.
Ian Brooke
university - Glasgow, Scotland
---
(2000)
A. It is still around. Appearance is only one factor for it as a non-replacement for cad. It has a poor corrosion protection relative to zinc that is alloyed with nickel or cobalt or tin. Tin-zinc comes the closest to matching the lubricity of cadmium. Beauty is in the eye of the beholder, and the customer is always right.
James Watts
- Navarre, Florida
---
(2000)
A. We use some zinc-iron on a few fuel rails that my company manufactures. With the right chromate passivation, it can have a very nice black color. Automotive companies love black. One problem with zinc-iron with black chromate is that it does not stand up to heat very well. We do not use cadmium at all in my area of industry. In fact, we are now looking for replacements for hex chrome and chrome in general.
Tim Neveau
Rochester Hills, Michigan
---
(2000)
A. Hello Ian,
Zinc - Iron has been used as an alternative to Cadmium plating because it is relatively inexpensive to plate, and will give better Salt Spray results when compared to Zinc. I cannot tell you that it will equal or exceed Cadmium, however. One characteristic of this alloy, is the ability to apply a black chromate passivate on it, without the use of silver.
Now for the bad news. When you heat the chromated, plated deposit at only 250 °F, the salt spray results plunge to a point where they are worse than plain zinc. In Japan, this has been cured with technology that will alloy in about 0.00003 - 0.00005% Phosphorus into the deposit. This phosphorus will give better results in a heated atmosphere.
Plating is typically done from an alkaline non-cyanide solution, and you must keep a close eye on the complexors in whatever system you choose. If iron gets too high, you run the risk of plating a more brittle deposit. Hope this helped. Best regards, Ed Budman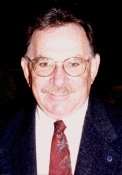 Ed Budman
- Pennsylvania
---
---
Cost of Zinc-Iron Plating
2001
Q. Hi,
My job is to develop a vendor for plating at reasonable cost and I am working for a automobile company. We are using zinc-iron plating. How to calculate the cost/sq.inch (rack plating for tubular parts) or cost/kg (barrel plating)? What is the sequence of steps? What is the details we need from the plater to calculate the plating cost? Do we have any software to do this costing work?
Thanks,
V.Muthukumarasamy
- Bangalore, Karnataka, India
---
2001
A. Hi Muthukumarasamy. All zinc-iron baths are proprietary. The sequence is the same as zinc plating except that the work goes to the zinc-iron tank instead of a zinc plating tank; and the chromate is almost always black rather than clear, yellow, or olive. That is, a typical sequence might be soak clean, electroclean, acid activate, plate, chromate -- with rinses between every step.
Costs are not much different than zinc plating, just a little higher. Sorry, I'm not aware or any software of "fake books" for estimating plating costs.
Ted Mooney, P.E.
finishing.com
Pine Beach, New Jersey
---
(2002)
Q. Please provide me about how to calculate ZINC Plating Cost.
Thank you,
Nart
[last name deleted for privacy by Editor]
AAT - Thailand
---
(2002)
A. Hi Nart. I don't know of any standardized costing methods -- but in case someone else does: What are your parts (wire, hardware, castings, cosmetic items); what are the volumes (one piece, or thousands of parts per barrel and hundreds of barrels per day); what are the specs to be met (.00015" or .0007")? Thanks.
Ted Mooney, P.E.
finishing.com
Pine Beach, New Jersey
---
2006
Q. I would like to have the final answer to the initial question.
RICARDO DAVID LOPEZ
- Mexico City, Mexico
---
2006
Hi Ricardo. The original question wasn't answered to your satisfaction, but the original inquirer may have been satisfied. This forum is a place where people meet to share camaraderie, experiences, and little tips. It's a pot luck dinner; if you bring something interesting to the thread (maybe some details of what you are doing, what you've tried, why zinc-iron interests you, what your perennial issues are), then readers are usually quick to try to share what they can bring to the discussion, even though it may not be a full answer to your question. But abstract requests are usually ignored by the readers; sorry, but platers are people too :-)
Ted Mooney, P.E.
finishing.com
Pine Beach, New Jersey
---
---
2006
Q. I have a doubt. How adding Iron to zinc will improve the corrosive resistance since iron oxide is a rust.
J.Vinoth Kumar
- Coimbatore, Tamilnadu, India
---
2006
A. Hello, J. Vinoth. The reason that plain iron and steel corrode so readily is not because of their electrochemical activity (actually iron is less active than zinc or aluminum) but because the corrosion products are not adherent, tenacious, and impervious to further degradation. While some other metals form a nice tight tarnish or oxidation product that seals the metal surface fairly well, the oxidation product of steel is a fluffy, powdery, porous, water retaining rust which does nothing to seal the underlying steel away from the environment.
The corrosion product of zinc-iron alloy plating is not a fluffy rust, but a reasonably stable oxidation product. Once it is recognized that we need a tight and tenacious oxidation/corrosion product, we go on to look at the electrochemical potential of zinc-iron and recognize it as being closer to steel than non-alloyed zinc plating. Now the galvanic potential between the steel and the plating is lower, and we have the opportunity for slower corrosion of the plating and better corrosion resistance.
Please try to describe the situation you find yourself in, which leads to greater reader participation and also a better chance of properly targeted help. Good luck.
Ted Mooney, P.E.
finishing.com
Pine Beach, New Jersey
---
---
Salt spray hours for zinc-iron plating
November 27, 2011
-- this entry appended to this thread by editor in lieu of spawning a duplicative thread
Q. Dear All,

Can we get 250 hours white salt spray life on zinc iron plating (8 microns coating thickness) with trivalent white and a top coat?

Please suggest details to achieve the spec.
What is Permanol P12F over the trivalent zinc black plating? Is it some kind of lacquer? if yes which chemical brand, and how is it applied ... and what is the salt spray result (Life)?

Jayakumar Selvaraj
metal finisher - Chennai, Tamilnadu, India
---
August 2, 2012
A. Hi, Jayakumar.
We added your query to a prior thread. As you may understand from the prior discussions then, zinc-iron with a clear (white) trivalent coating is rather unusual. That's because a principal reason for using zinc-iron plating, knowing that it is is not as corrosion resistant as other zinc alloys like zinc-nickel and zinc-cobalt (or even plain zinc after it has been heated to 250 °F -- thanks to Ed Budman for that factoid), is the ease with which a reliable black color can be obtained. Seeking to optimize salt spray resistance from zinc-iron plating with a white chromate is thus a bit like searching for the best candy bar to eat for higher protein. Candy isn't an ideal way to get more protein into your diet, and perfecting your topcoats while sticking with zinc-iron plating instead of shifting to another zinc alloy probably isn't an ideal route to improved salt spray resistance.
8 microns is probably a little light even if the parts have fairly even thickness distribution. But if the parts are rack plated, and have good thickness distribution, and the chromate and top coat are good, I think 250 hours should be possible. You may be interested in the further info available on letter 17009, "Need Zinc-Iron plating to meet specified salt spray hours", where 13 microns is suggested. Of course, salt spray hours have little predictive value on real life (salt spray is a QA test, and probably should not be used as a design spec).
Regarding Permanol P12F, this was a product of Dick Peters, which was bought out by BYK Additives division of Altana. According to product guide B-G 4 it is/was a Polyethylene based wax of 31% non-volatiles with anionic and non-ionic emulsifiers, 110 °C melting point, pH 9, and used as a lubricant and coating for self-tapping screws. I am not seeing it in their current list of products, but Altana's product line is not defined by my limitations or the limitations of their web site, so I can't say for sure :-)
Luck and Regards,
Ted Mooney, P.E.
finishing.com
Pine Beach, New Jersey
---
---
Is Zinc-Iron plating better option for tubular parts
March 9, 2015
-- this entry appended to this thread by editor in lieu of spawning a duplicative thread
Q. I have tubular part : OD=36 mm X ID= 30 mm X Length = 120 mm.
Requirement 1 : 240 Hours of Salt Spray to Red Rust
Requirement 2 : Trivalent Blue or Clear passivisation

Problem : Coating is barely there in middle of the ID of tube.

Question 1 : Whether Zinc-Iron (with clear / blue passivisation) may give better results than plain zinc plating.

Question 2 : If Zinc-iron always give better results and cost is also comparable, why plain zinc has not been phased out completely?
Gaurav Garg
Buyer - Faridabad,Haryana, India


This public forum has 60,000 threads. If you have a question in mind which seems off topic to this thread, you might prefer to Search the Site