Not a lecture hall but a roundtable with a seat for you!
60,000 topics spanning 36 years. Education, Aloha, & Fun
topic 50982
Reddish-orange deposit on anodizing tank cathodes?
A discussion started in 2009 but continuing through 2020
January 19, 2009
Q. We have a lot of reddish orange flakes of stuff coming off one of our anodizing tanks' cathodes and getting into the bath. We had the anodes fabricated in house and we told them to make them out of 6061, 6063, 1100 or 1350 aluminum, but I am not sure which if any of these the cathodes were made out of. What is this stuff does anybody know?
Thomas. Brown
plating shop employee - Colorado Springs, Colorado
---
January 21, 2009

A. Sounds like mostly copper to me, which is present in most Al alloys, getting dissolved in the bath during the anodizing process, and is getting plated onto the cathodes.




Marc Green




anodizer - Boise, Idaho





---

January 21, 2009

A. It is copper that has dissolved out of the parts when anodizing initially starts. It normally results when you anodize 2,4,7xxx alloys which have a high copper content. A better desmut step can reduce this, but removal of the cathode from the tank and wet brushing it will also work which is cheaper but messy and labor intensive.

James Watts




- Navarre, Florida





---

January 21, 2009

A. My guess: copper metal.

Does this stuff dissolve in water? HCl? Nitric acid?

If the answers are 'no, no, yes' it's likely Cu.




Dave Wichern




Consultant - The Bronx, New York





---

January 21, 2009

A. Apparently you have been running some 2000 alloys and are plating the 5% copper onto the cathodes. Sulfuric Acid and copper sulfate are (1) a standard copper plating solution and (2) standard anodizing solution. Years back, Metal Finishing published a research paper whereby controlled and varied periodic reverse was used in a copper containing anodizing solution to alternate between positive and negative and deposit copper direct on aluminum without a zincate and without a stannate. I do not think the process ever caught on.

Make a zigzag cathode, try 1 and 2 amps per square foot and see if you can electrolytically plate out the copper. The science writers claim the limit is around 100 mg/L, Boeing even says 40 mg/L. (1) You cannot hold it that low (2) who am I, but I have never been able to see any evidence that it causes any harm.

Robert H Probert




Robert H Probert Technical Services





Garner, North Carolina





---
January 22, 2009

Q. I learned that the cathodes are made up of 6101T6 aluminum.
The cathodes have an orange coating on them but I was told the flakes may not be coming from the cathodes, but possibly from the parts. I think I will collect some and see if they dissolve in concentrated nitric acid. This would indicate if they are made of copper I believe.

Thomas Brown

[returning]




Plating shop - Colorado Springs, Colorado





---

January 22, 2009

A. Thomas

Do you use a copper buss bar on your tank?
Does your anodize solution have a blue tint to it?
Do you process 2xxx series aluminum?
Has it been a while since you did a decant or dump?
Does it disappear over the weekend and show up after processing parts?

If yes, copper is a likely suspect

Willie Alexander

- Colorado Springs, Colorado

---

January 22, 2009

A. Thomas,
Sounds like immersion copper.

Trent Kaufman

electroplater - Galva, Illinois
---
January 23, 2009
A. Trent, it is actually badly plated copper as the cathode is negative. Also, it dissolves back into solution if left alone over the weekend, so it is not immersion plate.
James Watts
- Navarre, Florida
---
January 28, 2009
A. We Anodize a fair amount of 6000 and 2000 series aluminum and see the same effect. We determined that it was copper from the alloying elements dissolved from the aluminum in process and deposited on the Cathodes. We now periodically remove the Cathodes and clean during regular bath maintenance and see no adverse issues.
Paul Slater
- Cedar Rapids, Iowa, USA
---
---
Sulfuric Anodized part burned to copper color?
June 10, 2020
Q. I'm hoping someone will be able to help me understand what happened with this part. It was one part of an order of 18. Most of the order came out fine. A few did not take, but no others have this issue. Material 2124-T851 Processed as follows:

Alkaline clean, rinse, rinse.
Deox, rinse, rinse,
Sulfuric Anodize, set voltage 18, Ramp 5 volts per min. 30 min at peak. The parts were racked with insulated gator clamps and a power clamp.

It looks like a burn but with copper plating in the center of the burn. I got thickness reading as high as .32 mils on the copper area. I can't seem to find any information on how an anodizing part can somehow reverse the process in a localized area and be plated? This may not be what happened, but we can't find other explanations.

The shielding around the cathodes is intact and nothing seem out of ordinary in the tank. Pictures: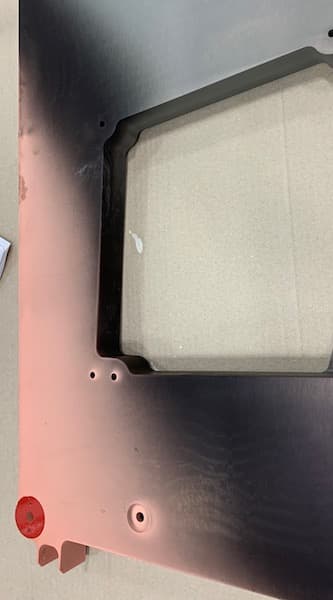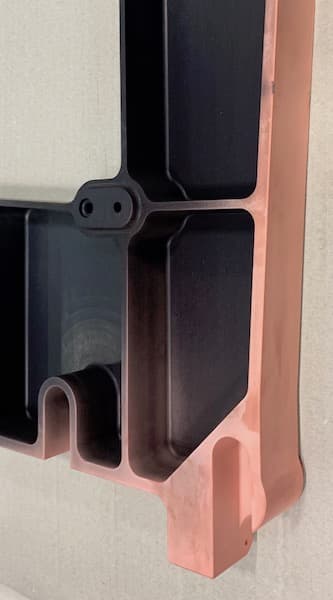 Thank you for any insight on this.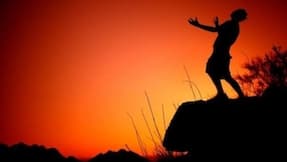 Tyler Barnhart
- Chanute, Kansas, USA
---
June 10, 2020

A. If you are running 2000's alloys you have a copper plating solution in the tank. When the rack broke electrical contract, in a bi-polar way, it became negative with respect to the other racks, so it copper plated in the high current density areas.

Robert H Probert




Robert H Probert Technical Services





Garner, North Carolina






---

June 10, 2020

A. This looks like a copper immersion deposit; Most likely the parts were burned enough so very little current was in those regions allow an immersion deposition to take place.

If you dip the part in nitric I imagine the copper will come right off; if your copper is too high leave some thick aluminum panels (not aluminum foil; preferable not 2XXX series)in the bath overnight with no current, the same phenomena will happen. You will replace your dissolved copper contamination will increased dissolved aluminum though.

William Hogan




- Sidney, New York USA




---
June 11, 2020
Q. Thank you Robert and William for your Responses. Would you both recommend nitric as the best method to remove the copper? If so, what would you recommend for a ratio of mixing? we Have nitric 65-67%.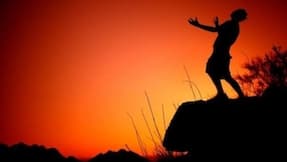 Tyler Barnhart
- Chanute, Kansas, USA
---
June 17, 2020
A. If you have a high copper concentration in your anodize bath, then there are several ways to reduce it. The aluminum foil to immersion plate the copper method is simple and can be effective, and should probably be your first attempt at copper removal. However, if this is not effective, then a more active removal method is needed. Dummying the bath with high surface area cathodes is an effective method to remove copper. Other methods can also remove aluminum as well as copper.
Lyle Kirman
- Cleveland Heights, Ohio