Where the world gathers for
plating, anodizing, & finishing Q&As since 1989
-----
Chromic Acid Anodising Colour seems off
January 19, 2009
We have just put in a small Chromic Acid anodising tank.We have used both ramped and constant voltage methods, but in both instances the finish is like a bright clear sulphuric anodised coating. Is this because of the lack of sulphates in the new tank? Also is the colour relevant at all to the quality of the finish?
Dave Burbidge
surface finishing - Oxfordshire, England
---
First of two simultaneous responses -- January 19, 2009

The LIMIT on sulphate is 500 mg/L and any higher reduces the formation of the coating. This limit is sometimes difficult to control because (1) some commercial chromic acid contains sulphate as an impurity, and (2) some shops drag sulfuric anodizing dripping over the chromic tank.

Come back and tell us more about your free acid, total acid, temperature, etc. but most likely your sulphate is too high. You can knck down the sulphate with barium hydroxide. One part Barium Hydroxide removes 0.3 parts SO4/wt.

Chloride is also a problem, Boeing limit is 200 mg/L, but small amounts will be oxidized at the anode and released.

Robert H Probert
Robert H Probert Technical Services

Garner, North Carolina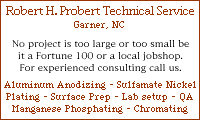 ---
Second of two simultaneous responses -- January 20, 2009

Dave,

There are so many variables that could affect the finish of your parts, here's just a few of them:

1. New bath, low sulphate
2. Alloy type, 1xxx series tend not to take up colours as much as say 2xxx or 7xxx
3. Anodising cycle used - there are quite a few cycles around, the must recognisable is the Bengough-Stewart cycle
4. Pre-cleaning - always a critical area in any treatment process
5. Bath chemistry
6. Bath temperature

I could carry on and on, but you would be better off getting a couple of books on the subject such as Robert Probert's "Aluminum How To", or even just using the information in the "Canning Handbook", or maybe "Surface Treatment of Aluminium" by Sheasby and Pinner.

The major thing is though; does the coating meet your requirements? This may include such tests as coating weight, salt spray, electrical breakdown etc. If the coating meets your test criteria then you really have nothing to worry about. You may consider looking at specifications such as MIL-A-8625 and DEF STAN 03-24 as good references for the sort of tests you should be looking at to prove out your coating.
Brian Terry
Aerospace - Yeovil, Somerset, UK
finishing.com is made possible by ...
for Chromic Acid Anodizing [Detroit, MI]