Live! From beautiful Pine Beach New Jersey: Welcome to the world's most popular metal finishing website
topic 50888
Damaged the finish on copper table -- HELP!
January 8, 2009
Q. Hello! I came across this site as I was looking for help to restore a table I just damaged today, and this site looks wonderful for help!

I have a copper-topped coffee table from Crate and Barrel. It has rings of intricate, hand-hammered etch marks and it consists of a wood top that's wrapped in copper sheeting. A special finishing treatment is applied by hand to achieve a rich, mottled patina. There is a clear, protective lacquer over the copper tabletop.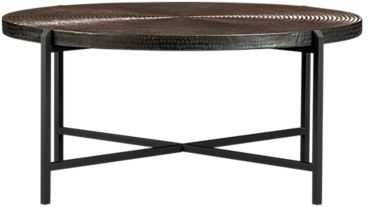 Recently, I spilled an oil aroma diffuser on it, which is basically a vase filled with oil that had reeds sitting in the scented oil that diffuses fragrances throughout the room. I wiped it up and that's it, but today I sprayed the normal cleaner I use on it, which is Swiffer Dust & Shine spray. It's a clear shine conditioner with no wax. It's not conventionally for copper but it is for wood, including finished sealed wood, wood laminate, marble, leather and granite. I figured it would be safe on the copper table, tried a it few times..and it worked great. However, when I used it today, I guess the interaction of the remnant of the spilled oil caused a bad reaction. The dark, marbled patina of the copper faded in the spots where the oil was and now there a light-colored big noticeable blotches on the copper table! Like the color got removed....

Any ideas as to why this happened and what can be done about it, if anything? Also, I didn't buy the table from the store - bought it of a neighbor who moved - so I don't have any warranty or anything, so calling the store is not an option, really. Finally, if there is nothing I can do by myself, what type of service-person/shop should I be looking for?

Thanks so much for your help!
Dana Wigdor
bought a copper piece and need help. - Jersey City, New Jersey
---
February 11, 2009
Q. To Dana Wigdor:

Did you try the Restore-It-Yourself Product?

Did it work?

I just bought a different Crate-and-Barrel copper sheet patina table and following someone's advice tried to darken a scratch w/lemon juice (just the wrong thing to do it turns out.

In searching for the solution, I came upon the Restore-It-Yourself video.

If you tried it, please let me know how it came out. (I, too, am desperate; we just bought the table two days ago!.)
Jeff Bloomfield
- Berkeley, California, USA
---
September 9, 2009
Q. I also need help with Crate and Barrel copper table. I've tried to be extra cautious with this table and now I've ruined the finish in one spot.
Jeannie Cimiotti
- Philadelphia, Pennsylvania
---
September 26, 2009
---
July 24, 2011
Q. The Crate and Barrel copper table that I have had brown, circular spots (like raindrops), with the brown being darker at the edge of the table. Simply some water left on the table removed these decorative spots and the light copper "stain" have remained. There is no restoring, as in bring back the patterns, since they are completely gone, leaving water glass rings, etc. What could be applied to copper to achieve darker and not lighter discoloration?
Irene Zarechnak
- Oakton, Virginia
---
March 31, 2013
-- this entry appended to this thread by editor in lieu of spawning a duplicative thread
Q. My cleaning lady spilled toilet bowl cleaner in my copper bathtub! It turned the dark patina into a bright orange color. I tried using Palmolive liquid on it, but it didn't work at all. I am at a loss as to what to use. I would like something that could be safely applied to the whole tub since there is such a large area that was affected and I don't know if I would be able to spot-treat it. HELP!

Thanks!
Sher Krenek
- Eagle Lake, Texas, USA
---
July 31, 2014
Q. I have the same problem with a very large copper drum table from India that I purchased at Mohr & McPherson in Boston. I unwittingly used copper polish on the table, and that seems to have removed the original protective finish. The copper patina product advertisement that is attached to this thread doesn't seem to be appropriate for refinishing an entire large piece -- it appears from the video at the website to be more of a spot repair kit for small areas. I am unsure how to refinish my table, which starts to oxidize shortly after wiping it off.
Sarah Morison
- Swampscott, Massachusetts
---
---
March 23, 2015
Q. Hello, My name is Raesha.
I purchased a table from World Market last year. It is called the Copper Round Dining Table. I've included a picture.

I wrecked the top by spilling acetone on it. It is quoted as being a steel top table.

Not sure what my options are if any for repairing the top. Any suggestions/solutions welcomed.

Thank you,
Raesha

Raesha Penwell




- Gresham, Oregon




---
---
Abraded away an area on zinc table. What now?
January 1, 2016
Q. We recently purchased a textured Arhaus zinc table top. Milk was spilled on it and not cleaned adequately, leaving a white spot. Cleaning the spot with an abrasive removed the color and lacquer- making it worse. What do we do? We did not get a warranty.
Saber VanDetta
- Cleveland, Ohio USA
---
March 22, 2018
Q. I am a cabinetmaker and finisher specializing in wood finishing and repairs. I have a regular client (a furniture and design store) that I do in-store and in-home repairs for. In front of me now, and more frequently of late they are selling metal furniture with tarnished or anodized finishes. Frequently the finish is partially rubbed off after delivery to the store. Can anyone give me some advice on how to touch up or refinish issues like these?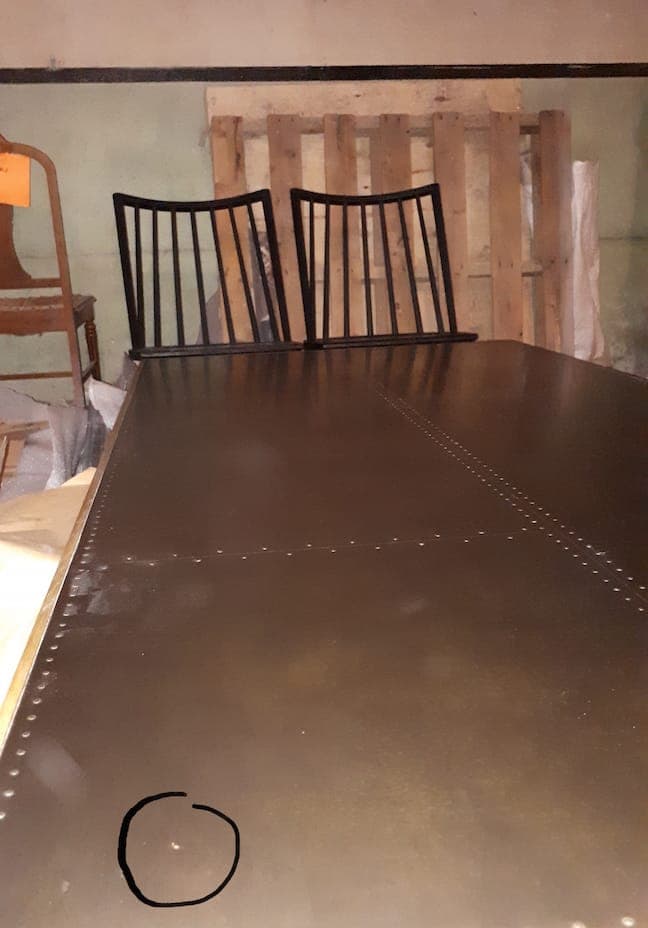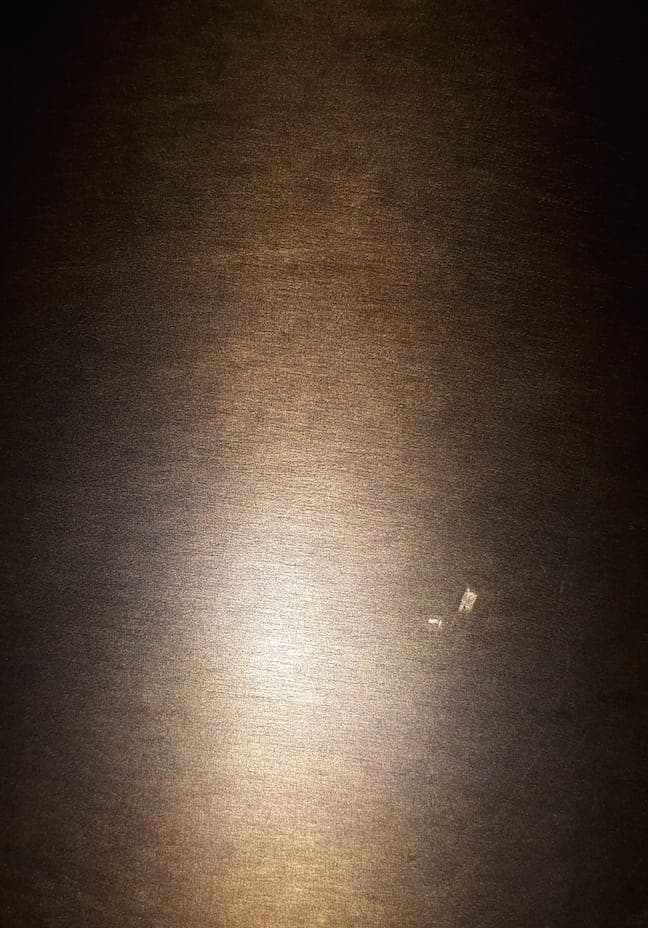 Thanks in advance.
jake kuenzli
tjkuenzli fine woodworks - morin heights, Quebec, canada


If you have a question in mind which seems off topic, please Search the Site