Serious Education ... plus the most fun you can have in metal finishing.
Restoring the dark brown finish to copper sinks
November 4, 2008
Q. I ruined two bathroom sinks spraying them with Lime-A-Way [linked by editor to product info at Amazon]. We have high lime deposits in our water and I have soaked our shower head several times which makes the spray much better. I didn't even think when I sprayed the drain of my pretty dark copper sinks and immediately they were spotted and streaked with bright copper finish now. The shower head must be coated bronze because the solution didn't affect it. We don't have a gas torch and I'm very nervous about trying to restore the finish myself. What do you suggest? Lou in Texas
Lou Freeman
Homeowner - Colleyville, Texas
---
November 5, 2008
A. Hi, Lou. Patina finishes can benefit from an artistic touch, so I don't know about your ability to satisfy yourself on this, but Brass Darkening Solution [linked by editor to product info at Rockler] is available for patina restoration situations like this.
Regards,
Ted Mooney, P.E. RET
finishing.com
Pine Beach, New Jersey
---
November 13, 2008
adv.
Our company makes a copper patina repair kit just for owners of copper sinks like yourself. Our kit is a very simple and quick repair of patina damage for DIY. Please call for more info. You can see a demonstration of our kit at work on You Tube, keyword copper patina repair. Thanks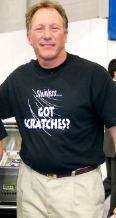 Barry Feinman
Restore It Yourself, Inc
Carlsbad, California
---
February 19, 2012
-- this entry appended to this thread by editor in lieu of spawning a duplicative thread
Q. I have a lightened spot in my bronze sink and would like to know how to darken it back to match rest of sink interior
ALBERT RAIA
-
BATON ROUGE, Louisiana
---
February 13, 2013
Q. I bought a house with a copper sink in which the patina is completely gone from years of heavy cleansers. It has a hammered finish and the raised portions look ok and the indented hammered spots are a dark brown. The overall appearance is terrible. Am I able to grind away the dark spots and then keep it waxed for a more uniform look?
Dan Copsey
- Thousand Oaks, California, USA
---
---
Help I ruined my antique metal bathroom sink
September 7, 2013

-- this entry appended to this thread by editor in lieu of spawning a duplicative thread
Q.
I used a metal cleaner on my antique bronze metal sink and it took out the color to a brassy streak. This is not an expensive vanity sink and so I don't know the type metal it is. Please help me restore it to a uniform color. Thanks
Cindy Leamy
- Raleigh, North Carolina, USA