Where the world gathers for
plating, anodizing, & finishing Q&As since 1989
Restoring the dark brown finish to copper sinks
(
-----
)
Current question and answers:
August 15, 2021
Q. Please can anyone recommend a finishing patina for a cast iron horse. The legs have been welded back on using Nickel/Iron arc welding rods. I need a chemical patina to match the rest of the horse which is dark copper to dark brown. It is an expensive antique piece so I have to be careful with the finish. Thank you.
Marie Holmes
- Darlaston, West Midlands, England, UK
---
August 2021
A. Hi Marie. I doubt you will find an acid or chemical which will react with nickel-iron to turn it dark coppery to brown -- which is why we appended your inquiry to this thread about brown finishes for copper. I think what will be required is the two-step operation of coating the nickel-iron with a copper-bearing salt, and then treating that copper surface with something that turns it brown ... although I believe there may be products that combine the actions, coating the surface with a brown copper-bearing salt.
Luck & Regards,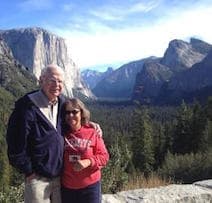 Ted Mooney
, P.E. RET
Striving to live Aloha
finishing.com - Pine Beach, New Jersey
---
---
---
Previous closely related Q&A's, oldest first:
November 4, 2008
Q. I ruined two bathroom sinks spraying them with Lime-A-Way [affil. link to info/product on Amazon]. We have high lime deposits in our water and I have soaked our shower head several times which makes the spray much better. I didn't even think when I sprayed the drain of my pretty dark copper sinks and immediately they were spotted and streaked with bright copper finish now. The shower head must be coated bronze because the solution didn't affect it. We don't have a gas torch and I'm very nervous about trying to restore the finish myself. What do you suggest? Lou in Texas
Lou Freeman
Homeowner - Colleyville, Texas
---
November 5, 2008
A. Hi, Lou. Patina finishes can usually benefit from an artistic touch, which I lack, so I don't know about your ability to satisfy yourself on this, but Brass Darkening Solution [affil. link to info/product at Rockler] is available for patina restoration situations like this.
Regards,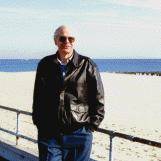 Ted Mooney
, P.E.
Striving to live Aloha
finishing.com - Pine Beach, New Jersey
---
November 13, 2008
adv.
Our company makes a copper patina repair kit just for owners of copper sinks like yourself. Our kit is a very simple and quick repair of patina damage for D-I-Y. Please call for more info. You can see a demonstration of our kit at work on You Tube, keyword copper patina repair. Thanks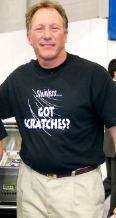 Barry Feinman
BarrysRestoreItAll

Carlsbad, California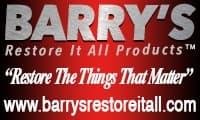 ---
February 19, 2012
Q. I have a lightened spot in my bronze sink and would like to know how to darken it back to match rest of sink interior
ALBERT RAIA
- BATON ROUGE, Louisiana
---
February 13, 2013
Q. I bought a house with a copper sink in which the patina is completely gone from years of heavy cleansers. It has a hammered finish and the raised portions look ok and the indented hammered spots are a dark brown. The overall appearance is terrible. Am I able to grind away the dark spots and then keep it waxed for a more uniform look?
Dan Copsey
- Thousand Oaks, California, USA
---
---
Help I ruined my antique metal bathroom sink
September 7, 2013
Q.
I used a metal cleaner on my antique bronze metal sink and it took out the color to a brassy streak. This is not an expensive vanity sink and so I don't know the type metal it is. Please help me restore it to a uniform color. Thanks
Cindy Leamy
- Raleigh, North Carolina, USA
---
---
May 8, 2019
Q. I used Tarnx to clean a beautiful hammered copper sink that is now bright pink/orange in color. I am not an experienced D-I-Y, but willing to try anything. I need to resolve this fast. HELP!
Marie Anderson
- Dallas, Texas, USA
---
May 2019
Rockler Brass Darkening Solution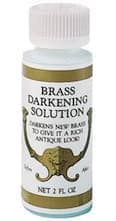 Affiliate Link
(your purchases make finishing.com possible)


A. Hi Marie. If the sink was initially a shiny copper color like a new penny, a copper or brass polish like Brasso [affil. link to info/product on Amazon] should fix it, although it may take a few applications. If the sink had a dark brown antique finish you may not be able to get it dark brown again in a reasonable timeframe without re-applying some sort of patina chemicals, such as mentioned by Barry.
Regards,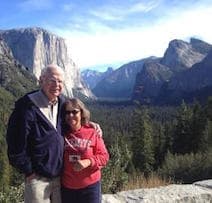 Ted Mooney
, P.E. RET
Striving to live Aloha
finishing.com - Pine Beach, New Jersey
---
---
September 29, 2020
Q. Hello, my name is Angela Brown. My house keeper decided it would be a great surprise for me, to bring back the original copper color of my sink. She didn't know it was dark on purpose. The whole entire sink is now bright copper with no coating.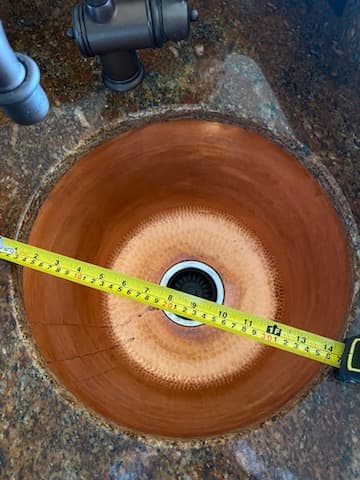 Is there someone I can hire to make it dark again? Or is replacement my only option?
Angela Brown
- Wilmington North Carolina
---
January 4, 2021
A. Hello Angela. Sorry to read of your situation and for late reply. If you are still looking for an answer to your copper patina damage then I have it. The Brown patina finish on copper sinks is quite delicate and subject to chemical and abrasive damage.
adv.
Our company, Barry's Restore It All Products created a kit just for folks with your issue and makes you your own professional refinisher. In fact, we use this very kit in the field to do just this, restore the oil-rubbed brown finish back to sinks and other elements. You can find our kits on Amazon or at barrysrestoreitall.com. You'll be able to watch actual refinishing videos there.
Thanks and good wishes for the new year.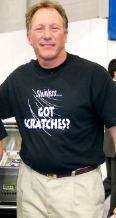 Barry Feinman
BarrysRestoreItAll

Carlsbad, California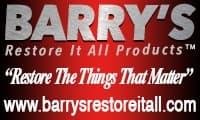 ----
Ed. note: Readers may be interested in these related thread:
Topic 40020, "Restore patina on antique brass sink basin"
Topic 40020, "Coloring/antiquing a hammered/beaten copper sink"