60,000 Q&A topics -- Education, Aloha, & Fun
topic 39781
Restore patina on antique brass sink basin
A discussion started in 2006 but continuing through 2019
2006
Q. I recently purchased a decorative bathroom vanity with an antique brass basin. I had a plumber install the vanity sink. However he had to do some work under the basin using a blow torch which took the finish off the surface in the center of the exterior basin most likely due to the extreme heat. Can anyone offer help to restore it back to its original color?
Christine Bell
homeowner - Little Egg Harbor, New Jersey
---
2006
A. There are a BUNCH of letters with patina recipes in the archived letters. Just use the search engine to find a few and you should be good to go.

If it is going to be a functional piece, I suggest applying a clear coat so that your cleaning doesn't remove or affect the patina every time. There are suggestions for clearcoats in the same letters you'll find looking for patina recipes.

Good luck!
Jim Gorsich
Accurate Anodizing Inc.

Compton, California, USA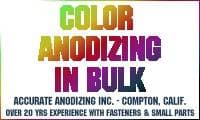 ----
Ed. note: please also see our FAQ on Patinas
---
2007
Q. I have a similar problem with my antique brass finish on my sink. I had some bleach cleaner remove the antique finish and now have a shiny ring.

I looked in the past archives but did not see how to restore my finish properly. A lot of articles on keeping the finish, cleaning properly, and what not to use.

Thank you for any assistance in this matter.
Deidra Moitzheim
- San Antonio, Texas
---
March 22, 2008
Q. I purchased a bathroom vanity with a antique brass finish sink. I used Brasso [affiliate link to product info on Amazon] cleaner on the sink and it removed the antique finish. I now have a shiny brass sink. I wanted to know if there is any way I would be able to restore the finish myself and if so what product should I use. I also want to know if I should seal this with a clear coat after restoring and if so what product would be preferable. Also after completing this restoration what is the recommended product to clean this. Thanks so much for your help.
Debbie Payas
homemaker - Maitland, Florida
---
affil. link
Rockler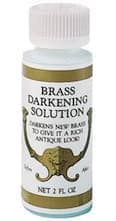 Brass Darkening Solution
A. Hi, Deidra. Hi, Karen.
Brass darkening solution may be what you are looking for =>
Regards,
Ted Mooney, P.E.
finishing.com - Pine Beach, New Jersey
Striving to live Aloha
---
August 24, 2008
Q. I have two brass sinks in my master bathroom. They are 2.5 years old. My husband's is still brand new looking but mine is terrible. I use contacts and I think the solution has lifted the matte finish to the sink and it is now terribly spotty where the finish coat has been damaged. Also where I have spilled toothpaste there are green marks here and there. What can I do to repair this problem.

Karen
Karen Spratt
- Inman, South Carolina
---
August 31, 2008
A. Hi, Karen. First you need to get that clearcoat off. Try lacquer thinner [affiliate link to product info on Amazon] first. If that won't remove it, you may need Aircraft Stripper (very noxious stuff -- make sure you have really good ventilation, goggles [affiliate link to product info on Amazon] and Protective Gloves [affiliate link to product info on Amazon]). If you succeed in getting the clear coat off, you should be able to repolish and try a fresh coat of brass lacquer [affiliate link to product info on Amazon]. Good luck.
Regards,
Ted Mooney, P.E.
finishing.com - Pine Beach, New Jersey
Striving to live Aloha
---
April 28, 2010
Q. The outlet in my vanity is brass which has gone spotty and and rank. I read this article that you posted and I would appreciate all the help that I can get regarding the cleaning of same.
Kind regards
Noel
Noel De Sair
- Melbourne Victoria Australia
---
April 28, 2010
A. Hi, Noel. When you say "outlet" are you referring to the drain fitting in the bottom of the basin? If so, and if it's not really something special, I think you'll save money and time by simply replacing it. This is an easily replaceable part made of a thin gauge of brass.
As for cleaning it, if brass polishes don't work, vinegar+salt+flour probably will, but may leave it very orange colored, which can be corrected with a few applications of a commercial brass polish.
The thing is, brass doesn't stay bright: it tarnishes very quickly. If it was ever bright it was because it had lacquer or a clearcoat on it. Good luck.
Regards,
Ted Mooney, P.E.
finishing.com - Pine Beach, New Jersey
Striving to live Aloha
---
January 24, 2013
Q. My 130-year-old Victorian house has a tiny bathroom with a pedestal sink that will be replaced. But it has brass-looking faucets - the kind with white enamel knobs - that I want to keep for the new basin. However, the faucets have a mottled look that no amount of polishing can change. How can I get these lovely faucets back to an even coloration?
Patricia Della-Piana
- Johnston, South Carolina, USA
---
---
October 21, 2015
Q. Brass Sink!
I have a customer who has a very tarnished brass sink... I am unsure what to use to clean it without ruining the finish. Please help!
sonia mello
- leominster Massachusetts USA
---
October 2015
A. Hi Sonia. It's hard to offer advice without a photo because there's bright brass, dull brass, antiqued brass, and oil rubbed bronze. Even then, your sink may be solid brass, or it may be brass plated; it might even be bright nickel plated and topped a translucent brass-toned lacquer.
When you say you want to remove tarnish, we assume you mean an uneven brownish discoloration that reduces the bright brass shine. I think the safest approach is to remove any lacquer coating with acetone, then polish it with Mother's polish on a buffing wheel attachment with a low power battery-operated drill. Then apply brass lacquer in 3 or 4 thin coats. But sometimes it's not salvageable because the bright brass color is just plating or lacquer. Good luck.
Regards,
Ted Mooney, P.E.
finishing.com - Pine Beach, New Jersey
Striving to live Aloha
---
October 23, 2015
A. Once the lacquer is removed (if there was any), citric acid is a good alternative to polishing for clearing up the tarnish.

Ray Kremer
Stellar Solutions, Inc.

McHenry, Illinois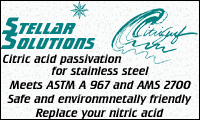 ---
---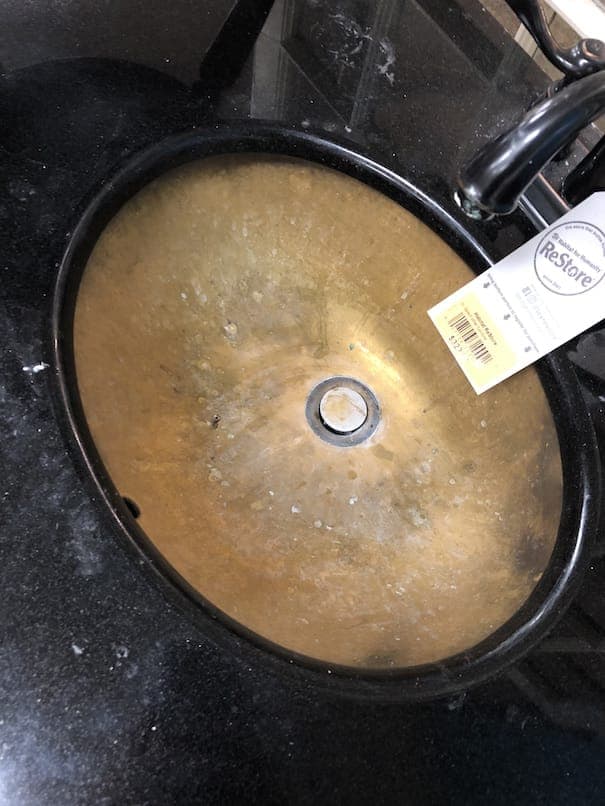 February 23, 2018
Q. I recently purchased a vanity with a brass sink. I am wanting to clean the sink and remove the spotting and tarnish without stripping the patina off completely. I do not want this to be a shiny polished brass look, but keep the antiqued brass pastime without looking dirty. Any suggestions will be greatly appreciated!

Thank you,
Kelli
Kelli Crosby
- Lexington, Kentucky, US
---
February 2018
A. Hi Kelli. I hope I'm wrong, but I think it's hopeless to try to save some discoloration and remove other discoloration; I think you'll have to take off everything then restore the patina. I really don't think any chemical is going to know what you want removed and what you want left in place.
Regards,
Ted Mooney, P.E. RET
finishing.com - Pine Beach, New Jersey
Aloha -- an idea worth spreading
---
---
August 1, 2019
Q. I have a powder OM vanity with an "antique brass" top mounted sink. For some reason, the area in the bowl of the sink where the water rises when running, has lost the brass finish and this area is now gray. Is there anything I can do to restore the antique brass color?
Joyce Marx
- Suwanee, Georgia