Live! From beautiful Pine Beach New Jersey: Welcome to the world's most popular metal finishing website
topic 49168
How to clean seagulls in flight metal sculpture
A discussion started in 2004 but continuing through 2018
June 28, 2008
I have a metal sculpture that is 4-1/2 feet wide and 22" high. It is signed by "c fere 1976." It was my mother's. She hung it on the wall in her living room. I have been trying to clean off what appears to be layers of nicotine (my father smoked) and dust, along with some "pitting". I hope to attach a picture of the object so that you may see how time consuming and difficult this project is. I thought it was "brass" but a magnet will not stick to it, so I don't know what the metal is. It weighs about 20 lbs.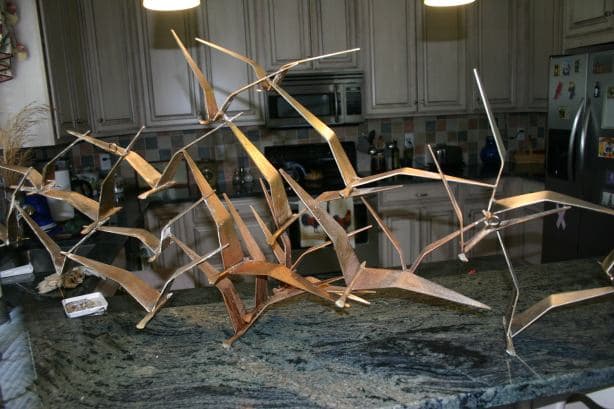 Susan McCully
None. - Linwood, New Jersey
---
June 30, 2008
Hi, Susan. Magnets don't stick to brass. It probably is brass or copper. There are dozens of brass polishes, and they work at all different speeds (usually the warmth of the color they leave is inversely proportional to the speed). If it's as hard as you fear, something slow like Brasso will take forever, but something more powerful like Revere copper cleaner [linked by editor to product info at Amazon] may work fast enough, especially is you can put it on a soft buffing wheel on an electric drill. Good luck, it's a beautiful work of art.
Regards,
Ted Mooney, P.E.
finishing.com
Pine Beach, New Jersey
---
July 2, 2008
My apologies; a magnet DOES stick to the birds, so it is not brass. Any other suggestions for cleaning it?

Further research on the piece reveals the artist(s) as "C. Jere" and it is called "Birds in Flight."

Thank you in advance for your assistance.
Susan McCully
- Linwood, New Jersey
---
July 2, 2008
Hi, Susan. According to www.truefresco.com/dcforum/DCForumID2/10.html it is possible but unlikely that the artist is actually C. Jere. Per that forum, although Curtis Jere was a real person, it's the name of a studio where works are done by apprentices and that trade name is affixed.
If a magnet sticks, the sculpture is steel. If it looks convincingly like copper or brass it is probably electroplated with that material. The same copper polish should work, but wax it when you are finished, and regularly, because it will rust as moistures penetrates the plating.
Regards,
Ted Mooney, P.E.
finishing.com
Pine Beach, New Jersey
---
July 2, 2008
Ted's right, it very nice. The more elbow grease you invest, the better it will look when finished. I can see 8+ hours to make it look really good. I like Brasso [linked by editor to product info at Amazon], but there are many good products.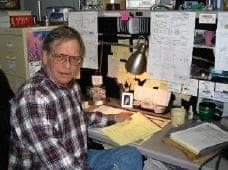 Jeffrey Holmes, CEF
Spartanburg, South Carolina
---
---
October 28, 2016
I am looking at a C. Jere on Etsy. It is hanging strips of metal on a metal "branch". It's really beautiful, but how do I ensure that it is an original? Thanks.
Kathy Stricklin
- Sacramento, California
---
Hi Kathy. Not to be facetious, but you either invest years in becoming an expert on the subject, or you retain an expert who has already done so ... or you ask for a certificate of authenticity that maybe you can trust but maybe you can't ... or you take a chance. There is simply no way for an amateur to tell from examination whether artwork is original -- a forger would always put more work into determining those clues than amateurs would and would always be a step ahead of you anyway. Sorry :-(
But it may not be that important, since it seems that some C. Jere stuff is beautiful, and some not so much. So if it's beautiful, that's probably what matters.
Regards,
Ted Mooney, P.E. RET
finishing.com
Pine Beach, New Jersey
Striving to live "Aloha"
---
---
August 22, 2018
Q. Hi, I have a black Birds in Flight wall sculpture that has been in storage for many years. The signature on it is C Jere '71. I would like to know a safe way to clean it. There are a couple of small spots that look like rust. Thank you.
Karen Holm
- Bayfield, Colorado US
---
August 2018
A. Hi Karen. Depending on how large this is, it might be quite valuable. If you consider it such, you can retain a metals conservator from the American Institute for Conservation of Historic and Artistic Works website (thanks to our reader Goran Budija for educating me on this) to examine and restore it.
Internet advice from people who haven't seen is never "safe", but please tell readers exactly what you've got so misunderstandings are reduced. It was black, rather than brass colored steel like Susan's? Is it steel (magnetic) or is is not-magnetic? If it is steel, does it looks like it might be painted black, or does it looks more like the "blued steel" on a gun barrel? The rust can probably be removed with very fine ("0000") steel wool, but even this can scratch off the blackening. Is it also dirty, or was it carefully wrapped and the little rust spots are the only issue? If it's dirty, water and dish detergent is usually safe as long as you are sure you can quickly get it dry. Preventing it from rusting again will probably require the application of oil; very light rubbing with WD-40 will probably help deter corrosion, but keep it under climate control, not in an entry foyer or porch. Good luck.
Regards,
Ted Mooney, P.E. RET
finishing.com
Pine Beach, New Jersey
Striving to live "Aloha"
---
---
September 26, 2018
Q. I just acquired a beautiful C. Jere pompom piece. I am not sure if it is rusted chrome or actually plated brass. I cleaned a small area with some lemon juice and baking soda and it was silver. Magnets stick to it as well. The back also looks silver colored. I was considering dropping it in Evap-o-Rust [linked by editor to product info at Amazon] because it is completely rusted but I don't want to ruin the piece. Any advice or knowledge would be much appreciated.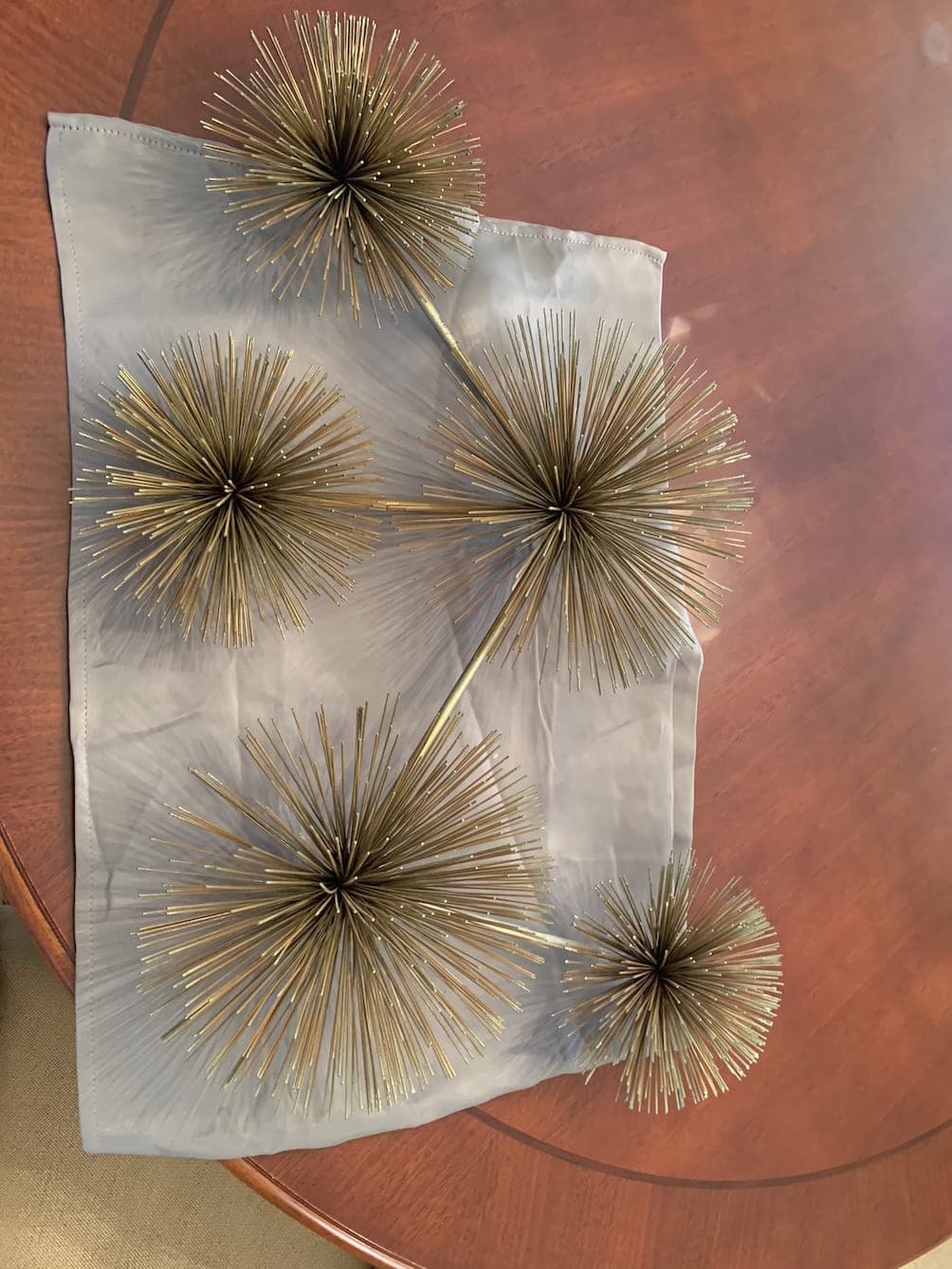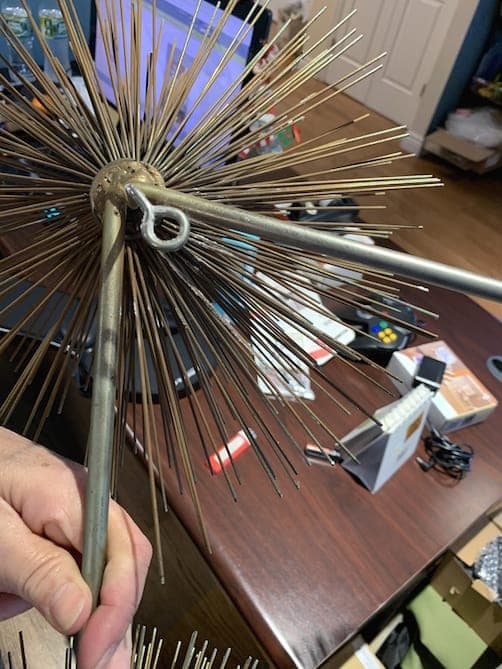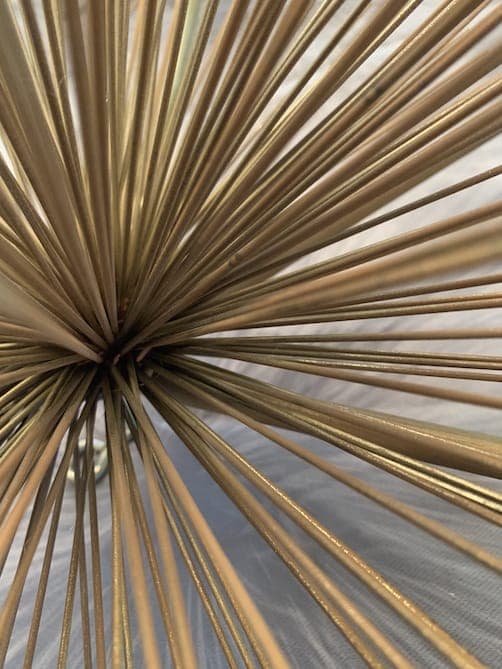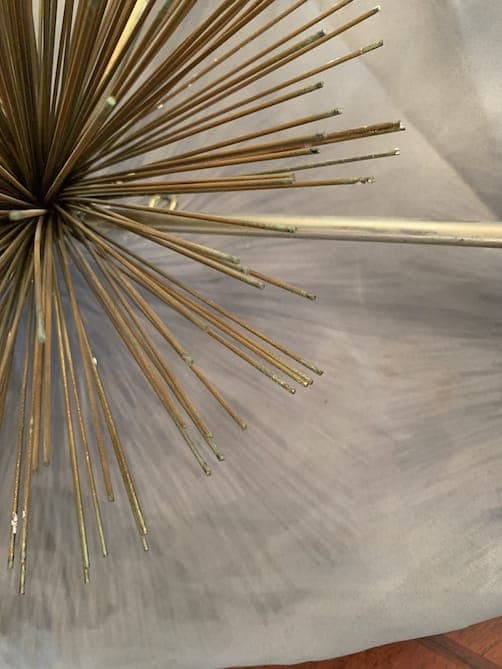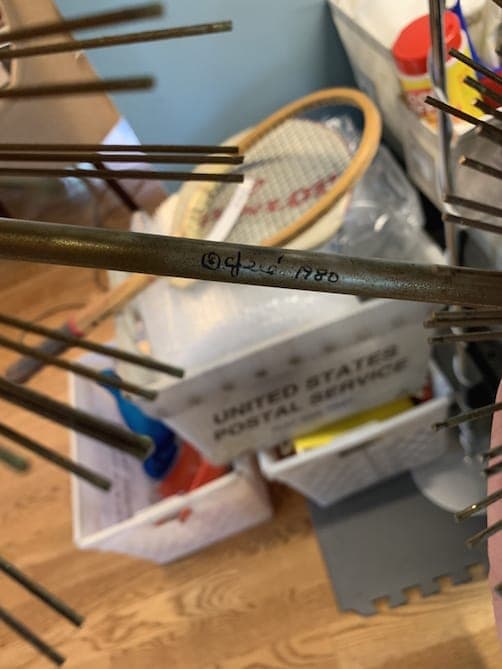 Joey angelson
- Marlboro New Jersey


If you have a question in mind which seems off topic, please Search the Site