Not a lecture hall but a roundtable with a seat for you!
60,000 topics spanning 36 years. Education, Aloha, & Fun
topic 49168
How to clean Birds in Flight metal sculpture
Current question and answers:
January 11, 2021
Q. Hi! I bought what was described to be a C Jerre sunburst birds in flight sculpture that looks in parts to be badly tarnished and in parts to be painted over with a gold paint or lacquer. I am not sure if it is genuine. A magnet does stick to it (albeit weakly), so I suspect it may be plated steel rather than brass.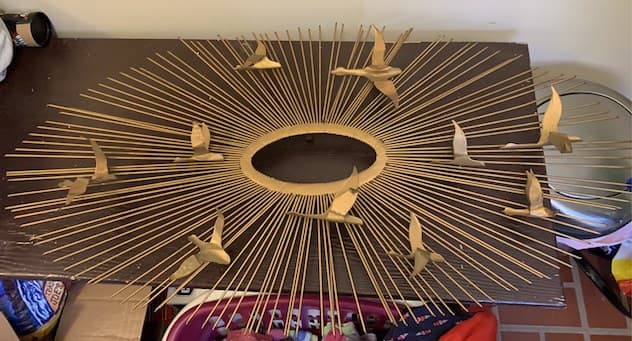 What would be the best way to Clean/restore it to a metallic shine? I was advised to use rustoleum metallic oil-based paint, but this seems like it might not be ideal.
Michael Wolf
- Nashville Tennessee
---
---
---
Previous closely related Q&A's starting in:
June 28, 2008
Q. I have a metal sculpture that is 4-1/2 feet wide and 22" high. It is signed by "c fere 1976." It was my mother's. She hung it on the wall in her living room. I have been trying to clean off what appears to be layers of nicotine (my father smoked) and dust, along with some "pitting". I hope to attach a picture of the object so that you may see how time consuming and difficult this project is. I thought it was "brass" but a magnet will not stick to it, so I don't know what the metal is. It weighs about 20 lbs.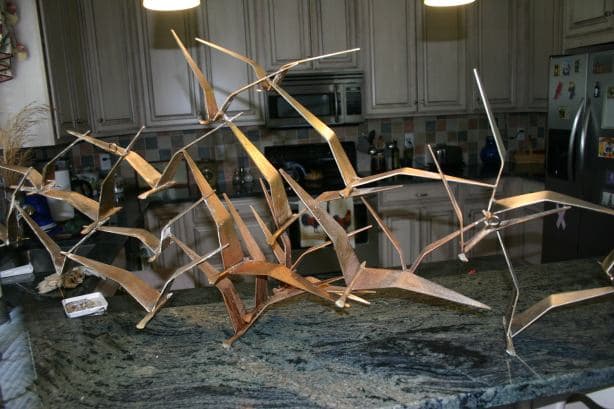 Susan McCully
None. - Linwood, New Jersey
---
July 2, 2008
Q. My apologies; a magnet DOES stick to the birds, so it is not brass. Any other suggestions for cleaning it?

Further research on the piece reveals the artist(s) as "C. Jere" and it is called "Birds in Flight."

Thank you in advance for your assistance.
Susan McCully
[returning]
- Linwood, New Jersey
---
---
October 28, 2016
Q. I am looking at a C. Jere on Etsy. It is hanging strips of metal on a metal "branch". It's really beautiful, but how do I ensure that it is an original? Thanks.
Kathy Stricklin
- Sacramento, California
---
---
August 22, 2018
Q. Hi, I have a black Birds in Flight wall sculpture that has been in storage for many years. The signature on it is C Jere '71. I would like to know a safe way to clean it. There are a couple of small spots that look like rust. Thank you.
Karen Holm
- Bayfield, Colorado US
---
---
September 26, 2018
Q. I just acquired a beautiful C. Jere pompom piece. I am not sure if it is rusted chrome or actually plated brass. I cleaned a small area with some lemon juice and baking soda and it was silver. Magnets stick to it as well. The back also looks silver colored. I was considering dropping it in Evap-o-Rust [affil. link to info/product on Amazon] because it is completely rusted but I don't want to ruin the piece. Any advice or knowledge would be much appreciated.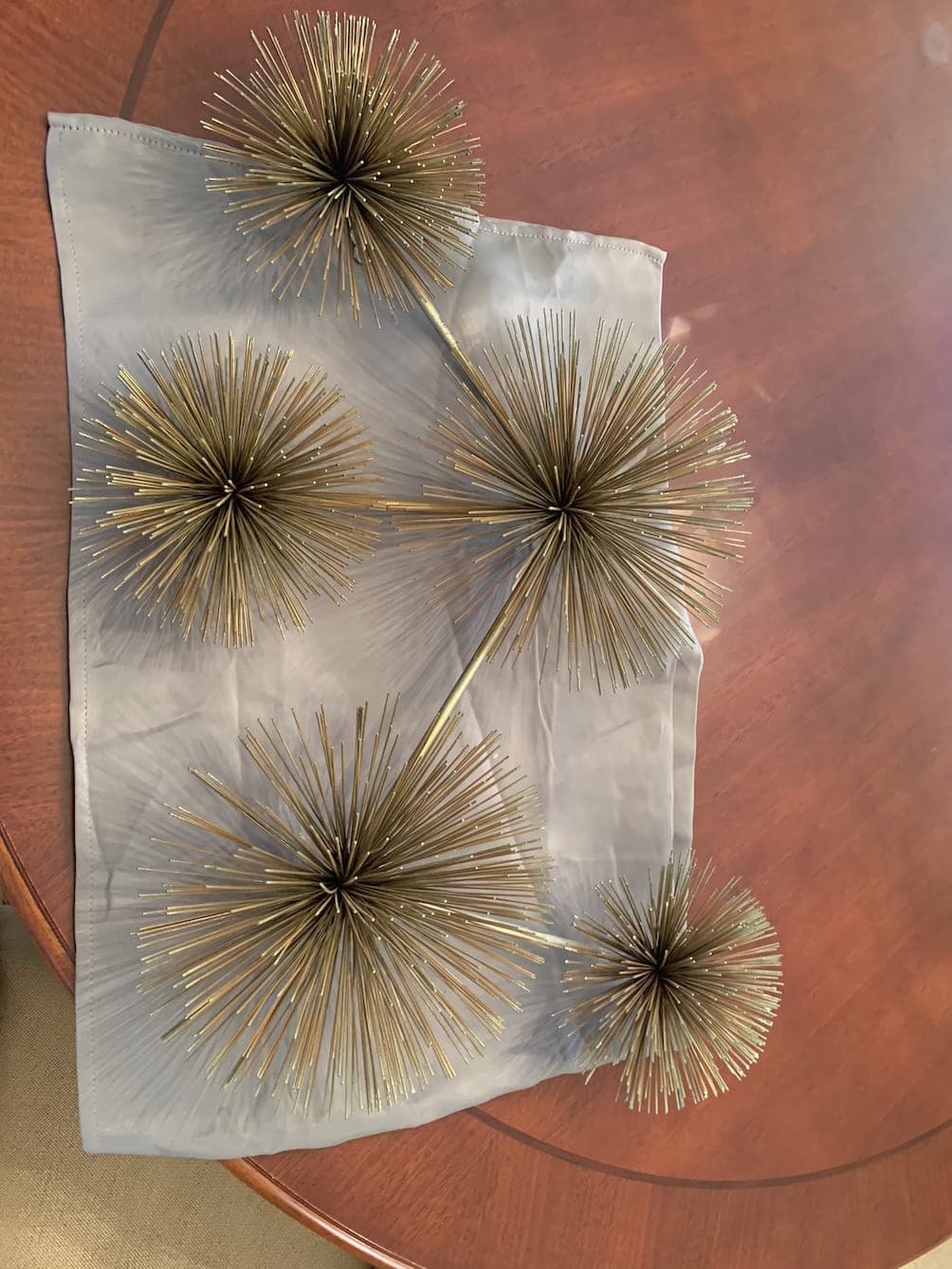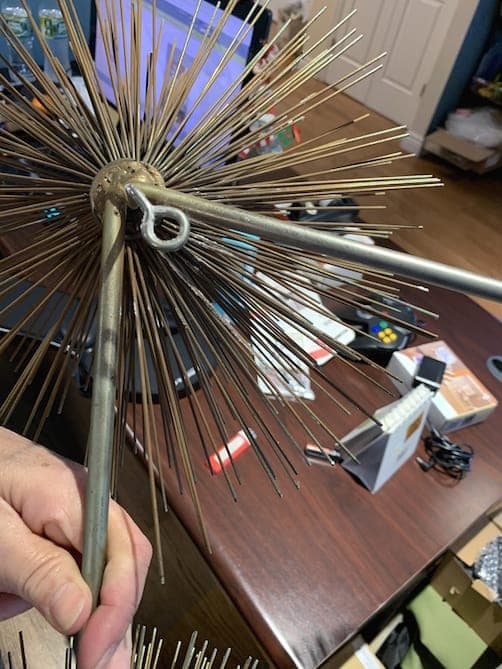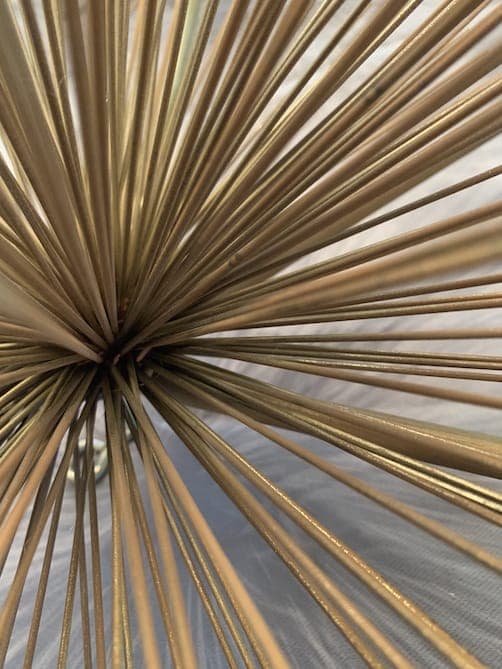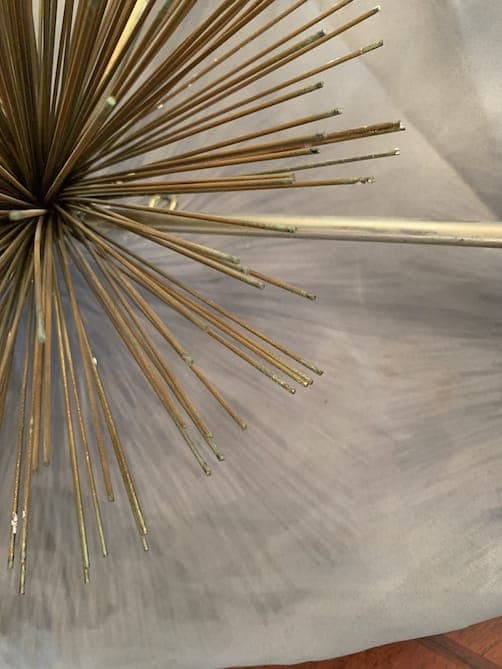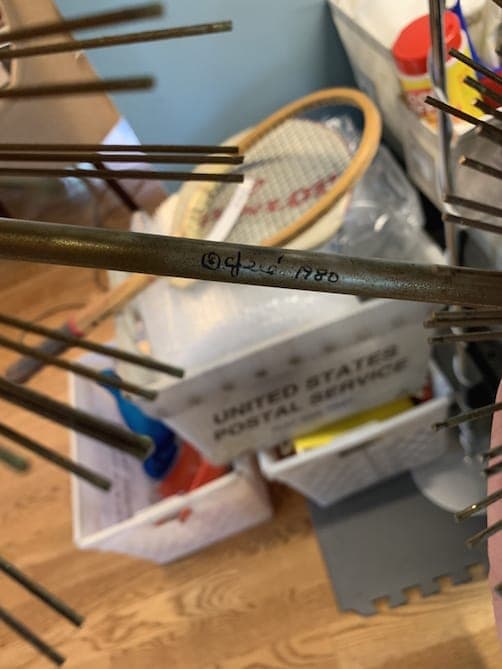 Joey angelson
- Marlboro New Jersey
---
---
How functional is copper plated steel as artwork?
July 19, 2019
Q. I'm designing a geocache involving a compass print. I have a 10" diameter 1/4" round cutout of high carbon steel that I plan to cover in adhesive laminate and cutout my design upon. I wanted to etch the steel to create some depth in the cutout parts, and then plate copper onto it for some character. I have read here that copper plating steel is nonfunctional for anything further than a science experiment, but how about for art? I plan to seal it in lacquer afterward, so I'm thinking that there would be no way for it to rub off afterward at least.
Vince Botai
Hobbyist and geocacher! - Cotati, California, United States
---
July 19, 2019
Q. Thank you for your answer. Just to clarify, when I am done etching, and I neutralize the work, do I need to buff out the steel? I have not seen anyone plate etched steel yet. It seems everyone is doing it on very smooth pieces of work.

Also, could you link me to an article of your preferred method for the amateur to follow? Or at least learn more from. I have read about a few different methods, but am not experienced enough to differentiate what is the most effective.

Thanks again.
Vince Botai
[returning]
- Cotati California United States
---
---
July 7, 2020
Q. Hi my name is Steve Melville and I have a Curtis Jere Adobe House Wall Hanging and the signature has been painted over. I would like to know if there is a safe way to remove the paint and salvage the signature. Any advice would be greatly appreciated. Thank you so much for your time.


Steve Melville
- Palm Bay,Florida U.S.A.