60,000 Q&A topics -- Education, Aloha, & Fun
topic 48281
Plating zinc die casting without copper cyanide strike
A discussion started in 2000 but continuing through 2017
2000
Q. It would be greatly appreciated if anyone could help me as to the make up of a nickel strike coat bath for zinc alloy pieces (automotive potmetal). The current baths in use are not compatible with the zinc based metal.I do not wish to handle the copper cyanide baths that most use. Any help would be greatly appreciated.
Thank You. Thomas K Haltmeyer
- Peoria Arizona


---
2000
A. The plating industry predominantly uses proprietary chemistry today rather than laboratory formulas.
The more difficult the plating problem, the more likely that the easy textbook formulas are unsatisfactory, and that you will need to benefit from the years of painstaking development that someone put in to develop a workable answer.
Nickel striking zinc diecastings instead of cyanide copper plating them is a workable technology, but I think you'll find that it is a technology you will have to buy from a supplier, not one you can toss together yourself like a Woods' nickel strike.
Ted Mooney, P.E.
finishing.com - Pine Beach, New Jersey
Striving to live Aloha
---
---
2002
Q. We need to Barrel Nickel Plate, on small parts made from Zinc Die Cast. What would be a good complete process sequence?
We used to apply regular Cyanide Copper for one hour and then Nickel Plate for 45 to 60 minutes. Regularly we had problems with blisters. We have received a new project and suggestions in regards of adding a Copper Strike before the regular Copper Bath. Is this a sound recommendation? How would you process this parts? We don't want to add an acid copper to our line after regular Copper.
Thank you for your answer.
Enrique Segovia
- Monterrey, Mexico
---
2002
A. First electroplate pure zinc over the die cast in an alkaline formulation, then Copper Cyanide Strike, then any kind of copper electroplate you want to use.

Robert H Probert
Robert H Probert Technical Services

Garner, North Carolina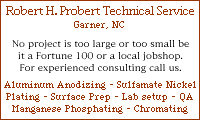 ---
2002
? Robert,
Thanks for your input. I have never heard of a pure zinc over the die cast. Is this a strike? What would the formulation be? What is the purpose or benefit of this bath?
Regarding the Copper Cyanide Strike, what are the parameters and formulation? How long do we plate on both baths?
Thanks again for your help,
Adios Amigo,
Enrique.
Enrique Segovia
- Monterrey, Mexico
---
2002
A. I disagree with the previous reply. No zinc plating is required!
First you need a very mild alkaline cleaner that will not attack the zinc.
Then you need an acid activator followed by a cyanide copper. No strike copper is required!
After the copper, you need an acid activator followed by the nickel.
Most adhesion problems in plating on zinc die casting are related to the acid activator between the copper and the nickel. Its concentration has to be constantly monitored and when it reaches a certain level of copper impurity, it has to be discharged.
Sara Michaeli
chemical process supplier
Tel-Aviv, Israel
---
---
March 25, 2008
Q. Hi, I'm trying to assist a customer who wishes to plate polished die cast parts without the use of a cyanide copper strike. My company is a supplier of plating chemicals with emphasis on Anodizing and electroless nickel. We all know die cast zinc is hard to plate without a cyanide copper strike, but my customer cannot get a permit from the South Coast Air Quality Management District, to install a new cyanide copper strike. So we are looking at alternatives. The volume of work is several hundred 2-5 square foot pieces monthly.
We have tried mechanical cleaning with poor results, blisters, poor adhesion and grainy appearance.
We have tried chemical processes such as soak clean, rinse, electroclean (anodic), rinse, with and without activator/neutralizer, and alkaline electroless nickel as a strike, followed by acid copper for thickness, before bright nickel and chrome.
All processes so far have blistered both on the polished side and the raw zinc die cast side. We know we need to improve the cleaning step, especially following the cleaners, but we don't know what chemistry to use to "bright dip" the polished zinc die cast part, sufficiently to a "white state", without etching it beyond use. Acid, of course, attacks zinc quickly. So, we are searching for an alkaline chemistry, to make the die cast surface clean of impurities and active enough to accept alkaline electroless nickel. Has anyone tried using an alkaline zinc plate, used as a strike, followed by electroless nickel followed by acid copper etc. etc.? Any help would be greatly appreciated.
Bob W
[last name deleted for privacy by Editor]
supplier of chemicals and equipment - Placentia, California, USA
---
March 2008
A. Hi, Bob. Cyanide is a dangerous and nasty chemical, and indeed we should constantly be looking for alternatives and trying to make progress away from it. One promising possibility may be a proprietary copper strike. EPI (Electrochemical Products Inc.) [a finishing.com supporting advertiser], offers one specifically for die castings that may work well for you. See if they can offer case histories, sample parts, and a distributorship arrangement with you. I know there is also a proprietary nickel strike for diecastings too although I don't currently know the suppliers of it.
affil. link
"Finishing and Electroplating Die Cast and Wrought Zinc"
by Safranek & Brooman
from Abe Books
or

opinion! But we can't put the cart before the horse! It's good to work towards progress in chemistry, including reduction of hazardous substances ... but shall we ask people to board airliners with components built in an area where an air quality bureaucrat forbade the shops from using the correct treatments? I can imagine the lawsuit :-)
"Yes, we knew the correct & proven process sequence presented in texts, symposiums, & tested in peer-reviewed papers for decades ... but a regulator wouldn't let us do it in his area. So we played around and produced blistered defective parts and made some that looked like, well, let's give it a go, and we used them on that airliner" :-)
The jury's response would be: "You have no business making parts incorrectly. How could you talk yourself into mixing up priorities like that? Your business should have moved!"
Ted Mooney, P.E.
finishing.com - Pine Beach, New Jersey
Striving to live Aloha
---
March 26, 2008
A. Ted points to a proprietary non-CN copper which may work. A pyrophosphate strike may work too, however nothing is as reliable as cyanide copper.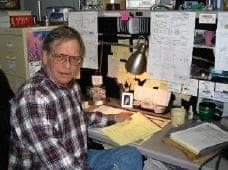 Jeffrey Holmes, CEF
Spartanburg, South Carolina
---
March 26, 2008
A. Hi Bob,

I once saw on web, one of the electroless nickel supplier claiming to have Electroless nickel which plates directly on Zinc Die Casts.

-Sridhar
Sridhar Bushigampala
- Toronto, Canada
---
---
March 27, 2008
Q. Our metal finishing company specializes in refinishing antique parts and frequently we find that the customer's zinc die cast parts are often deteriorated and very difficult (and costly) to plate. I understand that zinc die cast parts are difficult in general to plate due to the aluminum and various impurities that it inherently contains; my hypothesis is that if the zinc die cast is first zinc plated, it will then be easier (due to the layer of pure zinc) to copper plate a zinc die cast part.

My question is: When a piece of zinc die cast is deteriorated, is it any easier to zinc plate it than copper plate? I know that the type of bath is certainly important to consider so I am also interested in suggestions for different plating baths, either zinc or copper.

My copper strike bath is a non cyanide, non pyrophosphate, alkaline solution specially designed for zinc die cast.
Jared Juntunen
Electroplater - Muskegon, Michigan, USA
---
---
February 15, 2010
Q. We are experiencing plating issues on small zinc diecastings (1" square x .070 thick) the spec calls for .0003 copper, .0003 nickel & .0003 silver.
The main issues are plating blisters or pot marks both of which I believe are being caused by the following.

1. improper cleaning/activation

2. copper strike

3. copper plate

Is there a special process for eliminating these issues during the above, any help would gratefully appreciated.
Simon Roberts
Buyer - San Diego, California
---
---
February 10, 2012
Q. Hi
I'm a zamak parts producer by hot chamber die casting machines. How can I surface finish my products by "Alkaline Zinc Plating"? What is the "Alkaline Zinc Plating" process?
Amir Edjtehadi
- Tehran, IRAN
---
February 10, 2012
A. Hi, Amir. An alkaline zinc plating process is simply a process for electroplating zinc onto a component where the plating bath uses an alkaline solution rather than an acid solution or a cyanide solution. Electroplating is at best a rather complex industrial science even on "easy" substrates, let alone on zamak diecastings. So, unfortunately, I don't think anyone can offer you forum length instructions on this; but start with a study of plating on diecastings, and with a study of alkaline zinc plating, and you'll surely make progress. Best of luck!
Regards,
Ted Mooney, P.E.
finishing.com - Pine Beach, New Jersey
Striving to live Aloha
---
---
February 24, 2017
Q. Is there any process on zamak where we can do nickel and chrome without using any of the copper (acid, cyanide, pyro)?
Rumit Shah
- Jamnagar, Gujarat, India
---
February 2017
A. Hi Rumit. I know there was a plating supplier in Brooklyn New York who offered a nickel strike for zinc diecastings, and I saw it in operation at two locations, but I don't know if they are still in business. Shridhar says there is also an electroless nickel process for diecastings.
I am not aware of the specific technical literature on the subject, but surfacequery.com does show a number of articles on it if you are willing to pay for access to the database. Hopefully another reader will be able to point you to more details.
Please do not keep it abstract, but tell us what you're plating, how many, and why you need it copper-free -- so people know which proposals might be useful to you or not. Good luck.
Regards,
Ted Mooney, P.E. RET
finishing.com - Pine Beach, New Jersey
Aloha -- an idea worth spreading
---
---
Plating Acid Copper onto Zamac
June 15, 2017
Q. Hello I have the following problem: I am trying to apply copper to a piece of zamak (1% copper, 4% aluminum, 0.5% manganese and 94.5% zinc), but when I insert the part in the solution of acid copper the piece changes to black and copper does not stick. What can I do to apply copper to zamak and then nickel? Thank you.
tony montana
- miami Florida usa
---
June 2017
A. Hi Tony. If you would introduce yourself I think things would go more straightforwardly :-)
It's a bit hard to answer when we don't know if you're an experienced electroplating shop versus a first-time hobbyist. But acid copper cannot be electroplated onto zinc, zamac, or steel. If you are an established shop, you can probably use cyanide copper -- but certainly not if you are a hobbyist. Hobbyists might look at pyrophosphate copper, a proprietary copper plating bath, or a proprietary nickel plating bath made for striking zamac. Good luck.
Regards,
Ted Mooney, P.E. RET
finishing.com - Pine Beach, New Jersey
Aloha -- an idea worth spreading
---
June 22, 2017
A. Hello Tony,

As I can tell, the only bath that doesn't have problems with Zamac is cyanide copper. I wouldn't recommend having a cyanide bath in your back yard, so best of luck searching for an alternative!

Regards,
Daniel Montanes
TEL - N FERRARIS - Canuelas, Buenos Aires, Argentina
---
---
July 30, 2017
Q. Sir,
Which chemistry (alkaline copper or pyro copper) is most suitable for copper plating on zinc die castings?
Regards,
Snehal
Snehal prakash patil
- Ponda Goa India