60,000 Q&A topics -- Education, Aloha, & Fun
topic 48074
Hard chrome plating problems
adv.
A discussion started in 2008 but continuing through 2019
March 6, 2008
Q. We have in our workshop a chrome bath with about 6000 ltr chromic acid, with 12000 Amperes available, 12V supply.
The main problems is Grey shadows in the chrome layer, and also pitting.
The chrome is also not so hard as it used to be.
The materials this appears on is regular ST52.3N and SIS 2387, all ground and polished before chrome plating.
We also do chemical cleaning and activation on the rods we chrome.
We have checked the power supplies and also the acid but we cannot find out what is wrong with this.
We would be really happy to hear from someone with deep knowledge in hard chrome plating.

Best regards,
Anders Aronsen
, General Manager
Plating shop/hydraulic repairs - Trondheim, Norway
---
March 7, 2008
A. Hey there,
you did not write anything about your latest analysis results. Also, are you using a catalyzed bath, then you should also consider doing an analysis.

Good Luck,

Dominik
Dominik Michalek
- Mexico City, Mexico
---
March 8, 2008
A. Hello Anders,

Do an analysis on the chromic acid for contaminants like iron, aluminium, copper, trivalent chrome. Control the anodes so they are active. I think the ratio between chromic acid and sulphate is wrong.

Read my article about chrome plating in the library here on finishing.com

Regards,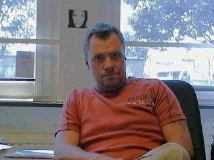 Anders Sundman
4th Generation Surface Engineering
Consultant - Arvika, Sweden
---
March 14, 2008
A. Hi, I'm a hard chrome plater and had very similar problems when I started. The pitting could be many things, from the parts being porous, poor cleaning & etching, and even the wax used for masking.

Sometimes if your wax is dirty or contaminated, you can see rust (like pitting) through the glycerine after you have done the first part of the masking.

Also leaving work in the hot wax too long can cause pitting problems if your wax is dirty (some people de-mask in the wax tank, therefore contaminating it with chemicals and water, etc.). A new wax put an end to my pitting problems --simple but not something people think of!

As for your grey discolouration, have you had an analysis of your solution? Are the anodes clean? Is the vat stirred after being topped up (cold water sits on top and causes burning to the part)? Sounds silly, but a guy from another plating firm visited my factory and asked why I stirred the vats - then he said his parts looked grey and horrible!

The newer the solution, the brighter the finish and also the chrome is harder; but it does dull down with age -- maybe its time to renew yours ?
J Smith
- Essex, England
---
May 23, 2008
A. Could be:

-shadowing from an edge
-etching too long, not long enough
-etching current too high
-plating current too high, calculate using L*D*3.1416 for 1thou an hour plating current.
-temperature too cold


Could be a number of things, guide me through your plating process and I may be able to help you.
Mike Hunt
- Perth, WA, Australia
---
---
May 7, 2018
Q. I'm John. We are needle manufacturers doing hard chrome plating on needles.

Since a couple of months we're facing blackness at LCD area.
What can be the reason if anyone can help?
Parmod Jangra
Needle manufactures - India,Chandigarh
----
Ed. note: While awaiting help, please send photos of these needles for posting here, by attaching them in e-mail to . A picture is worth a thousand words. Thanks.
---
May 9, 2018
A. Hi John,

While pending defect part photo for ref, you may verify below possible causes:

1. Too high metallic impurities content in plating solution.
2. Too low cathode efficiency at LCD area.
3. Poor bath solution wetability.
4. Operating parameters out of control (Cr, specific gravity, pH, complexer, temperature, etc).
5. Insufficient barrel movement if doing barrel plating.
6. Inadequate post rinsing and drying.

Regards,
David

David Shiu
- Singapore
---
September 24, 2019
Q. We have tried to resolve this coating problem in our shop.
We are coating dia 750 and length 2200 Steel industry Rolling Rolls.
Problem is shown in attached images.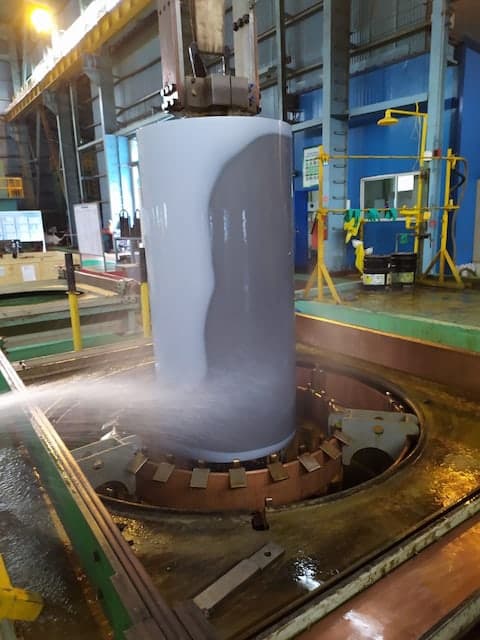 Bath temp. 47 °C for etching and time is 30 sec.
52 °C for coating.
Solution concentration of CrO3 = 230 gm/l
And H2SO4 = 2.3 g/l

Please give us valuable suggestion.

Roughness after Shot blasting is 3 to 4 microns
Vishal Patil
- India
adv.