Where the world gathers for
plating, anodizing, & finishing Q&As since 1989
-----
Room temperature ("cold") passivation of stainless steel
Current question and answers:
TUTORIAL FOR NEWBIES:

Even excellent grades of stainless steel can rust if not passivated (remnants of carbon steel dissolved, and a chromium enriched surface provided). This is often done in factories by immersion in nitric acid or citric acid. In the field, citric acid is easier to get, much safer, and more appropriate for non-professionals.
January 12, 2021
Q. I've found myself doing a rather large railing project for a friend of mine using 316L stainless steel. While I'm not new to welding, I am new to finishing stainless. I'm making large pieces in situ and can't put parts in a heated bath for passivation. I have a bucket of food grade citric acid. Can I just make a paste of the citric acid, apply it liberally at room temperature, then wash it off to achieve passivation?

This project is at a beach house, so the worked stainless starts getting rusty fairly quickly if left in the open without being passivated. Any info at all would be greatly appreciated. Thanks!

Brandon
Brandon Jones
- Kaunakakai, Hawaii
---
January 2021
A. Hi Brandon. Yes you can if you wish, but ...
On a large railing project for a friend, using the best and most expensive stainless you can buy (for that purpose), it seems to me that 'a bucket of food-grade' doesn't sound in keeping with the project. You can if you wish, get professional grade citric acid gels and experienced advice from people like Stellar Solutions [a finishing.com supporting advertiser].
Luck & Regards,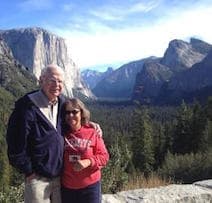 Ted Mooney
, P.E. RET
Striving to live Aloha
finishing.com - Pine Beach, New Jersey
---
TUTORIAL FOR NEWBIES:

Electropolishing inherently provides excellent passivation. So those following Mark's suggestion for brightness don't have to worry about subsequent passivation.
January 15, 2021
A. When it comes to large items for passivation like railing there are citric passivation gels available from Stellar Solutions which work well for application like this. You can also use a brush electropolish method which will brighten the stainless much more than the citric gel.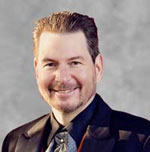 Mark Battles
Plymouth, Minnesota
---
January 15, 2021

I appreciate the advice (and the aloha). Thanks for putting it into perspective, the value of the material deserving the right treatment. Being new to the finishing of stainless and searching for answers online, I had been led to the 'tub of citric acid' solution. Thanks for directing me to Stellar Solutions. I've ordered from them and should have it next week.

Thanks again!
Brandon Jones
[returning]
- Kaunakakai, Hawaii
---
January 26, 2021
A. Brandon,
Looks like I'm not needed here, ha!

But for the record, per industry standards, passivation at "room temperature" 70 °F is perfectly acceptable, just slightly slower than a heated bath.

Though off-spec, doing it at even lower temperatures with the time further extended should be viable. Up here in the cold states we always have some people wanting to treat an outdoor rail in the middle of winter.

Ray Kremer
Stellar Solutions, Inc.

McHenry, Illinois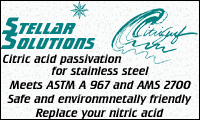 ---
---
Finishing grit vs. passivated stainless longevity
January 28, 2021
Q. Hi,

I've been working on finishing some stainless work at a house on the beach, and my question is about the minimum grit for achieving a lasting finish. I've taken the metal to 80 grit with a linear finishing tool, and the person I'm making them for really likes that rougher look more than the finer grit. My question is, will the rougher finish lead to more problems with corrosion, even after passivation? The alloy in question is 316L. The work is exposed to a lot of wind, rain and salt air.

Thanks!

Brandon
Brandon Jones
[returning]
- Kaunakakai, Hawaii
---
---
---
Closely related historical posts, oldest first ...
2000
Q. Readers, I am a manufacturing engineer. I have recently been assigned a task to locate a method to passivate areas of weld on a test system cabinet. The material is 304L Stainless Steel. Our customer wishes the area of weld to be passivated.
The cabinet is too large to send out to be tanked in a passivation bath. Hence, I am seeking an alternative to comply with our customer requirements. A method we might be able to perform safely in-house would be preferred. A co-worker has mentioned a method called "cold passivation". I am not familiar with this method. Any helpful information forwarded would be appreciated. Thank you,
Mark G
[last name deleted for privacy by Editor]
Mfg. Eng.- Brea, California USA
---
2000
A. I would write a process specification (times temperatures, materials, chemicals (with an appropriate short section on theory of corrosion relating to this problem, with references): polish the weld after all other operations (no steel wool or iron scrapers) with half whiting and 00 Pumice [affil link] on a soft rag with a little ammonia. wipe with a wet cloth then dry with a soft cloth such as flannel. You may also want to test the weld area with ferroxyl indicator to have a measure of the corrosion potential of the weld and other areas of the cabinet. If the test is positive for iron, it may be necessary to remove embedded iron with other techniques (acid, dichromate etc.)


Tom Pullizzi
Falls Township, Pennsylvania
---
2000
adv.
Mark: This is a very common request that we receive. We have several CitriSurf citric acid based products that work very well for this application, depending on the condition of the weld and the desired results. We can obtain excellent corrosion resistance in the weld area after passivation.

We would be happy to run tests for you, or to send you samples. We have good products that are in the gel form so that it can be sprayed or painted onto the surface. Let us know if we can help. Lee


Lee Kremer
Stellar Solutions, Inc.

McHenry, Illinois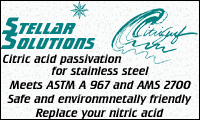 ---
2000
A. Hi Mark. Your task seems the perfect opportunity for Brush Electropolishing, which, if done correctly, will give all the benefits of passivation by other means and a good looking finish as a bonus. Regards

John Tenison - Woods
- Victoria Australia
---
---
To minimize searching & thrashing, multiple threads were merged; please forgive repetition, chronology errors, or disrespect of other responses (they probably weren't there) :-)
---
---
2003
Q. Is there a cold process for satisfying the requirements of QQ-P-35C [link is to free spec at Defense Logistics Agency, dla.mil] Type VII or does the process have to be accomplished with a warm to medium nitric acid bath. Currently a subcontractor that is finishing parts for my company is maintaining that a cold bath, with extended soak time, satisfies the requirements of QQ-P-35C. (I am aware that the spec is now ASTM A967 [affil. link] )
I would appreciate a reply at the earliest....
JAMES SARLES
Ordnance Engineering - BRENTWOOD, Tennessee, USA
---
2003
A. James, if you take a Type VII bath (Nitric 3 in ASTM nomenclature) and use it at room temperature (70-90 °F), you have a Type VI bath (Nitric 2). Unless your print calls out the bath, I'd guess you're OK to do that: they're used on similar alloys. The time is 30 minutes minimum rather than 20.
You know, if you take the opinion that QQ-P-35 was replaced by ASTM A967 [affil. link] , then in paragraph 6.1.1.5 of the ASTM it allows "Other combinations of temperature, time, and concentration of nitric acid, with or without other chemicals, including accelerants, inhibitors, or proprietary solutions, capable of producing parts that pass the specified test requirement." The specsmanship hassles come should you have to go the "QQ-P-35 becoming AMSQQP35 [canceled, affil. link] which will eventually be superseded by AMS2700 [affil. link]B" route.

Lee Gearhart
metallurgist - E. Aurora, New York
---
February 4, 2009
Q. REF AMSQQP35 [canceled, affil. link]C AND/OR CURRENT SPECS FOR PASSIVATION;
DO ANY OF THE PASSIVATION SPECIFICATIONS ACTUALLY REQUIRE TESTING SUCH AS HIGH HUMIDITY? (TYPE II, VI, VII, VIII) MIL-F-14072 E300 - DOES THIS DIFFER FROM OTHER PASSIVATION SPECIFICATIONS? IS TESTING A REQUIREMENT?

THIS IS A GREY AREA FOR ME. I AM NOT WILLING TO PURCHASE ALL OF THE RELATIVE SPECS AS WE USE OUTSIDE VENDORS FOR ALL APPLIED FINISHES. I AM MOSTLY CURIOUS ABOUT THE ADDED COST FOR TESTING THAT I AM NOT CERTAIN IS A REQUIREMENT.
RICHARD GOULDMAN
JOB SHOP MACHINING - RICHMOND, Virginia
---
May 8, 2009
A. AMSQQP35 [canceled, affil. link] has been superseded by AMS2700 [affil. link] C. The standard lists Method 1 Type 6 as "Low Temperature Nitric Acid". Basically, this is 20%-45% HNO3 with 30 minutes minimum immersion time at 70-90 °F. The Method 1 Type 7 is considered "Medium Temperature Nitric Acid". This type is 20%-25% HNO3 with 20 minutes minimum immersion time at 120 °F-140 °F.

The AMS2700 [affil. link] C states that three types of testing for corrosion resistance verification are acceptable. They are:

Humidity - 95% Min. relative humidity at 100-115 °F for not less than 24 hours. No red rust.

Copper Sulfate Test

Salt Spray - 2 hours exposure in salt spay environment in accordance to ASTM B117 [affil. link] . No red rust.

Our company used the Salt Spray for our PPAP testing. It only cost us 50 dollars for a minimum run charge since the time is so low.
Clay O'Shell
- Tyrone, Pennsylvania, USA
---
---
July 7, 2016
Q. There are any types of cold passivation?
I need cold passivation for stainless steel fasteners.
Same requirement in pickling
paresh jadavani
- Mumbai, India
---
July 11, 2016
There are several cold passivating solutions for stainless steel.

adv.
Contact me for consultation.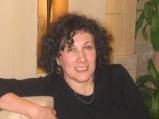 Anna Berkovich
Russamer Lab

Pittsburgh, Pennsylvania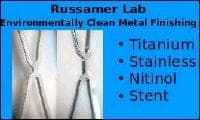 ---
July 12, 2016
A. Paresh,
Define "cold". If you look at the industry standards (ASTM A967 [affil. link] , etc.), depending on the bath formulation used, temperatures of 70 °F (20 °C) are allowed. I suppose if you are in India you're not likely to see anything much lower than that.

In actuality, it's just a question of chemical reaction rate. The iron removal from the surface goes faster with more heat, and slower with less heat. I've had customers passivate in temperatures of 40 °F or so (5 °C), usually an outdoor handrail while snow is on the ground or equipment in a refrigerated food plant, and I advise them to extend the treatment time to over an hour in order to hopefully achieve similar results to 20 minutes at 70 °F.

Ray Kremer
Stellar Solutions, Inc.

McHenry, Illinois