60,000 Q&A topics -- Education, Aloha, & Fun
topic 46108
Problems with Pickling and Passivating 304 Stainless Steel
A discussion started in 2007 but continuing through 2019
2007
Q. We have recently seen a problem with pickling and passivating 304 stainless parts. We are getting a very rough, black finish on the parts. When we inquired with our subcontractor who does the pickling/passivation, we were told that if there is a high carbon content, this is the result. Would 304L be a solution to this problem?

Regards
Jake
Jake Weckerly
Quality Manager - Franklin, Pennsylvania, USA
---
2007
A. It sounds like your parts are being etched by the process. There is no reason for this to happen even with standard 304 (AISI 304) stainless steel if the pickling and passivation baths are correct. 304L is low carbon and may be better in the bath that is being used, of course, but it depends on the application of the final part whether you can use 304L.
adv.
Contact us if we can help further.
Lee Kremer
Stellar Solutions, Inc.

McHenry, Illinois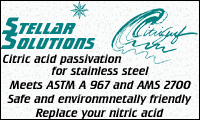 ---
2007
A. Readers can only offer wild guesses because you have not said what your pickle and passivate processes are. I have passivated a lot of 304 and similar alloys and have not seen the problem. Exactly what 304 alloy are you using? A high sulfur content for free machining could turn black if heavily pickled.
James Watts
- Navarre, Florida
---
2007
A. Any more info on this, Jake?

304 is rated 'very easy' in pickleability (easier than 316 & 316L) in AvestaPolarit's 'Handbook for the pickling and cleaning of stainless steel.' 304L would be better only if the 304 was sensitized, i.e., welded or improperly heat treated.

My wild guess: An heat treatment problem: either excessive oxidation (oxide still present) due to prolonged high temperature annealing or carbide formation due to an improper furnace atmosphere.
Ken Vlach
- Goleta, California
Finishing.com honored Ken for his countless carefully
researched responses. He passed away May 14, 2015.
Rest in peace, Ken. Thank you for your hard work
which the finishing world continues to benefit from.
---
---
Passivation 304 SS for 960 hours salt spray
September 3, 2019
Q. Does anyone know of a passivation solution (manufacturer name and product) from a US supplier that could meet the ISO 9227 [affil. link to spec at Techstreet] salt spray requirements for 960 hours?
Eddie Leon
- scranton, Pennsylvania USA
---
September 2019
A. Hi Eddie. We cannot post suggestions of specific brands or suppliers in this public forum (why?), but Stellar Solutions [a finishing.com supporting advertiser] and Russamer Lab [a finishing.com supporting advertiser] are reputable sources. There is probably more to proper passivation than the solution per se, however; and it's probably also debatable whether 960 hours of ISO 9227 [affil. link to spec at Techstreet] salt spray is an ideal test of passivation; we'd certainly encourage comments about those issues :-)
Regards,
Ted Mooney, P.E. RET
finishing.com - Pine Beach, New Jersey
Aloha -- an idea worth spreading
---
September 7, 2019
A. You can easily make a DIY passivation solution for high-chromium 300 series that meets the ASTM A380 [link is to the practice at TechStreet] Code G specification, and which is what we use for 304:

20-40% vv of 42° Bé(67%) Nitric acid in DI water
20-30 g/L Sodium Dichromate Pentahydrate (AKA Sodium Bichromate)

Immersion time dependent upon choice of temperature range. There are two options given in the Specification.

We use the hot one, which requires a sacrificial CPVC tank liner that is replaced annually, as this solution is very aggressive to plastics.

Change the solution when it becomes visibly dark and/or outside testing reveals Fe contamination above your shop limits.

Also, we run the Nitric at the lower end of the range, so the tank also conforms to Code I for other alloys, as well as AMS2700 [affil. link to spec at Techstreet] Ty2, in case it is requested. Our parts pass 24h immersion; we have never had a salt spray request on this, but the method given is called out in the relevant Specification and would be the place to start your testing.
Threaded/blind hole parts require more attention in the form of continuous manual swishing or a roller barrel to be successful. This is in addition to normal tank mixing.

Be aware that this solution is extremely hazardous to operators and the environment, and all rinse waters, DI resins, broken equipment (the vapors kill mixer motors pretty fast), etc. that have come into contact with it must be treated and/or shipped as hazardous waste, and it needs to be run in a hood or other enclosure equipped with an air scrubber- even more so if using the heated option. I can't stress enough that this is literally THE MOST dangerous tank in our anodize/ conversion/ electropolish/ passivate shop, hands down.

Hopefully one of the resident Citric gurus will chime in to suggest a safer alternative for those who are unwilling or unable to set up this nasty process! We use Citric for a lot of alloys but 304 is not one of them. Yet. :) Though it IS allowed under AMS2700 [affil. link to spec at Techstreet] Method 2 (see Table 4).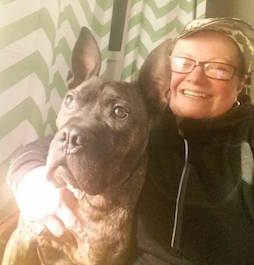 Rachel Mackintosh
Plating Solutions Control Specialist / Industrial Metals Waste Treatment - Brattleboro, Vermont
---
September 20, 2019
A. Eddie,
The salt spray data I have capped things at 200 hours, so I don't know what the theoretical maximum hours is for 304. But if 960 hours is realistic, then I'm sure following ASTM A967 [affil. link to spec at Techstreet] or AMS2700 [affil. link to spec at Techstreet] will get you there. Probably either nitric or citric methods will do, though of course citric has safety advantages.

(Thanks for the shout-out, Ted!)

Ray Kremer
Stellar Solutions, Inc.

McHenry, Illinois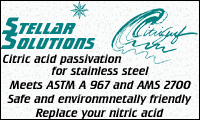 adv.