Where the world gathers for
plating, anodizing, & finishing Q&As since 1989
-----
Aging aluminum for a vintage look
December 7, 2021
Q. Hi, I'm Mikael Lavoie, a former tig welder who is now foreman. I have a good 10 years of experience assembling/welding stainless steel, aluminum mainly but I've welded lots of metal on different projects. I love finding solutions to production problems and I usually am very creative doing so. That's it for the intro.

I'll explain the problem background first. We have some customers that ask us to have aluminum parts that are scratch-free on both sides. We have found ways to manipulate them properly during the loading on our laser cutting machine and generally we can do it. We are looking at each plate one by one to be sure that it is scratch-free, and discard the ones that have scratches for other projects. Very time consuming but it's the only way we are sure to not scrap plate.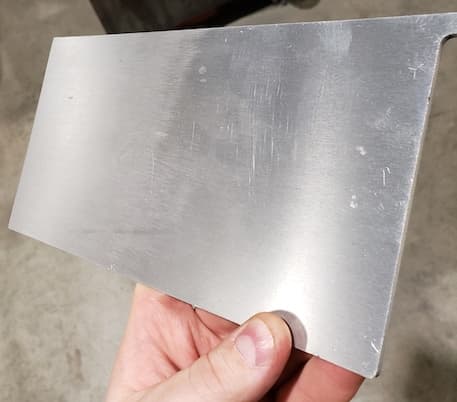 As you can expect, we sometimes have problems with new employees, or problems with equipment that generate non-compliant parts. So I want to find a way to repair non-compliant parts. It's very complicated and time consuming to polish an entire plate, so I want to polish only a zone containing the scratch. Also the finish is not the same with a polished plate mixed with original plate on the same project.

I've developed a way to polish them that closely matches the finish on a stock plate. My main problem is that when polishing, you remove the oxide layer on the aluminum plate. Even if you match the grain size and finish, the oxide layer removal messes with the reflection of the light and you always see the spot that was polished.

In the past I let the time do its thing and polished parts to let them in rack for 6 months to let the oxide layer build itself naturally -- with decent results. But it's not practical at all ... so I'm searching for a way to grow the oxide layer artificially in a way that it will match the original layer on the plate.

I tried brush anodizing, in a very DIY fashion using my tig welder in stick mode as a power source (75 Volts, 5 Amps) and sulfuric acid as the electrolyte. It was a fail... I've read papers about brush anodising and the use of sulfuric/carboxylic acid mix to activate the surface. But I've also learned about the need to control the current and ramp it up, and all the technicalities of the subject. Before continuing my venture in this avenue, I want to consider some other possibilities.

I read that the natural oxide layer growth rate is proportional with the diffusion rate of oxygen. So do you think that I can explore a way to maybe pressurize the plate into a oxygen rich atmosphere to accelerate the growth enough to have the effect I seek? Maybe using heat to speed up the process?

One way I accelerate the growth directly from my polishing is I discovered that if I do the final finish with a precise scotch bright grain, and use a lot of water while doing it, instantly the finish gets more luster. I've read after that the aluminum is so reactive that it leach the oxygen from the water, forming the oxide layer faster.

Okay this post is starting to become quite long, so I'll let you tell me which method I should invest time and money in to try to get the result I need. Maybe you can point out a method I know nothing about that could solve my problem?

Thanks a lot for your time, it's appreciated!
Mikael-Pierre Lavoie
- Quebec, Quebec, Canada
---
---
---
Closely related historical posts, oldest first ...
2000
Q. Hi. I'm a landscape designer by trade and I'm faced with a situation which requires me to age aluminum to match an old naturally weathered finish on a vintage aluminum cast lamp. I've located three similar lamps , but they have been painted over the years- I plan to strip the paint off using either boiling water or conventional paint strippers, having done plenty of old hardware before. How do I accelerate the aging process ? The vintage fixture has a dark grey finish which is almost bronze -like. There is clearly no paint or anything on it at all. What is my best method for achieving this look- note this isn't a coastal environment- it's residential Portland. Any help or opinions would be welcomed.
John Nausieda
- Portland , Oregon,USA
---
March 30, 2008
A. Alkali substances will discolor aluminum to an ashy grey color. Oven cleaner containing Sodium Hydroxide will work the fastest of any commercially available product. Try it on a spare piece to see if it will give the affect you are looking for. -Mike
Michael Johnson
Forestry - Burlington, Vermont, USA
Please see also --
• Topic 43254 "How to Make Aluminum Patina or Corrode?" for many alternate approaches.