World's #1 finishing resource since 1989
No login needed: Chime right in
topic 43254
How to Make Aluminum Corrode / Patina?
A discussion started in 2006 but continuing through 2018.
2006
Q. I have a client who wants a pitted finish on a sheet of 16 gauge aluminum. I know aluminum does not rust, but that doesn't mean it won't corrode, how it corrodes though is where I have no idea.

Is there anyway possible to get a finish like this? Is a week enough time for a pitted finish?

I looked over some articles on this site and have found that alkaline and aluminum are not friends. Would soaking the plate in a rich alkaline heated environment be the answer?

I think/believe he is going for a simulated rust, pitted feeling of steel, without all the iron dust, weight, and so on.

The piece is not going to be used for anything structurally speaking; he is a graphic designer so it is something along the lines of that use.
John Souza
Fabricator - San Jose, California, USA
---
2006
A. Hi John. Bare aluminum can corrode quite readily, but the problem is that the corrosion products will not look like what he is envisioning. Corroded aluminum is not brown with a fine grain, like rust on tool steel. Rather, the corrosion products are white, random pitted, crusty volcanos, and somewhat like salt stains. If you have a sliding shower door more than a couple of years old, look at the corner joints -- the extrusions are anodized, but cut to length after anodizing which exposes bare aluminum (at least if you have cheap ones like I do). I'd suggest a decorative rust-like paint or iron paint if you want rust color. Good luck.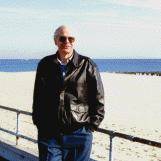 Ted Mooney, P.E.
Striving to live Aloha
finishing.com - Pine Beach, New Jersey
---
2006
Q. Ted, thanks for the reply.

"Rather, the corrosion products are white, random pitted, crusty volcanos, and somewhat like salt stains."

I told him that the corrosion produces a white salty-like finish. He loves the look. I had 15 year aluminum frame I showed him and he loved the look.

Is there any way to rapidly speed up the corrosion of aluminum to make the piece look like it has been sitting for 15 years like my frame?

Thanks in advance!

You guys have a great website here!
John Souza
- San Jose, California, USA
---
2006
A. Try glass bead blasting.
Ken Vlach
- Goleta, California

Finishing.com honored Ken for his countless carefully
researched responses. He passed away May 14, 2015.
Rest in peace, Ken. Thank you for your hard work
which the finishing world continues to benefit from.
---
2006
A. Any very alkaline solution (pH8,5 or more) must etch or corrode aluminum. Try sodium carbonate (washing soda) [affil. link to info/product on Amazon] 10% (or even sodium hydroxide 2-5%) -- mix it with some sawdust or sand,c over your object with this mix, after a few days it must be ok. Good luck!
Goran Budija
- Zagreb, Croatia
---
2006
A. Try a mixture of 5% sodium hydroxide with about 5g/l sodium chloride in it (common salt). Mix this with some sawdust and leave it for a few days on the aluminium surface - it will give a corroded finish. If it is not corroded enough, put the sawdust back for a few more days or until it is the finish you need. Make sure you keep the mixture moist.

Trevor Crichton
R&D practical scientist
Chesham, Bucks, UK
---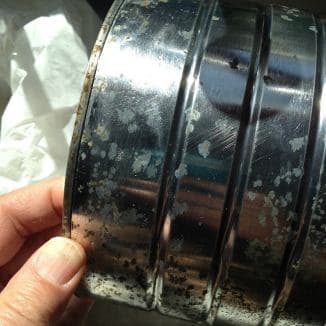 October 4, 2014
A. If you put bleach and salt onto the aluminum, especially a gel bleach so that it sticks (I used toilet bowl cleaner) then cover with plastic you will get a pretty good patina in an hour.
Julie Anderson
- Boise, Idaho, USA
---
October 2014
Hi Julie. Thanks for the posting and illustration. Only trouble is, your example isn't aluminum :-)
It looks like a tomato juice can or pineapple juice can made of steel with a tin coating. We can see the brown (iron) rust on the lid seam.
Regards,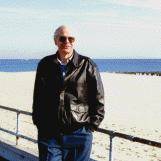 Ted Mooney, P.E.
Striving to live Aloha
finishing.com - Pine Beach, New Jersey
---
November 17, 2016
A. Ferric Chloride (etching fluid) and apply heat.
Ben Brickwood
Sesame Design - Kingston England
---
---
November 5, 2017
Q. How could I make disposable aluminum pie plates look red/rusty? It seems like there's some discrepancy (above) about the color of corroded aluminum...so are you saying there is a spray or paint application that could achieve that look better than actual corrosion? Thank you!
April Heimerle
- Nashville, Tennessee USA
---
March 3, 2018
A. I hope I'm understanding the intent of the question. From nearly 40 years in the custom metal graphics industry, I can share that making one metal alloy item look like another metal alloy item, or exhibit the "natural oxidation" effect of the intended metal (patina), is certainly possible. It is done by applying an appropriate "topical color-inducer/oxidant" or a "topical pigment." I recently created a cast aluminum historical military plaque for a client, and when asked to match the near century old cast bronze plaques already in place, gave him a color palate from which to choose. He found a color chip that closely resembled the natural patina bronze. It was a rather consistent blue-gray. While not exact, it was very close. If he chooses to send the plaque to our facility, we could, if supplied with photos of his memorial and plaques, come a bit closer.
My point is that when using a core metal, and then asking for a coloration on the metal, one's immediate solution is to simply use a topical pigment. The coloration-artist must have enough experience, but even creating a "ferrous oxidation mark" on an aluminum surface is totally doable.
One should also understand and differentiate between a "mechanical finish", which is usually created on the bare metal using some form of abrasive, and the "topical finish", which refers to any chemistry, liquid or solid, applied to the surface of the subject material. I see the solution to this question as being a selection of appropriate topical chemistries. And frankly, this is a very common practice for the entertainment industry and the prop departments and shops.
Know that "sodium hydroxide", as mentioned by others as a rapid acting oxidant, (the basic chemistry of drain cleaner) is sometimes used as an etchant of aluminum; meaning it will quickly oxidize and essentially remove the aluminum as though one were mechanically engraving with a rotary bit. In it's place there will be "aluminum oxide." Of course, purposeful etching for graphics also most usually includes creating a protective stencil that, when applied to the virgin surface of the metal/aluminum, only allows the etchant to "selectively etch" the metal surface. I'd estimate that with 3-5 cans of Rust Oleum spray paint, and some stencil material custom cut to mimic a random rust-mark, and after one properly prepares the metal surface, the replication of ferrous oxide marks could be created.
Al Sterling
Design-Production of metal architectural graphics - Glendale, California