Live! From beautiful Pine Beach New Jersey: Welcome to the world's most popular metal finishing website
topic 43451
Chem-film colors: are gold and yellow the same?
A discussion started in 2006 but continuing through 2018
2006
Q. Does "Yellow" and "Gold " Alodine mean the same thing?
Juline Rodriguez
electronics - Lathrop, California
---
2006

A. First, Alodine is a registered trade name and should not be used in a generic manner. Chem film is a more appropriate name. Chromate conversion coating is not a good name for aluminum either as most consider that to be for plated material.
Yellow and gold have been used interchangeably by many, but NOT all. Use of a MIL spec or an AMS or similar specification is far safer.

James Watts




- Navarre, Florida





---

2006

A. Yes :-)

Bill Grayson




Metal Finishing - San Jose, California





---

2006

A. Yes, but neither one means nearly as much as you'd think it does. "Alodine" is a brand name of conversion coating chemicals - any number of which result in a yellow/gold-ish coloring. However, there are also competitors whose products do the same, and most people in the industry consider the following terms to be virtually synonymous: Iridite / Alodine / chem-film...

What you really want to do is call out the specific finish you want - if this is a "Alodine finish" on aluminum, you want a chemical conversion coating per Mil-DTL-5541 [link is to free spec at Defense Logistics Agency, dla.mil]; if it is on zinc you want something else (I'm not sure what). If you want it gold, say gold. If not, say what you do want. Most likely, you want a MIL-DTL-5541 Type (1 = hex-chrome present, non-RoHS compliant; 2 = hex-chrome free, RoHS compliant, but it can't be certified properly yet since there aren't any approved chemicals) Class 1A, Gold.

Good luck!

Jim Gorsich

Accurate Anodizing Inc.

Compton, California, USA



---
2007
Q. So if a engineer calls out GOLD Alodine on the print without the Mil-C-5541 [link is to free spec at Defense Logistics Agency, dla.mil] standards, then the color is the same as requesting "yellow" on the print correct?
J in Calif
Juline Rodriguez
[returning]
- Modesto, California
---
2007
? Juline, can you please tell us your own actual situation so you can get more meaningful answers? Thanks! Your 9-word abstract question resulted in 3 skilled practitioners trying to answer your question, only to have you essentially repeat it, with us still not even knowing whether you are the supplier or the buyer, and thus being able to advise how to proceed.
A. If you are the supplier and provided a finish that the buyer now says is "too yellow", you are probably in a defensible position; the terms 'gold' and 'yellow' are more or less interchangeable. But if the brand name was specified and you did not use the proper product, or if the buyer provided color chips you didn't match, we're back to your company being in the wrong again (if it was your company that provided the coating service). If you are the buyer, and you implement a color chip system in your P.O., the supplier must comply; if not, they have a lot of latitude in color. But buyers generally should not issue such a loose requirement as 'Gold Alodine' with no spec number.
Ted Mooney, P.E.
finishing.com
Pine Beach, New Jersey
---
2007
-- this entry appended to this thread by editor in lieu of spawning a duplicative thread
Q. What is the difference between gold Alodine and yellow chromating? Both of them call out the same spec with Mil-C-5541. Are these 2 processes same type finishing but called out with a different name?
Tan Teng Cheang
- Penang, Malaysia
---
2007
Q. What is the difference between Mil-C-5541 and DTL-5541 both class 3
William Stamm
- Medford, New Jersey
---
2007
A. I know part of the answer, William. DTL is an abbreviation for "detail" and is meant to indicate that this is a detail spec (telling you how to process parts) as opposed to a PRF (performance) spec. I'm not 100 percent sure that the term "Mil-C", whose title did not indicate either, is obsolete. But use DTL-5541 and you won't be wrong :-)
Ted Mooney, P.E.
finishing.com
Pine Beach, New Jersey
---
2007
A. For those who still are wondering the difference between MIL-C-5541 and MIL-DTL-5541 I found a link that may help. It answered my questions.
www.engineeringtalk.com/news/mzv/mzv109.html
Samantha Sinnett
- Mukwonago, Wisconsin
---
June 23, 2008
A. The military started changing specifications from the old MIL-C-5541 type nomenclature to either DTL (Detail) or PRF (Performance) specs. The move will eventually eliminate military specs all together as industry specification come up to speed. DTL specs provide exact instructions and requirements. PRF specs give a performance minimum and let the vendor/supplier/user figure out how to get there, e.g. paint must be blue and provide 5000 hrs salt fog protection. MIL-DTL-5541F (revision F) is the latest military spec for chromate conversion coatings on aluminum replacing MIL-C-5541E. The spec is free for download - search for "Assist Quick Search" to get the government site. (Actually it's not "Free". Taxpayers already paid the DoD to develop and maintain it!) Unless you need electrical conductivity through the coating, use class 1a which is thicker than class 3 . The yellow or gold color is caused by the Type I hexavalent chromate which is yellow. The thicker the coating, the more chromate the more yellow the coating. Thin coatings may seem more gold over aluminum - same stuff. Thicker the coating, better the corrosion protection. If you want more corrosion protection, paint it too. MIL-DTL-5541 is a good base for primer and paint. If you want to powder coat, probably should use class 3 to get good adhesion of the powder to the part.
Allan Lang
Materials Engineer - Ft. Walton Beach, Florida
---
2007
Q. What is the difference gold and clear Chem Film (Mil-C-5541), Do the different colors serve a different purpose.
Shawn Reilly
- Valencia, California
---
April 18, 2011
A. Hi, Shawn. The gold or yellow color is the inherent color of hexavalent chromium so, traditionally, the yellow color implied more chrome and more corrosion protection. In these days of RoHS, most chromate conversion coating is actually trivalent, and any yellow color is just dye.
Regards,
Ted Mooney, P.E.
finishing.com
Pine Beach, New Jersey
---
December 29, 2008
Q. What would cause / give Alodine a blue tint as it dries?
Thomas Black
A&P Mechanic - Clearwater, Florida
---
December 29, 2008
A. Hi, Thomas. Some of the Alodines are supposed to be blue. Are you unsuccessfully trying to get a blue, or are you unsuccessfully trying to hold a clear or yellow or black color? Which Alodine are you using? Are you working with aluminum or with zinc plating?
Regards,
Ted Mooney, P.E.
finishing.com
Pine Beach, New Jersey
---
February 19, 2009
Q. When using the MIL-DTL-5541F is there a Type and Class as in Anodizing?

thanks
JAMES VENUS
- Huntsville, Alabama
---
February 2009
A. Yes, James. Mil-DTL-5541 [link is to free spec at Defense Logistics Agency, dla.mil] is free, and a short & readable spec, so get a copy!
Regards,
Ted Mooney, P.E.
finishing.com
Pine Beach, New Jersey
---
April 14, 2011
-- this entry appended to this thread by editor in lieu of spawning a duplicative thread
Q. We've 'inherited' several drawings from a company that went out of business. They call for Gold Chromate per Mil-C1-5544.
Everybody here has always assumed Yellow and Gold were the same thing, interchangeable terms, but so far, through research, I can't substantiate that fact. Can you help?
Brad Thomas
Quality Tech - Warwick, Rhode Island, USA
---
A. Hi Brad. That spec number looks pretty fractured, but double check if it isn't Mil-C-5541. There is no chemical distinction between "gold" and "yellow", so now you're down to appearance. The buyer certainly can "extend" the spec, adding additional requirements if they wish; but when it comes to appearance and subtle differences (if any) in color, sample boards /color chips (as briefly mentioned in section 6.8 of Mil-DTL-5541) would presumably become their obligation: "These are examples of acceptable 'gold' color / These are examples of unacceptable 'yellow' color". Good luck.
Regards,
Ted Mooney, P.E. RET
finishing.com
Pine Beach, New Jersey
Striving to live "Aloha"
---
Color variations in Chem film MIL-DTL-5541 class 1A gold
February 20, 2018
-- this entry appended to this thread by editor in lieu of spawning a duplicative thread
Q. Good day. I would like some advice on the wide range of colors gold chem film can go from. So far I am seeing a really light gold to a dark mustard brown. Are there any outside forces that can change the color of the finish? Is chemfilm a cosmetic finish? I keep telling my supervisor we cannot reject parts with the proper Certification of plating. Yet they want to return to vendor due to color variations from light to dark.
James Dee
- Fremont California
---
February 2018
A. Hello James. See section 6.8 of MIL-DTL-5541. It implies that you are correct that such variations are acceptable. But it also says that you as buyer can establish a color chip system if you wish -- which of course is actually obvious; a customer can buy or not buy whatever they want. But if you do establish a sample board (which many professionals pooh-pooh) you presumably will have to pay more because your supplier will be rejecting parts internally, and they will probably want to negotiate what to do with rejected parts. Best of luck.
Regards,
Ted Mooney, P.E. RET
finishing.com
Pine Beach, New Jersey
Striving to live "Aloha"
---
February 21, 2018
A. Although Chem Film can be extraordinarily beautiful on some substrates, it is not intended to be cosmetic, as outlined in the spec that Ted referenced. To certify, the spec requires that it pass certain tests (salt fog, electrical resistivity, adhesion). A uniform, pleasing appearance is not among them.

I can speak from the Vendor's side here, having gone through explaining this to customers in the past. If the customer PO requests parts certified to the spec, and the parts conform to the spec, the PO has been fulfilled. Any aesthetic requirements need to be spelled out clearly in the original RFQ because, as Ted points out, many FUNCTIONAL coaters will balk at the requirement.

Variables impacting color include, but are not limited to; bath pH vs. bath concentration, bath temperature, vigor of bath mixing (how fast does solution flow across the part- part geometry also comes into play here), substrate finish, and both temperature of, and immersion time in, the rinse after processing.

I think the question a customer should ask himself in advance when considering adding an aesthetic requirement to the RFQ is, "How much are we willing to pay for PRETTY?" In many cases, Chem Film is being applied as an adhesion enhancer and protective pre-coating for a later paint application, and if it works... well, it works. :)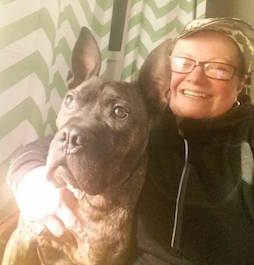 Rachel Mackintosh
Plating Solutions Control Specialist / Industrial Metals Waste Treatment - Brattleboro, Vermont
---
---
April 25, 2018
Q. I have been asked how to reconcile or show consistency with the MIL-DTL-5541F and ASTM B449-93 specifications for color associated with Class of the chromate through the use of any Type 1 Chromate product.
Can you shed any light on this question? Thank You for any help in answering this question.
Mil-DTL-5541 [link is to free spec at Defense Logistics Agency, dla.mil]
6.8 Visual appearance. The simplest way to evaluate a conversion coating is to observe color, continuity in appearance, smoothness and adhesion to the base metal (see 3.5). Visual examination is performed to ensure that proper cleaning and coating procedures were used such that a coating with sufficient protection exists over the entire part. Materials qualified under MIL-DTL-81706 produce coatings that range in color from clear/colorless to iridescent yellow, brown, gray, or blue. It may be possible to develop acceptable color levels for a particular coating system by use of color chips. The following circumstances may exist that relate to color uniformity:

a. When several alloys are processed with the same conversion chemical, color may vary from alloy to alloy.
b. Due to the high level of impurities and oxidation on the surfaces of aluminum welds and castings, color may not be as uniform as that obtained by treating wrought alloys.
c. Dark spots may result from dripping or rundown of the conversion chemicals when the parts are lifted out of the treatment tank. A small amount of spotting does not result in coating degradation but must be minimized by quickly rinsing the parts after treatment, and use of proper racking techniques.

Visual examination does not reveal if the protective value of the coating has been impaired by contamination or by overheating during drying. If a clear coating is required, inspection difficulties may arise because visual inspection does not reveal the presence of a coating. For type I materials, existence of a coating can be verified by using a simple spot test specified in ASTM-B449. For type II materials, existence of a coating should be verified per the manufacturer's recommendation.

Table from Page 2 of
ASTM B449-93
[link by ed. to spec at TechStreet]
(2010)
TABLE 1 Classification of Chromate Coatings

Class A Appearance,
Coating Mass per Unit Area, g/m2
Corrosion Protection

Class 1
yellow to brown, 0.4 to 2 maximum corrosion resistance generally used as final finish

Class 2
colorless to yellow, 0.1 to 0.4
moderate corrosion resistance, used as a paint base and for bonding to rubber

Class 3
colorless,<0.1
decorative, slight corrosion resistance, low electrical contact resistance

Class 4
light green to green, 0.2 to 5
moderate corrosion resistance, used as a paint base and for bonding to rubber

No relationship exists between class numbers and degree of corrosion resistance. Class numbers have been assigned on the basis of traditional usage and for compatibility with national standards.
Kurt Krueger
- Lexington, Massachusetts


If you have a question in mind which seems off topic, please Search the Site