Where the world gathers for
plating, anodizing, & finishing Q&As since 1989
-----
CHROMATE PROBLEM ON ACID ZINC PLATING
1999
MY NAME IS ROBERTO GZZ.,I GOT A PLANT WITH ACID ZINC ELECTROPLATE.
IN THE LETTER 3817 TALK ABOUT THE SLOUGH IN THE CHROMATE, AND THE ANSWER IS THE ACID NITRIC, BUT MY QUESTION IS: I'M USING A HEXAVALENT CHROMATE AND I ADD NITRIC ACID TO THE CHROMATE SOLUTION, SO IF I PUT A RISE WITH 1% OF NITRIC ACID(BEFORE THE CHROMATE BATH), SHOULD I CONTINUE ADDING NITRIC ACID TO THE CHROMATE?
THANKS, I WILL APPRECIATE THE ANSWER!
Roberto Gonzalez
plating shop - MONTERREY, MEXICO
---
1999
Roberto,
yes there should be a 1 % nitric acid dip prior to clear or yellow chromating. This bright dip (or predip) of nitric removes the chloride film left on the part after plating. you are probably adding nitric to your chromate for pH adjustment...yes still add nitric for pH adjust. Remember that a 1 % dip which does not have to be rinsed is not very strong.
Bill Hemp
tech svc. w/ chemical supplier - Grand Rapids, Michigan
---
1999
Dear Mr Roberto,
Please follow the instructions given by Mr Bill Hemp very carefully and you should have no problems. If the slough persists then improve your rinsing between plating and predip and increase the predip Nitric concentrate up to 3 -5 % by volume. Nitric is normally recommended to be added with most hexavalent passivations up to 15 -20 cc/lit. Also carbon treat your plating bath if it is chloride based.
Try trivalent Blue instead.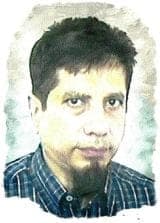 Khozem Vahaanwala
Saify Ind

Bengaluru, Karnataka, India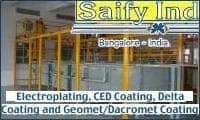 ---
2000
The above replies are correct. What also may work is:
1. If applying a yellow dichromate, first chromate in the clear (blue) chromate, rinse well then go into the yellow. This is especially good if you do not have the room for a predip tank!
2. When 0.5 - 1% nitric acid is not effective as a predip, I have had success using 2% sulfuric acid.
Also remember, use the minimum necessary amount of brighter and other organic additives. Be sure the chromate is in a temperature range of between 75 and 85 deg. F. If rack plating use gentle agitation in the chromate. Rinse well!
Slough off can occur on unrinsed areas of parts!
Gene Packman
process supplier - Great Neck, New York
---
October 14, 2013
A. Why do you use Nitric Acid?
You need first to know which acid is recommended for your Chromate because some need hydrochloric acid.
Eduardo Lorona
- Tecate, BC, Mexico