Live! From beautiful Pine Beach New Jersey: Welcome to the world's most popular metal finishing website
topic 3817
Chromate sloughs off our zinc plated parts
1999
We have a problem with the Chromate sloughing off the parts after zinc plating. There was some question as to the cleanliness of the rinse water. After dumping the tanks and refilling them, the problem still exists. All baths are kept at their proper temperature. Scratched my head and I don't know what to try.
Steven Pugh
- Oxford, Mississippi
---
first of 3 simultaneous responses--
1999
Steven I assume that you are referring to yellow dichromate. It will help to know if this is chloride zinc or alkaline zinc, rack or barrel operation.
A quick process of each tank following zinc plate would be extremely helpful.
You should be using a 1/2 to 1 % nitric bright dip before chromate. This neutralizes the film left following zinc plate.
If you are using a hot water rinse as a final dip it should be kept 100-110 degrees F.
If hot air (oven) is used should be kept around 110 degrees F as it could be damaging the chromate.
To much brightener will cause sloughing of the chromate, especially chloride zinc.
Have you asked your chemical vendor for help?
Bill Hemp
tech svc. w/ chemical supplier - Grand Rapids, Michigan
---
second of 3 simultaneous responses--
1999
Hello Steven,
You haven't mentioned whether you are using a cyanide or chloride Zinc process. It seems that you may be using a chloride Zinc process, because this is a common problem in chloride baths.
This is mainly caused by the brightener film left on the zinc on account of excess of the brightening agent (R) in proportion to the additive (M) which causes this problem.
Carbon treating the bath will help or increase addition of the Make up brightener (M) and reduce the proportion of (R) in your daily additions. Also go for a double swill of 2% Nitric Acid before passivation or try to blue passivate before any other passivation. Blue passivation also works if you are Cyanide plating.
Regards ,
Khozem Vahaanwala
Saify Ind
Bangalore, Karnataka, India
---
third of 3 simultaneous responses--
1999
Hi Steven.
I think you can try to activate in nitric acid 3% before you chromate the zinc. The problem comes from the zinc solution there is some contamination. You don't describe what type of zinc you use.
Good Luck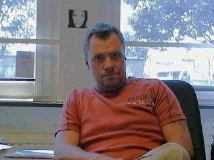 Anders Sundman
3rd Generation in Plating
Consultant - Arvika, Sweden
---
2002
Response to your problem. If pH is too low or your chrome has iron contamination it will not adhere. Add chrome, adjust your pH to high range. Works every time for me.
Donald A Calhoun
- San Jose, California


If you have a question in mind which seems off topic, please Search the Site