Where the world gathers for
plating, anodizing, & finishing Q&As since 1989
-----
How Can I Get a Chrome Look From My Aluminum?
1999
I sandblasted my aluminum swing arm on my motorcycle to remove the painted surface. now I am trying to get it to shine like chrome. I am trying to use fine sandpaper with no luck. How do I get what I want?
Reece Kalfell
- Billings, Montana
---
1999
Hi Reece,
If you sandblasted it, you'll have to have it professionally polished and buffed, and cross your fingers, I've done a considerable amount of work with restoration of autos, boats and bikes and all seem to suffer from the same problem, once you get past the surface the material is extremely porous because of the forming process.
After you polish/buff it, have it bright dipped and anodized, this will give it a beautiful finish that should approach that of chrome plating if not surpassing it as far as reflectivity and specular brightness.
Matthew Stiltner
plating company - Toledo, Ohio
---
1999
Hey Reece,
If you don't want to go the route that was just suggested, check out a product called "Mothers aluminum polish" It entails a little elbow grease but the results end up looking like chrome. I use to use it on primary cases and it worked great.
K. Ferraz
- Austin, Texas
---
1999
This is hard to believe, but, try it on an inconspicuous place. Required materials include: a soft sponge, a tube of fluoride toothpaste, and a bottle of Future floor wax.
Wet sponge and ring out thoroughly. Apply a small amount of toothpaste to a corner of the sponge and work the aluminum (to be polished) in a small circular pattern (never back and forth). When the luster you desire is present, wash off and thoroughly dry, with a soft cloth. Then buff, with a dry soft cloth and apply (undiluted) Future floor wax to the metal and allow approx. 1 hour to dry. This doesn't look like chrome. but it really stands out and the wax protects it from sun and rain and seals it from the air (that initializes corrosion). Hope this helps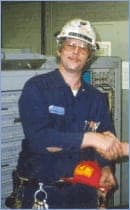 William Lee
saw sharpening & etc. - East Ridge, Tennessee
---
2002
I have been riding motorcycles for over 30 years. I have used everything. Do not sand blast the aluminum! Go and buy a can of "Aircraft Stripper". Its in the paint section and comes in different size cans or spray. Apply it to your part as directions indicate. When all coating is off, polish with "SimiChrome [affil link]". My side cases look better than any chrome and I am always asked where I got my carbs chromed. I use a Dremel [affil link] tool to polish and buff small parts like the carbs. It BEATS anything you'll ever use!
Paul Collins
- Crooksville, Ohio
----
Ed. note: Letters 800, 1831, and 10917 go into substantial detail about aluminum polishing, folks.