Live! From beautiful Pine Beach New Jersey: Welcome to the world's most popular metal finishing website
topic 40784
Is chrome plating safe for food processing tools or machines?
A discussion started in 2006 but continuing through 2018
2006
Q. We are a pharmacy company and want to do chrome plating for our machines. Some of the parts are made contact with the product. so we want to know if this process is safe and food grade.
Voppy Anggraito
pharmacy - Jakarta, Indonesia
---
2006
A. Yes, hard chrome plating is used on machinery for food processing on such components as doctor blades and the surfaces they doctor. In addition, some food service items like spatulas, serving spoons, etc. are chrome plated. I have a table fork I keep as a souvenir that was part of a copper nickel chrome plated steel flatware set. It is terribly rusty, so perhaps it's not the best finish for flatware, for durability reasons rather than safety.
Ted Mooney, P.E.
finishing.com
Pine Beach, New Jersey
---
April 4, 2013
Q. This is question for a related subject.

I have a 5-piece set of "Ekko Chromium Plated" serving spoons and spatulas from the 1970's. They have never been used and are in brand-new condition except for a few scratches.

Regulations may have changed since they were manufactured, so I would like to know if they are safe to use for cooking according to today's standards. And if so, what changes in their appearance should I be aware of that would indicate they are no longer safe.

Thank you for your comments.
Donna Carlin
- Paragould, Arkansas, USA
---
April 5, 2013
A. Hi Donna. I don't think any regulations have changed, and don't see a problem with chrome plated serving materials, although there is nickel plating under the chrome and some people may have acquired a skin allergy to nickel since piercings are so much more common now than in the 1970s.
Chrome looks like chrome. When it no longer looks like chrome, it no longer is chrome, although that doesn't make it toxic. Enjoy your serving ware.
Regards,
Ted Mooney, P.E.
finishing.com
Pine Beach, New Jersey
---
May 8, 2013
Q. I am refurbishing an old O'Keefe and Merritt Stove and need to have the griddle re-chromed. What type of chrome is safe to cook on?
Bill Applegate
- Ennis, Montana, USA
---
May 9, 2013
A. Hi Bill. I don't think chrome plating was used on griddles. I believe they were probably nickel plated, although that's before my time. But I doubt that either is a hazard.
Regards,
Ted Mooney, P.E.
finishing.com
Pine Beach, New Jersey
---
August 27, 2013
Q. Hi Sir,

May I inquire if hard chrome plating is safe for a braising pan?

Thank you.
Edralin Lucas
stainless steel mfgr. - Pasig City, Phils.
---
August 28, 2013
A. Hi Edralin. Nothing is perfectly safe; it's all relative. So, while it may be reasonable for a consumer to continue to use a chrome plated something or other, it may not be reasonable for a manufacturer to introduce a given product line ...
Chrome can dissolve in acids, and I can picture some consumer somewhere pouring undiluted vinegar into a braising pan, and possibly dissolving some chrome into the liquid. I would suggest that you try boiling vinegar in a hard chrome plated braising pan and do a chemical analysis to see whether it dissolves any of the chrome. If that works okay, you might "accidentally" burn a pan, and come up with a couple of other tests based on plausible scenarios before feeling confident. The question probably shouldn't be how things will turn out if all goes well, but how they will be if all turns to s**t. Good luck.
Regards,
Ted Mooney, P.E.
finishing.com
Pine Beach, New Jersey
---
---
December 17, 2014
Q. As a pharmaceuticals company, I need help in finding proper coating material for a roll I'm planing to add to one of my machines. In regards to chrome plating as a construction material for food/pharma production machinery, can you point a specific standard or reference to "safe construction materials" list or specific regulation (CFR code)?
roey albanay
- jerusalem, israel
---
---
Is dough sheeter with chrome plated roller safe
March 21, 2016
Q. Hello
I bought a dough sheeter roller that the rollers are made of chrome plated steel.
And I was wondering if safe for kitchen uses?
Thank you,
Eos Stamp
- Jone, Michigan USA
---
March 2016
A. Hi Eos. Nothing is 100% safe, but I can't see the chrome plating being the first issue of concern. I'd be more worried about electrocution hazard, burning, crushing a finger, etc. How do you even know for sure that it is chrome plated? Good luck.
Regards,
Ted Mooney, P.E. RET
finishing.com
Pine Beach, New Jersey
Striving to live "Aloha"
---
---
July 25, 2016
Q. My church has an industrial size mixer and our Pastor wants us to have the mixing bowl chrome plated. Would that be safe?
Karen MacDonald
- Akron, Ohio USA
---
July 2016
A. Hi Karen. I don't have any reason to think it's unsafe, but a stainless steel bowl would probably be better if that is a realistic option for you.
Regards,
Ted Mooney, P.E. RET
finishing.com
Pine Beach, New Jersey
Striving to live "Aloha"
---
---
May 2, 2018
Q. Is there a FDA regulation or statement that states that chrome plating is acceptable for product contact?
Tim Bash
- Philadelphia, Pennsylvania USA
---
May 2018
A. Hi Tim. There is no such regulation or statement to my knowledge. From a half-hour of googling, I think it's rather the reverse: there is no FDA regulation or statement prohibiting it :-)
An interesting page at http://www.productknowledge.com/north-american-food-contact-regulations.html says:
"It must be pointed out that the FDA does not have approval authority related to coatings. There is no such thing as an "FDA Approved Coating". Coatings are considered FDA-compliant, when they meet four criteria:
The coating manufacturer can confirm in writing that it uses materials that conform to the FDA regulations (such as §175.300) and follow good manufacturing practice in the formulation and manufacture of the coatings, AND
The coating is applied in a continuous film over the substrate, AND
The finished product, e.g. cookware, etc., passes the extraction tests covered in §175.300 Tables 1 and 2 to prove conformance to the FDA Regulations, AND
The finished product is thoroughly cleaned prior to use.
All four criteria, not one or the other, must be met for the finished product, and the coating, to be considered FDA-compliant."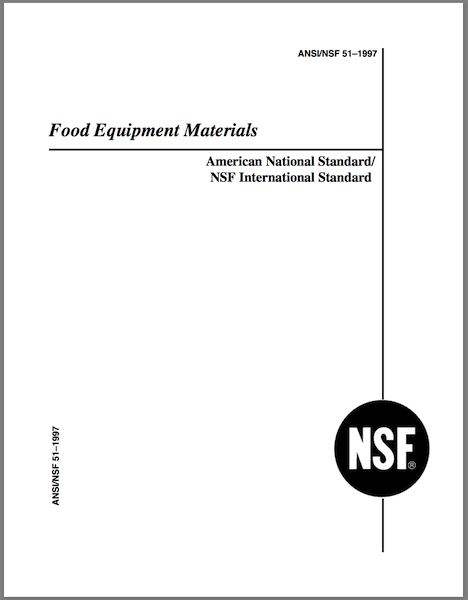 I think you will find this NSF document interesting though =>
Good luck.
Regards,
Ted Mooney, P.E. RET
finishing.com
Pine Beach, New Jersey
Striving to live "Aloha"


If you have a question in mind which seems off topic, please Search the Site