topic 40753A
Starting-up a Galvanizing Kettle with Zinc Ingots
A discussion started in 2012 & continuing through 2017 . . .
January 29, 2012
Q. Sir,

After repairing of our Galvanizing kettle, now we are putting back the zinc block back to the kettle. On the time of removal we made the liquid zinc as near about 1 mt size block.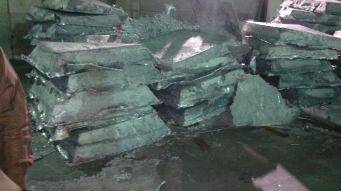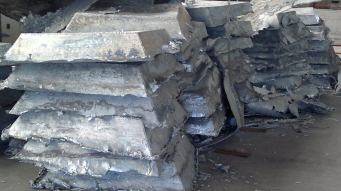 Q. My question is, is it okay if we are putting back the same block to kettle or shall we have to fill with new zinc pieces.

Thanks and Regards
Shaji Peter
-
Dammam, Saudi Arabia
---
February 1, 2012
A. You can use the same zinc that came out, though this might not be enough.
You need to pack it in carefully, to avoid air pockets between (pack as tight as possible without forcing it, and ensure as much surface area contact as possible with side walls to get heat transfer.
Use 25 kg ingots to fill voids.

You will want a special heat up program, probably supplied by kettle manufacturer. Don't be tempted to rush that, you can cut years off the life expectancy of the new kettle!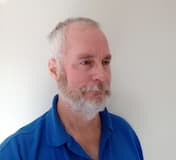 Geoff Crowley
galvanizing & powder coating shop
Glasgow, Scotland
---
---
On first charge with zinc ingots, can we add water?
July 8, 2014
Q. On first time heating zinc ingots, can I add water in kettle so that kettle plate cannot get heat?
Deepak Parsekar
galvanizers - Mumbai, Maharashtra, India
---
July 2014
? Hi Deepak. I'm not experienced enough to answer your question, but I would like to know if I am at least understanding it. Are you asking whether you can "boil" the zinc ingots with water in your kettle to get them up to 100 °C as the initial heating step?
Regards,
Ted Mooney, P.E. RET
finishing.com
Pine Beach, New Jersey
---
July 11, 2014

A. Dear Deepak.

If you add a water, once temp reach at 100 deg. Water will be evaporated and no use of same. That's okay up to 100 °C you will get uniform heating.

It's best to stack zinc properly so that you get uniform heating.

Ilesh G Vyas

Gunatit Builders

Manjalpur, Vadodara, Gujarat





---

July 11, 2014

A. I think the question might refer to starting up a new kettle, packed with zinc ingots to melt out in preparation for galvanizing.

Assuming that's what the question is about...
The startup procedure for a new kettle should not be treated lightly. You will want to get perhaps 8-12 years life and maybe 150,000-200,000 tonnes of steel through that kettle before having to replace it next time. Mistakes in startup can cut that by 10%. The heatup program should be available from the kettle manufacturer. It will take several days using ingots. If there is water in the ingots, or in the kettle it should be removed as much as possible. What cannot be removed must be steamed off, but not at high temperature, but under 100 °C. This might take a day or more.
There could be no good reason to add water.

Geoff Crowley


galvanizing & powder coating shop
Glasgow, Scotland


---
---
August 19, 2015
Q. Please advise how charging is done in new pot, with ratio.
SURENDRA M.KULKARNI
- Boisar, Maharashtra, India
---
August 2015

Hi cousin Surendra. Please explain more exactly what it is that you don't yet know.
It's hard to tell how broad your question is: are you asking strictly about the best pattern, or is the responder supposed to start with a discussion of proper gloves, eye protection & footwear for charging the pot, along with enclosed space protocols? A general guideline is to please put more words in your question than you want in the answer :-)
Thanks.
Regards,
Ted Mooney, P.E. RET
finishing.com
Pine Beach, New Jersey
Striving to live "Aloha"
---
---
Best melt down arrangement of zinc ingots in a new kettle?
March 23, 2017
Q. What would be the best melt down arrangement of zinc ingots inside the new kettle? We are using 20-kg zinc ingots and wooden wedges. Instead, I would like to use 3-ton zinc blocks for shortening the alignment time.
Btg Zengo
- Turkey
---
April 6, 2017
A. Yes, there is a very special way to arrange the Zinc Ingots inside the Zinc bath for melting.
1. There are certain pics I can share with you but I don't have any of your contact.
2. Anyway, Keep the Zinc ingot surface in maximum contact with the Zinc kettle inside surface so that maximum heat can transfer to the Zinc.
3. you can keep Zinc ingot vertically, make it stand putting another zinc ingot. Pack it tightly.
4. you can fill normal drinking water in to the Zinc kettle after filling it with Zinc, it will make homogeneous heating of zinc at least up to 100+ °C
U C DALELA
- Delhi, India
---
April 2017

Thanks for your answers, Mr. Dalela. Feel free to e-mail those pics to to share them with all. But this forum is possible only because of the support of advertisers, and to steer readers away from them and towards their competitors who don't advertise here instead would be an impossible situation :-)
Ted Mooney, P.E. RET
finishing.com
Pine Beach, New Jersey
Striving to live "Aloha"
---
April 25, 2017
A. I don't like the idea of filling the voids with water. It's true that this would help heat transfer up to about 100 °C, but after that all that water has to be boiled off, and the energy required to do that would be enormous!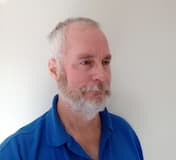 Geoff Crowley
galvanizing & powder coating shop
Glasgow, Scotland
---
July 19, 2017
A. Dear Sirs,

Zinc filling pattern is changed now. There must be 100 mm to 150 mm gap between zinc ingots layers. Please refer to photos.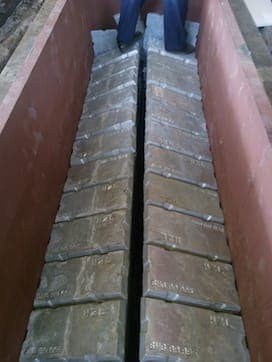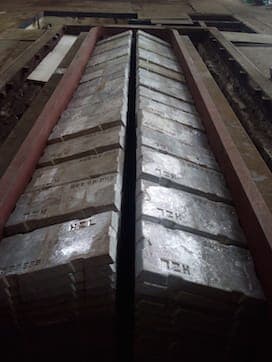 Rajesh Patel
[returning]
- Vadodara, Gujrat, India
---
August 2017

I enjoy seeing photos from India because they are so nostalgic for me, illustrating what my world was like when I entered the finishing field 50 years ago! I'm not making fun of India for being laxer than the USA in concern for worker safety, nor am I criticizing the USA for standards which made us uncompetitive in manufacturing ... I'm just cheerfully reminiscing simpler days.

I remember being advised long ago to step lively as I passed under a strand of uncoiling screw machine wire because a rogue loop could decapitate me, and just this week I saw an Indian ad for just such an installation, with the workers ducking their heads as they scurried below the snaking overhead strand :-)

Regards,

Ted Mooney, P.E. RET

finishing.com

Pine Beach, New Jersey

Striving to live "Aloha"
---
---
October 14, 2017
Dear All,

It's been great reading your forum! We are setting up a new Galvanizing line. Kettle size 12.5m L x 2.6m D x 1.8m W. I was also wondering what's the best way of stacking zinc ingots (25 kg) and how many tonnes of lead do we need to add in at start up & how do we arrange it too?
There are many suggestions from various sources but surprisingly all have their own opinions. Is there like a SOP for this procedure?
I'll highly appreciate your comments and suggestions.

Team Sonic,
Malaysia
Vivek N.
Sonic Galvanizing Malaysia - Selangor Malaysia


This public forum has 60,000 threads. If you have a question in mind which seems off topic to this thread, you might prefer to Search the Site