topic 39679
Copper Electroforming problems
A discussion started in 2006 but continuing through 2017
2006
Q. Are there any Electroforming experts around?

I'm running a small tank, 50 gallons of nominally UBAC R1 process. (OMI-Enthone-Selrex).

Production pieces are microwave waveguide structures, typically a mandrel that is a half inch dia. rod, maybe 3 inches long, to be plated with .25 inch copper on all surfaces (finished dia. 1 inch typical.

Mandrel is 6061 Al, zincated, Ni, pure gold at 300 micro inches. I've been going straight into the acid copper with the gold plated mandrel, no CuCN flash (as we once did).

At times this process has worked perfectly. Parts are agitated back and forth on a walking rod, few inches per second. Bath is pumped, filtered, jetted onto the submerged parts. NO BUBBLED AIR, due to lab ventilation limitations.

Problems we continue to encounter are:

1. Bubbles on the pieces, trapped on horizontal surfaces. We're low current, 10-15 ASF typically (process should handle 50-100 ASF). Just a few days ago I added about 10 ml of "Cu Bath Makeup Solution" to the tank, this greatly reduces, almost eliminates the bubble problem. (this addition is based on a "mistake" from some years ago, adding the Cubath makeup to the UBAC R1 bath. I'm guessing a surfactant in the makeup helps shed bubbles.)

2. BUT after adding the Cubath makeup, and several days of excellent performance, my current work piece started to show grainy deposition in higher current areas, and even on the vertical flats.

My question is just general---Help, what are we doing wrong, what can we do for better, smoother electroforms? Is air bubbling considered essential for thick electroforms and we've maybe just gotten lucky sometimes? Our bath has been analyzed, adjusted, and plates beautiful bright copper.

Thanks for any help and suggestions,
Gerry Petencin
Nat'l Radio Astronomy Observatory - Charlottesville, Virginia
---
2006
A. An eductor agitation system should definitely be an improvement over cathode rocker agitation if it is not yet incorporated (you make reference to a "jetted" system but I'm not clear on exactly what that comprises). A current of 10-15 ASF is not all that low for electroforming, and good agitation allows good current density. I'm not sure if that wetter can break down into deleterious reaction products, but it sounds like that may be the case. Not claiming to be the electroforming expert you were looking for :-)
Ted Mooney, P.E.
finishing.com
Pine Beach, New Jersey
---
2006

Q. Thanks Ted,

Does eductor refer to bubbled air?

My jetted rig is just a U-shape of PVC pipe with holes (jets) drilled so that bath is jetted at the submerged work piece.

We had added "Cubath" makeup to our UBAC bath some years ago, by mistake, and were getting beautiful results for months until we shut down the tank for a building move. That was two years ago and we've never completely recovered.

I might just be pushing the currents too high, experiments in progress-g.

Great site Ted, appreciate your efforts.

Gerry Petencin

[returning]




Nat'l Radio Astronomy Observatory - Charlottesville, Virginia





---

2006

A. Thanks. It is possible to install a recirculating pump and a discharge pipe as an agitation device. If, instead of just drilling holes in that pipe, you install plastic nozzles in the holes, you can both steer that agitation and get a far greater degree of agitation because the nozzles are designed to use a venturi effect for much better efficiency. Those nozzles are called eductors and are offered by Serfilco and possibly others. They are on my mind because I just finished rewriting the "Solution Agitation and Mixing" chapter of the Metal Finishing Guidebook to recognize their growing popularity.




Ted Mooney, P.E.




finishing.com




Pine Beach, New Jersey





---

2006

A. Gerry, I presume the bubbles are forming on the inside surface of the electroform (i.e., on the outer surface of the mandrel) and the copper forms around them. If this is the case, I would suspect the problem to be inadequate surfactant in your bath. You need to carry out an analysis for surfactant - if you cannot, the supply house will be able to. A quick check would be to see if the surface tension of the bath is in spec - this should be given in the Process Operating Sheet.
Air agitation is not needed with copper, but solution agitation is, so the use of eductors will be OK. I would also check the operating conditions for the bath are OK (i.e., pH, temp etc).
Good luck.

Trevor Crichton




R&D practical scientist




Chesham, Bucks, UK




---
2006
Q. Thanks Guys, that's useful stuff!

Am I right in assuming that thick walled copper Electroforming will probably always require a commercial make-up and brightener system?

We are setting up a new tank now, with a rotary table and piece rotator system and a tbd eductor setup.

Thanks again,
Gerry Petencin
[returning]
Nat'l Radio Astronomy Observatory - Charlottesville, Virginia
---
2006
A. Brighteners and additives give brighter and harder deposits but almost always induce some stress and high temperature detrimental effects. For really thick EF, a very pure and straight copper sulfate solution gives a shell very much like a part machined from solid copper stock.
Guillermo Marrufo
Monterrey, NL, Mexico
---
2006
Q. Thanks for the valuable replies. A google on "plating eductors" brings up useful resources on that topic. As far as acid copper bath goes it looks like you can always start with just copper sulfate + acid + chloride (if needed), see if the results are acceptable, and if not then consider commercial additive systems. I think that's the course we'll follow.

Regards,
Gerry Petencin
[returning]
Nat'l Radio Astronomy Observatory- Charlottesville, Virginia
---
2006
A. This sounds like it could also be a rinsing issue. Make sure the gold is completely rinsed and then dip in 20% H2SO4 before you load into the UBAC. Also, go in dead and then charge with the actual current required. UBAC is notorious for pitting so you might want to consider a different bath additive system or a strike in additive free acid copper for 1 hour. Good luck
Russell Richter
- Danbury, Connecticut, USA
---
2006
Q. Still fighting with my copper Eform tank.

Per earlier posts, I added a small amount of "Cubath Makeup" to our UBAC R1 copper tank to try and cure a trapped bubble problem. By small I mean less than 10 mL in a 50 gallon tank. This had fixed a similar problem in the past.

Once again it seemed to eliminate the bubbles, but now I'm picking up nodules at the bottom corners, even with current at 8 ASF.

Brightener level seems to be fine, any comments or suggestions?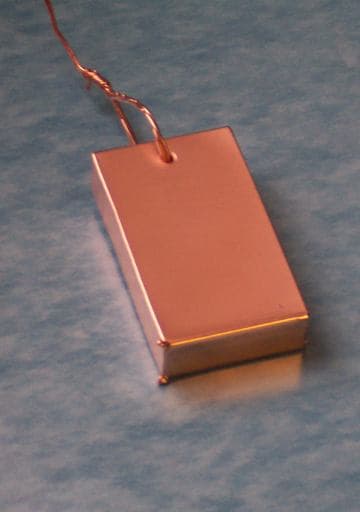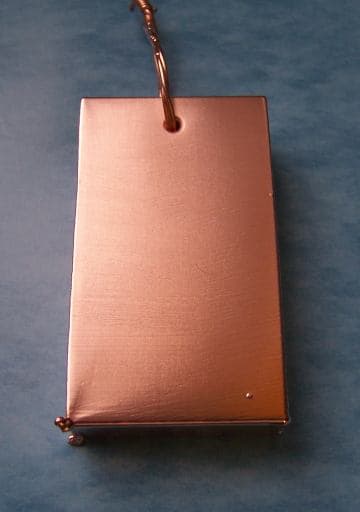 Thanks,
Gerry Petencin
[returning]
Nat'l Radio Astronomy Observatory - Charlottesville, Virginia
---
2006
A. Do you perform a Hull Cell test? Do not make any addition of carrier/makeup without seeing in the Hull Cell that it helps! Addition of make up you can spot with the Hull Cell. Do not add too much!
According to my experience, electroforming with UBAC is much better with the following concentrations:
120 g/l copper sulfate + 180 g/l sulfuric acid.
Sara Michaeli
chemical process supplier
Tel-Aviv, Israel
---
2006
A. At first look, I thought that it was just a high current density nodule which you could use a shield or preferably a robber to fix the problem. Possibly by moving it further from the anode.
Then on the second picture, it appears to be a plated folded box. Would guess that you have some previous chemical leaking out of the folded area that is accelerating the plating in that area.
How can you get by with the lack of plating under your hanger wire?
The one spot on picture 2 side is probably caused by a burr or a spec of abrasive or junk embeded in the surface of the metal.
James Watts
- Navarre, Florida
---
2006

A. Very interesting photographs - a picture is worth a thousand words. My first thoughts are that most of the nodules occur at high current density areas, namely on the corners of the box. This can be solved by using a robber that follows the edges of the box and will reduce the local current density. The single nodule on the body is probably due to an inclusion or something on the mandrel, but what is interesting is the apparent thickness variation around the nodules on the corner - I have seen this type of effect before and it is due to a disrupted flow pattern of the electrolyte. In this case, it could be due to the nodules. It is clear that keeping the bath in spec is very important to this application, so routine Hull cell testing is essential for good process control.

Trevor Crichton




R&D practical scientist




Chesham, Bucks, UK





---

2006

Q. Thanks All,

James, it's a solid chunk of brass, cleaned up and gold flashed before it went into the acid copper. This is just a test (scrap) piece for me but the geometry is similar to the real stuff.

Thing that has me worried is the corner nodules. I think this resulted from the addition of "cubath makeup", stuff I added to the UBAC reluctantly (since it's not approved for UBAC) because it cured a trapped bubble problem once in the past when we'd added some by mistake.

Hull cell tests, we always seem to look pretty good, nice brightness over a good current range. We never seemed to have much luck evaluating for make-up level with the Hull, I'm not even sure what to look for.

I'm about ready to carbon filter the tank some, do a Hull to set brightener again, and see what happens. When the tank is happy I can run a test piece like that at 10-15 ASF and not get the corner problem, which happened at just 8 ASF in the photo.

I appreciate all the posts, feels like I'm piecing a puzzle together little by little.

Regards,

Gerry Petencin

[returning]




Nat'l Radio Astronomy Observatory - Charlottesville, Virginia




---
2006
A. If possible, try putting a radius on all of the edges. It really cuts down on the high current density areas. Since the back corners did not nodule, I wonder if you might have set the part down on a unclean surface and got a few grains of abrasive or micro chips imbedded on the corner edge. If that did not cause the problem, then I would pay very close attention to anode locations and fluid circulations.
James Watts
- Navarre, Florida
---
2006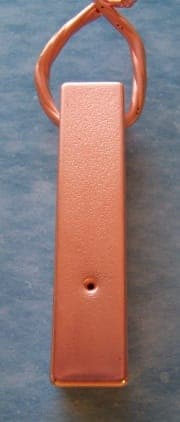 Q. One more photo here, and thanks to you all for helping resolve our Eform problem. Our latest test (scrap) piece came out great, the only change being that I followed Russell Richter's suggestions from 4-13-2006.
I'd been taught to go into the copper tank hot, but maybe that initial high current density can initiate dendritic growth? And even though we were doing thorough water rinse and avoiding any contact with the piece before hitting the bath I can see where that final rinse Russ suggested, in H2SO4, would normalize the piece to the tank and eliminate drain down or other contamination.

The earlier test piece was started at 8 ASF and had corner problems, this latest piece was at 9 ASF and looks as nice as anything we've ever done.

Lesson learned? Don't get so fixated on chemistry that you're not even thinking about procedure. Again, thanks for the thoughtful replies and for this forum.
Gerry Petencin
[returning]
Nat'l Radio Astronomy Observatory - Charlottesville, Virginia
---
Mandrel material for Electroforming a thick layer of copper
August 26, 2017
Q. Hi,
please help me about electroforming a 3 mm thick layer of copper. What material I should use as a mandrel? Stainless steel , aluminum or something else? Which one is better with a H2SO4 and copper sulfate solution? Thanks.
Oliver Struten
- Germany
---
September 2017
A. Hi Oliver. Either should be okay for many applications. One application where stainless is preferred is in repeated mandrel use like in copper foil making, where the hardness and durability of a stainless belt is useful; one application where aluminum is preferred is if the shape of the part prevents mechanical removal of the mandrel so it must be dissolved away.
Regards,
Ted Mooney, P.E. RET
finishing.com
Pine Beach, New Jersey
Striving to live "Aloha"
---
---
How to avoid dendrites while electroforming
September 22, 2017
-- this entry appended to this thread by editor in lieu of spawning a duplicative thread
Q. Just recently I upgraded my plating tank to accommodate electroforming larger pieces. I ran the bath for a total of about 30 hours and decided the anodes and bags needed rinsing. I rinsed them under tap (well water) and let them dry completely. Upon re-setting my tank and adding brightener, I ran another bath which resulted in dendrite formations on my pieces.

The only thing I recall doing differently is rinsing the anodes/anode bags/cages and adding brightener. Would anyone be so helpful as to advise me any troubleshooting I may do to avoid these deposits. Below is my complete set up.

SET UP
7 Gallon Tank
Midas Copper Sulfate
Midas Proprietary Brightener
Agitation
Anode - Phosphorized Copper, nuggets
Anode Cage
Anode Bags

Thank you!
Alicia Molin
- Clarkston, Michigan, USA


This public forum has 60,000 threads. If you have a question in mind which seems off topic to this thread, you might prefer to Search the Site