Where the world gathers for
plating, anodizing, & finishing Q&As since 1989
Antique baby carriage restoration Q&A's
-----
Q. I was given a vintage wicker weave babydoll carriage that needs to be deep cleaned. Some metal pins missing, and glue or tack pinned. Looking for advice and direction.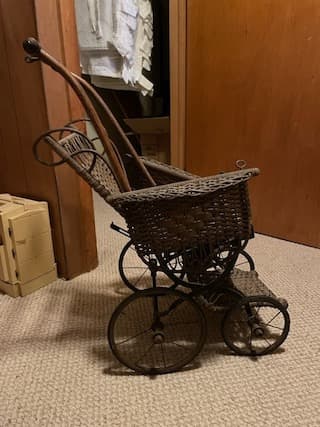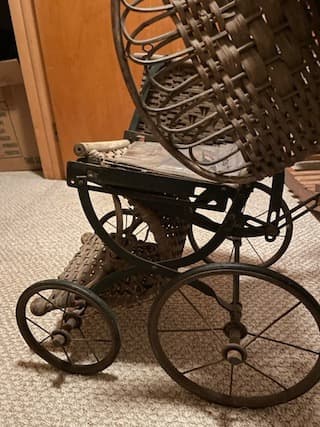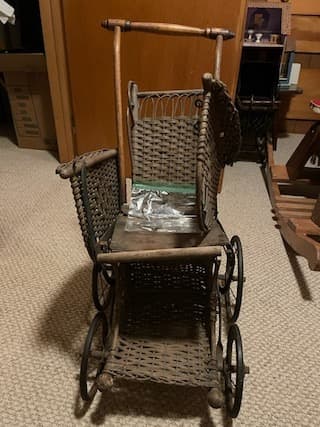 J Burrow
- Connecticut USA
January 4, 2022
---
Suspension part distance/measurement for antique baby stroller
Q. My name is Chuck and I am a leather crafter, and I also do repair work on items. I was asked to replace the leather straps on an antique baby stroller that was damaged. The springs are bent, and I need to figure out the distance between the hanging points between the suspension and the cradle. Is there someone that can give me the correct height for the correct distance? I have added pictures of the item.
Thank you for any help that you can give me.
Chuck Hurla
- SCOTTSDALE, Arizona
January 14, 2022
----
Ed. note: Sorry Chuck, but if you sent pics we lost them :-(
If you still wish to post them, please attach them to e-mail to mooney@finishing.com
---
Cynthia, I have a similar baby carriage. I could take my newborn everywhere it it because it could fold flat as you demonstrated in your photo. Do you have an info as to when it was made. or who manufactured it, or what it may be worth?
Linda Brownstein
Retired - Berkeley California
June 23, 2022
---
---
Q. I am trying to restore this 1940's Genuine Taylor Tot Stroller for my wife; one like this was used in her family.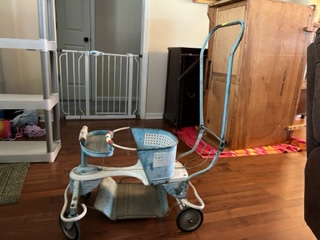 Ronald, Reeves
- Harrisonville Missouri
July 21, 2022
----
Ed. note -- A reminder, gentle readers, that this is a community forum page. We're happy to offer all the space & bandwidth you need to discuss your hobby, and to fight our way to good google exposure so your postings get traffic ... but no experts are standing by to answer questions, just your community of fellow carriage enthusiasts (that your postings help to build). Helping others with their questions, or addressing them directly will probably be more effective than a string of unanswered questions :-)
Good luck!
---
---
---
---
↓ Closely related postings, oldest first ↓
---
---
"Rust spots in Chrome"
Q. I am refinishing an old baby buggy. The chrome is in good shape other than a few rust spots. How do I remove them? I don't know where to begin.
Thanks,
Joyce R
[last name deleted for privacy by Editor]
- London,Ont., Canada
2001
---
A. The chrome is gone in the pitted areas, Joyce. Chrome polish should remove the rust, but you'll have to constantly keep it waxed or it will re-rust because there is no longer any plating between the steel and the outside world in those pitted areas.
It won't be cheap, but you might consider having it replated by a plating shop. Good luck.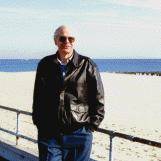 Ted Mooney
, P.E.
Striving to live Aloha
finishing.com - Pine Beach, New Jersey
---
Q. Hi;
I am restoring an old baby carriage for my soon-to-come first grand-daughter, the same one we used 30 years ago for her mother. The chassis (bottom part of carriage with the wheels on it, for lack of a better term) is chrome-plated steel and has rust spots throughout. How can I restore this?

Thanks,
George Cruz
hobbyist - Yorba Linda, California
2005
---
A. The nickel-chrome plating is rusting because after all these years it is now porous, George. The correct restoration is to send it to a plating shop for replating. But if you can't afford that, you can clean it up with chrome polish; then, keeping it well waxed and dry will deter rusting quite a bit. Good luck.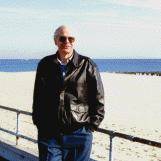 Ted Mooney
, P.E.
Striving to live Aloha
finishing.com - Pine Beach, New Jersey
---
---
Restoration service for canvas & leather
Q. Sir:
I have an old carriage (45 years old) and want to find a company who could restore it. The fabric (canvas) on the hood needs to be replaced as well as some of the leather straps. Any help would be wonderful.
Thom Milano
- Brooklyn, New York
2005
---
---
Arial wheel caps
2005
Q. I am refurbishing a baby carriage that has been in the family for 4 generations and need 4 hub caps. The wheel hubs are stamped with the name "Ariel" The caps are 1 1/4 with a tapered thread 20 per inch. I have 2 on hand but they are in poor shape. Any assistance would be appreciated
Jon Flood
- Fond du Lac, Wisconsin
2005
A. Hi, Jon.
I think there is little chance of finding them, although you could check Ebay. But I'm confident that a local machine shop can make what you need, preferably out of stainless steel.
Regards,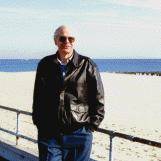 Ted Mooney
, P.E.
Striving to live Aloha
finishing.com - Pine Beach, New Jersey
---
Q. Hi I recently bought a baby stroller. I was wanting to know where I could find more info on it. Its a pull type (has like a wagon handle) two 11 inch wheels with two small wheels in the back to kept it from tipping over backwards (like wheelie bars on a drag car). It looks like it has a removable shade (which I think I am missing some pieces) that stores under the seat when not in use. The seat folds back when baby is sleeping and it folds forward and handle folds back when not in use. Also has wicker sides. I found it in s.e. Iowa don't know if that will help any. Thanks, Mike.
Mike Emick
hobbyist - lamar Colorado
June 29, 2008
---
---
1930's chrome Chevrolet baby buggy
Q. A friend of mine has a 1930's chrome Chevrolet baby buggy and wants to know how much its worth how do we find that out ?
kattie leonna
- las vegas, Nevada
August 7, 2008
---
"Kovel's Antiques and Collectibles"
from Abe Books
or

Affil. Link
Your purchases make finishing.com possible
A. Antiques Road Show wouldn't be a big hit if such questions were easy, Kattie :-)
Start with a good antique shop. Or, to approach it on the cheap, track e-bay auctions of antique baby buggies. Or see if any help is available at www.restorers.com, and see if your library has a copy of "Kovels' Antiques & Collectibles Price Guide" [affil link on Amazon]. Good luck!
Sorry, but this site doesn't offer or print appraisals.
Regards,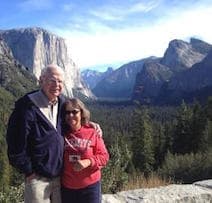 Ted Mooney
, P.E. RET
Striving to live Aloha
finishing.com - Pine Beach, New Jersey
----
Ed. note April 2021: Sorry, www.restorers.com appears to be only a link farm now.
---
---
50-ish Mercury coupe baby buggy?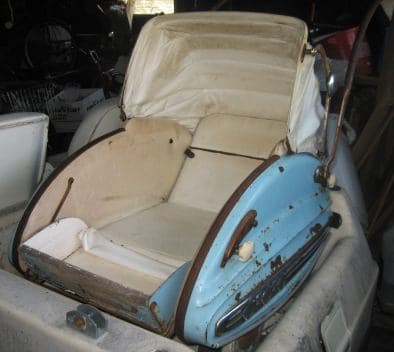 Q. Hi there, I have recently acquired this baby buggy and I am having a difficult time obtaining any information on it. I did find one online through a search, it was completely restored. BEAUTIFUL! If you know anything about this item please let me know. Thank you in advance
Again, thanks.
Shawneen T
[last name deleted for privacy by Editor]
amateur - Beloit, Wisconsin USA
April 20, 2010
A. To Shawneen T: your baby buggy was made in Germany between the 40s and the 50s by van Delft; it is called a Kender wagon. I have two of them, they are all different they seem to be.
Tammy Ecott
- Las Vegas, Nevada
June 23, 2018
---
---
Restoring metal baby carriage frame, 1940s?
Q. Hi! I recently acquired an old baby carriage, and working with vintage metal is all new to me. It seems to have all the pieces except the wheel covers. So far I don't see any brand or symbols on it but it is in desperate need of cleaning... My question is what do you suggest for cleaning and then restoring the metal, including the wheels? I really want to salvage this piece. The metal seems solid, just very greasy and dirt covered, also scratched. Some rust. The carriage handle, which is one long rounded handle attached on both ends to the frame looks to be plated because the silver is somewhat scratched through and shows the dark metal underneath. I am looking for as much information as possible or further contacts to go to, on how to clean and restore the metal frame and wheels, as after that I will have to move on to re-covering it.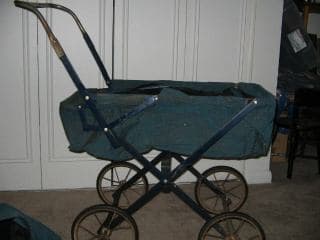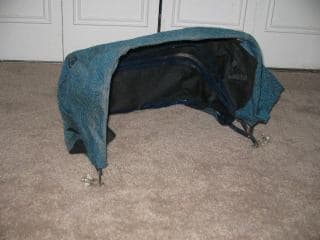 I was entrusted with this item in hopes to be able to restore it and am looking for any helpful information and sources. Thank you!
Dorothy Bohnert
hobbyist - Joliet, Illinois, USA
September 8, 2008
---
A. Try Canadian Conservation Institute website -- there you can find very good info on conservation and care of metal objects! Hope it helps and good luck!
Goran Budija
- Cerovski vrh Croatia
---
---
Cleaning whitewall tires
Q. I am restoring a Perego Baby Carriage...Luxury model and need to whiten the wheels, and the inside (which is white vinyl but has stains). It is chocolate brown with a white stripe on both sides that also need to be whitened. Is there anything I can use to fix this problem? All of the chrome around the wheels is in excellent shape and so is the body. I can't find anything that works...thanks so much.
Posey Thomson
- Santa Cruz, California
July 7, 2009
---
A. Hi, Posey. Back in the days of that carriage, carbon tetrachloride (Carbona) was the one thing that would work instantly and perfectly on white vinyl. It is toxic and has been banned from consumer products for a long time, so I doubt that you will find it. You might very cautiously try a white wall tire cleaner like Bleche-Wite [affil link] on the upholstery since you'll want it for the tires anyway.
Regards,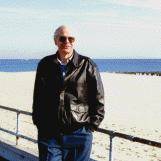 Ted Mooney
, P.E.
Striving to live Aloha
finishing.com - Pine Beach, New Jersey
---
---
Q. I recently purchased a very old wicker baby buggy/carriage which is set on a steel frame and wooden spoke wheels. The rubber is gone from 3 of the 4 wheels as well as the metal frame appears to have been painted black, or over age has turned so. The metal is very rusted or corroded as well.
Questions, 1. where to find replacement rubber for the wheels, and
2. how to go about cleaning or sanding down the metal to clean it up to repaint it.
Also the caps in the middle of the wheels are about inch and a half in diameter and are silver and have the initials 'HW' ornately embossed on all 4 wheels. There appears to be some surface rust on these caps, can that be removed? Any information as to what that could mean or where this carriage originated? Thanks for your time.
Amy Rademacher
hobbyist - Loup City, Nebraska USA
October 26, 2010
---
Q. Many of the old wicker baby carriages, such as those made by Hedstrom Union have metal wheels that are wrapped with solid rubber. Often the wheels are in good condition or can be restored, but the rubber is usually badly cracked.

How can the rubber be replaced?
Carl Hopkins
hobbyist - Santa Barbara, California USA
March 9, 2011
---
Q. Hi! I purchased an antique Shirley Temple pram and am trying to figure out how to replace or make a new fabric for the hood/ sunshade. Any tips? I would appreciate it.
Kat DiMira
- Bandera, Texas
February 2, 2012
---
Q. I have a baby carriage like the one used in Gone with the wind, Bonnie Bell was sitting on the seat with Clark Gable pushing her. The horse is in good condition but I need new rubber on all 4 wheels, I want to restore the carriage and sell it. The baby would lay in the wicker bottom as the child got older, they could sit on the seat and hold the reins to the horse. The horse is covered with horse hide and still has the original bridal and reins. Please help, I need to get this in shape.
Kaye R
- Shreveport, Louisiana, USA
April 28, 2012
---
---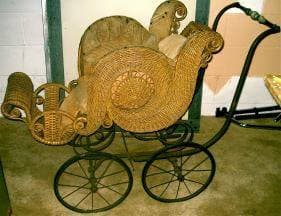 Q. Hi, I have a beautiful wicker and iron stroller. There is a L-shaped round iron rod with the parasol on one end. However, there is no evidence on the stroller how to attach the rod behind it so the parasol balances over the stroller. It looks like I need a cast iron piece that fits somehow to the back of the stroller where the end of the iron rod rests but I don't know. Any suggestions?
Sheryl Hartman
- Springville, Indiana, USA
September 12, 2012
---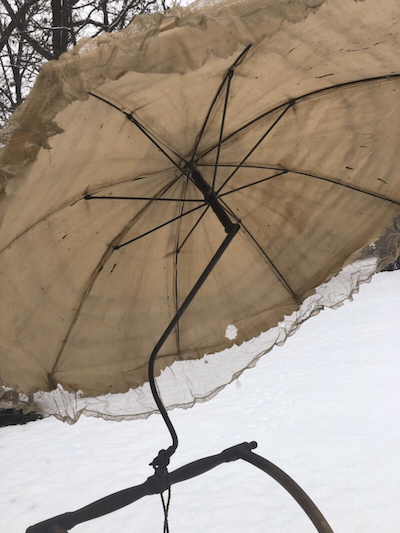 July 12, 2022
A. Hi Sheryl,
I have a carriage very similar to yours except mine has a bonnet. However, I searched EBay and found an excellent picture of this carriage with parasol and how it attaches.
If you look up item # 373928902482 it will help you with your project =>

Mary Conrad
Mary Conrad
- Bristol, Vt.
---
October 28, 2013
Q. We just got a 1850 Baby Stroller that we need to repair. I need to find a place to get snaps,Fabric and etc. The top is in bad shape. Can someone give me some places and names I can find the hardware and fabric. Thank you
Steven Bard
- Methuen, Massachusetts
---
---
June 19, 2014
Q. I have a 1968 white, vinyl Perego pram. It remained perfection for many years. 2 years ago, when we moved, someone put it in the basement, and now the metal is rusted and interior vinyl is imbedded with black mold spots.
A quick wash did nothing to remove the stains, but my goal was to remove the dirt.
Please! How can I remove these awful and unsanitary looking stains that appear to have penetrated the vinyl?
Even if I were to make it totally safe, my daughter would never allow her baby to use something that looked contaminated.
The metal, too, is quite rusted and pitted, but I know that with lots of effort, I can make the metal presentable.
On a lost site, someone recommended a marine cleaner found at Walmart.
I've been to 3 Walmart stores near the ocean, and nothing!
Thanks hp
helen preby
- boston, Massachusetts usa
---
June 20, 2014
A. Bleach (5% Sodium Hypochlorite) works. Walmart has it.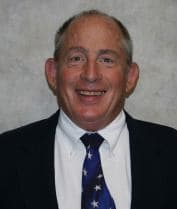 Tom Rochester
CTO - Jackson, Michigan, USA
Plating Systems & Technologies, Inc.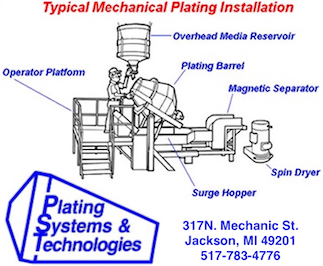 ---
July 6, 2014
Q. I have an old Perego stroller, pram. My father in law bought from a man in his late 80's whose parents bought when he was a baby. We used it for my two kids, now in their mid 30's. Everything is there. Are there any marks or serial numbers I can use on it to further the research? Thanks, Mark
mark lammer
- santa Barbara, California
---
---
August 7, 2014
Q. I have a dark brown metal push doll buggy that I got as a gift from an elderly neighbor in 1958, that I played with throughout my childhood. It came with bedding and 2 black clay dolls with movable extremities. The hood is able to be pushed down accordion style with movable metal frame which is detachable. The leather that covers the metal supports has ripped in multiple places. Otherwise the buggy is in good condition. Would a furniture reupholstery who works with leather be able to replace and sew a leather covering for the hood frame? Thanks in advance.
MAGDA SCHIJFF
- CHAPEL HILL, North Carolina
---
August 10, 2014
Q. I have a Perego pram imported from Italy in 1985 by my mom for my daughter. excellent shape for the ago. Wheels are dirty, a cleaner will take care of that. Chrome will clean up easily. It was preserved phenomenally, no rust.
I want to purchase a new, nicer, comfortable mattress and fitted sheets.

Any advice is appreciated, Our first grandson!! Thank you :)
Beverly Nettleton
- chesapeake Virginia USA
---
Canvas baby buggy
Q. I have an old brown canvas baby buggy. It is unique in the fact that it completely collapses; and can be made to swing or stay stationary. I simply would like to know if it can be successfully spray painted. If so what type of paint would be suggested.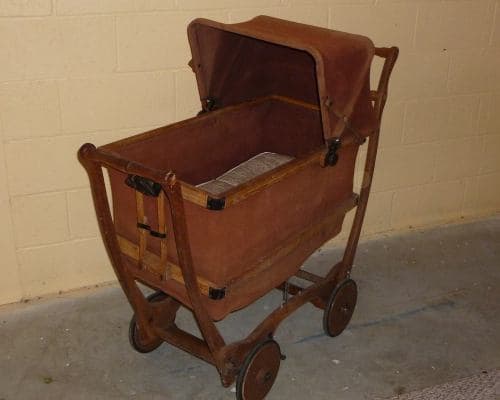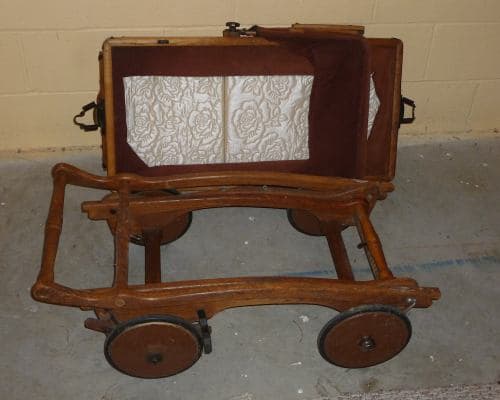 Can it successfully be done; and what do I do - Prep, Kind of paint, etc. I am looking at a color of navy blue, I think. Thank you.
Cynthia Rassulo
Hobbyist - Greensboro, North Carolina
January 7, 2015
---
A. Hi Cynthia. I doubt that paint would be satisfactory, but there are "brush on" canvas dyes that I suspect would be good. I see a few brands on Amazon, and there may be others. Best of luck.
Regards,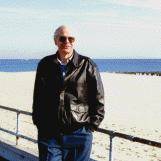 Ted Mooney
, P.E.
Striving to live Aloha
finishing.com - Pine Beach, New Jersey
---
Q. I have a blue Canvas one almost if not identical to yours. Do you know what yours is worth? Who made it? Thanks. Any help would be appreciated.
Robin Duncan
- Elephant Butte NM
June 20, 2022
---
---
June 11, 2015
Q. I Have an early 1940's South Bend Toy Mfg. Wood Doll carriage in pretty good shape. What can I use to clean this up with that will not hurt the finish. Also the Doll needs to be restored does anyone have suggestions.
Gwyneth Stadt
- Grant Park, Illinois USA
---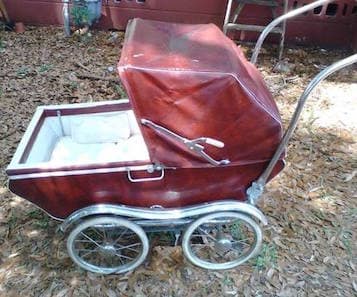 June 15, 2016
Q. I just purchased a Baby Hood vintage stroller and realized that it is missing the part that raises the bassinet off of the wheel base. Is there some place I could get this replacement part?
Maureen Perez
- Trinity, Florida, USA
---
July 17, 2016
Q. Mystery Pram frame without basket. Anyone know its maker?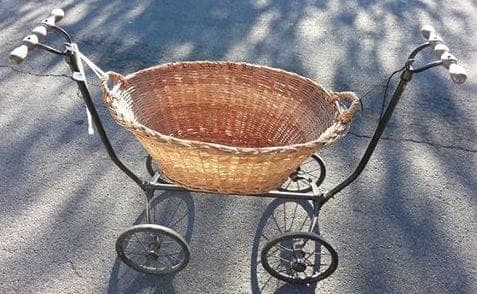 I have a double handled baby pram frame on wheels and am trying to find similar carriage to see if I can formulate a proper basket replacement for it. the handles are wood on wrought iron frame
Patty Putman
collector - washoe valley, Nevada
---
---
September 10, 2016
Q. Hi, I have an old doll buggy and the hood is torn. Should I take the old piece off and put a new one, or should I leave it and try to stitch it together, then put another one on top of it? Should I glue it on the ribs or stitch it on?
Renee Micheli
- Calgary, Canada
---
March 8, 2017
Q. HAVE A SET OF WHITE RUBBER BABY CARRIAGE WHEELS
NO LONGER INSTALLED ON ANY CARRIAGE BUT HAVE BEEN RE-PURPOSED FOR AN OLD FASHIONED WOODEN WAGON, VERY CRUDE
BUT PERIOD CORRECT.
THE ENTIRE PIECE IS USED FOR AN OCCASIONAL TABLE.

ISSUE IS THIS: THE 4 WHITE RUBBER CARRIAGE WHEELS
HAVE HARDENED AND NOW THE WHITE RUBBER GIVES OFF A
FINE WHITE DUST-LIKE EFFECT WHEN USED INSIDE
AND THE DUST PLACED ON THE MRS'S CARPET.

WE NEED TO SEEK A WAY TO RE-COAT THE RUBBER
WITH A PRESERVATIVE, OR PERHAPS SOMETHING MORE
LIKE A FORM OF VARNISH, WATER BASED OR OTHERWISE?
HAVE NOT SEEN ANYTHING ABOUT THIS TOPIC AND
REALLY WOULD LIKE TO KEEP THESE WHEELS AS THEY
ARE A GOOD SHARE OF THE PIECE'S BOYISH APPEAL.
ANY SUGGESTIONS SO APPRECIATED
JACK ROUCHAUD
- WHITE PLAINS New York UNITED STATES
---

Hi folks.

If you enjoy your carriage hobby, we're delighted to provide the space to post pictures and discuss it

But if the thread is only people wanting help and no one offering any, it's silly. Please try your best to help at least one other person with their question before posting your own!

Regards,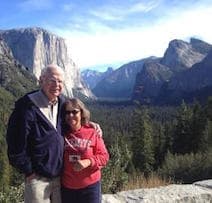 Ted Mooney
, P.E. RET
Striving to live Aloha
finishing.com - Pine Beach, New Jersey
---
July 30, 2017
A. I am no longer in any related business. In fact I never was. I built custom motorcycles and restored several old bikes originally built from 1920 up to the 1970's. I used chrome platters in Newark NJ for my metal plating needs. I mostly used Modern Plating and polishing who changed their name to Mottern polishing and plating. I've been out of the business for 25 years and they may be gone by now but they were only 1 of many suppliers in Newark.
For those needing special fabrics, paint or dye, there's another place in Newark that has lots of supplies for cars going back to the beginning. I forget their name but last time I looked at Hemmings Motor News they still had ads in it under several headings.

I always found them under Rolls Royce Bentley or Packard parts. About 20 years ago I remember ads for shops who made solid rubber tires. I hope they are still in business.

As far as baby carriage tires I'm also looking for some myself for a 1971 Peg Prego. I'll be looking in Hemmings for one as soon as I can find a new issue on a news stand somewhere. If and when I do I will post the results here.

Thanks to those who started this site, and I must add they are right. Unless a lot more start posting answers instead of questions there isn't much reason for it to exist.

I hope everyone who has a question that goes unanswered but finds a solution will post how they solved it.

I came here looking for a place to get new tires without luck. I posted what I will be trying when I get the time but I also have another possibility.

Not too many Years ago I saw a product named LIQUID RUBBER. If I can find it my idea is to get a roll of aluminum flashing, a big clamp and cut a long strip to go around my buggy tires Clamp it on and make a small hole on top to use a cake icing applicator to fill inside the tires. Keeping the filler hole on top. You must have it on tight and keep a vigil on leaks and settling of the liquid rubber. If anyone tries those before I do please let us all know your results

Thanks.
John W
- Salem New Jersey USA
---
September 19, 2017
A. Hello All! I don't know how to get this answer to everyone looking for tires but if you like this option please pass it on. Grab a wheel and go to your nearest NAPA or parts store. Now find just the right size and shape pulley belt. A lot of times they have rolls of different sizes and you can make your own. You can let them finish them for you or buy a length, cut to size, and use the clips that are used for the old sewing machine belts. That's if you're too cheap to let them cut and finish them like I am. Hope this helps go luck. ALSO.... if you clean them good with alcohol they'll hold paint.
Joshua Armstrong
Period Details Antiques - Mechanic Falls, Maine USA
---
February 23, 2018
A. White Wall Rubber Tire Paint.
William Bond
- Reelsville, Indiana USA
---
---
March 18, 2018
Q. I am restoring a 30+ year old Perego Baby Carriage. The body is white and the hood is blue. The body has a lot of yellow stains and some brown. What is the best way to clean it up?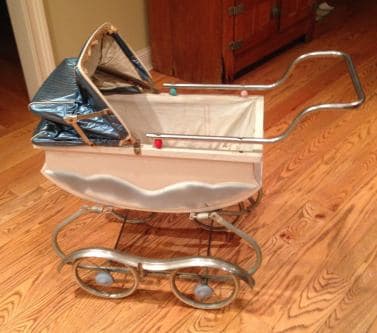 Teresa Lustberg
- Farmingdale, New York
---
---
April 1, 2019
Q. I have a 1961 Restmor baby pram. The hood has been off and was stored in the garage for years. I can't figure out how to re-attatch the hood. What holds it on? One of the pram knobs is missing. I don't see any screw holes so I was wondering if the knob is all that holds the hood on the body?

Priscilla
Priscilla Mathis
- Banning, California USA
---
---
April 2, 2020
Q. One wheel won't stay attached to a 1960's (I believe) pram or stroller I have. I would like to make it fully functional for my son that will be born in June 2020.
Curt Hillgardner
- Innisfail Alberta canada
---
April 2020
A. Hi Curt. I think we'd need some good photos (to mooney@finishing.com) to understand your situation, but if there are grooves in the axle, it could be as simple as a missing circlip available from the hardware store for a quarter or so.
Regards,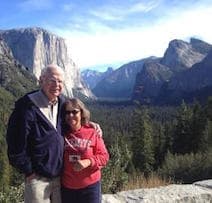 Ted Mooney
, P.E. RET
Striving to live Aloha
finishing.com - Pine Beach, New Jersey
---
April 3, 2020

Thanks Ted, I believe that I have it figured out now.
One picture is a well missing the "clip", and the other is not missing the clip.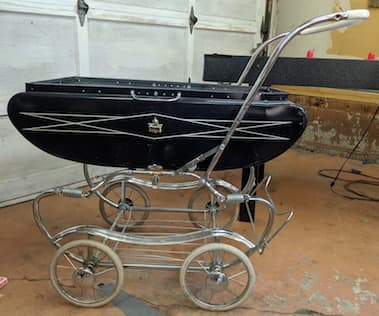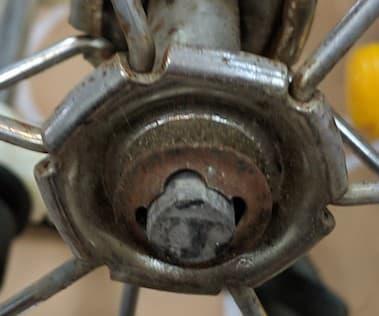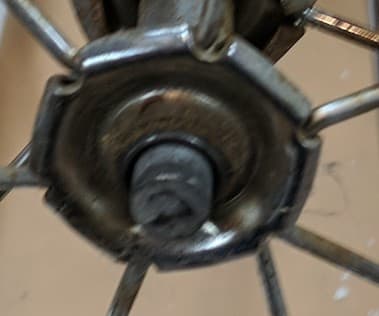 I will be working on this, so any other tips on what is the best way to restore it would be appreciated!
Curt Hillgardner
[returning]
- Innisfail Alberta canada
---
April 2020
A. Hi. It appears that the carriage uses hardened specialty tooth-washers which press on to the shaft and are angled such that they dig in to the shaft and stay. If you have the four of them, you're in good shape. If not you'll have to see what the hardware store has. If they have nothing at all along those lines, maybe a Belleville washer and a drill for a cotter pin.


Regards,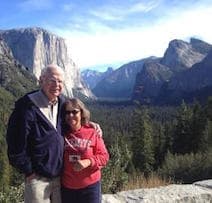 Ted Mooney
, P.E. RET
Striving to live Aloha
finishing.com - Pine Beach, New Jersey
---
---
April 24, 2020
Q. To Whom, bought a vintage baby doll carriage at a thrift store.
Trying to clean it up and soften the canvas.
What would you recommend to soften the canvas that wouldn't be too expensive and that I could do myself?
Thank you.
Robyn Schmitt
retired - Parkville, Maryland
---
---
September 24, 2020
Q. I just bought an antique Victorian white wicker baby carriage. The brand is The Heywood. It is in pretty good condition, except for a hole in the wicker and some of the wicker pieces are breaking off. Also the fabric in the back has stains and I don't know how to clean it. I can't tell what the fabric is, but the previous owner thinks it is white satin.
Valerie Hart
- Reading, Pennsylvania
---
October 8, 2020
Q. I just bought this antique Hedstrom Union pram. Just wondering how I can figure out how old it is!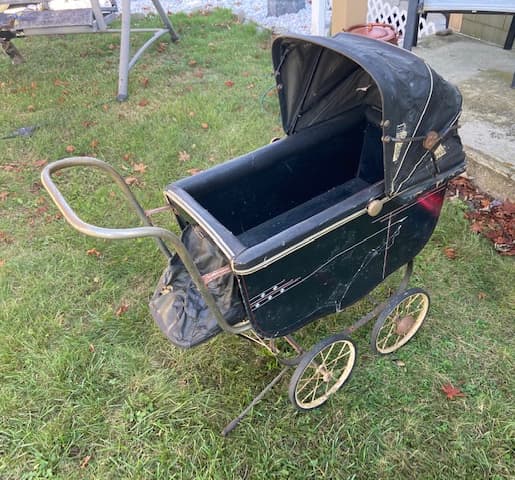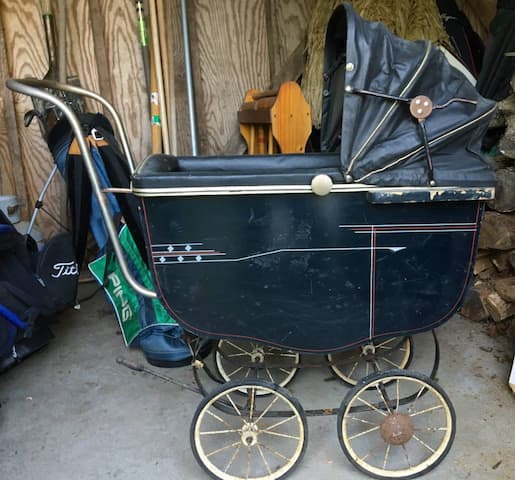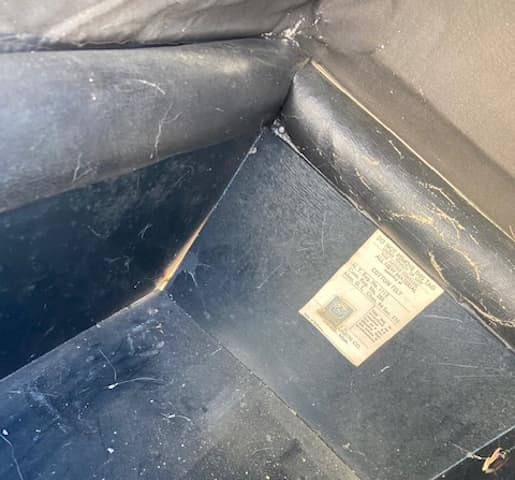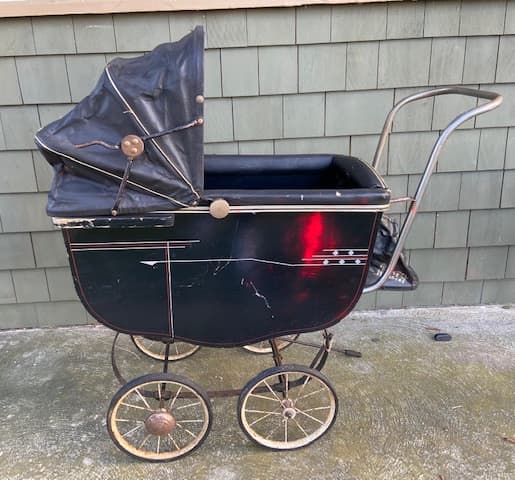 Vanessa Des
- Bristol, Rhode Island
---
---
February 21, 2021
Q. I have a vintage Perego baby carriage and I cannot get the wheels off.
Can you tell me how?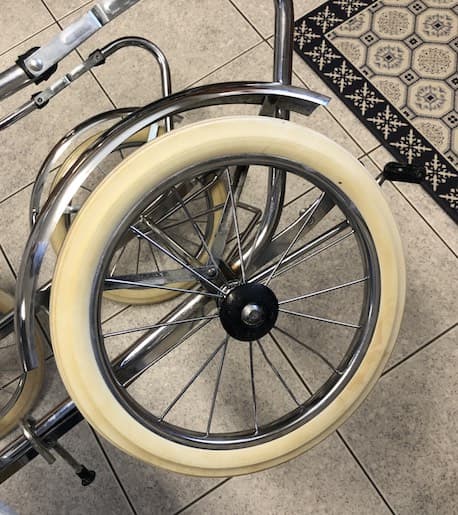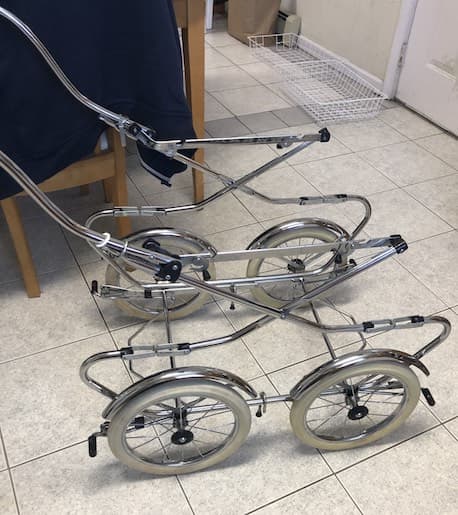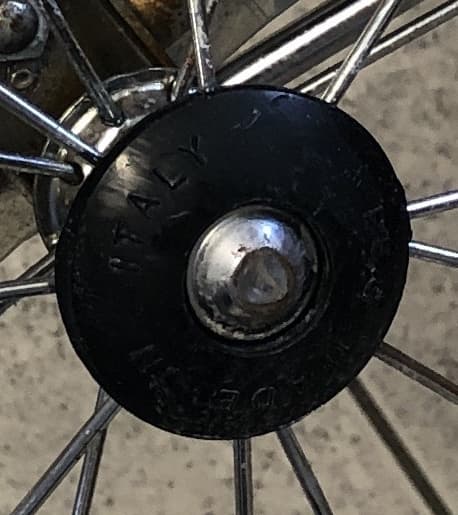 Karen Medeiros
- Matawan New Jersey
---
---
July 25, 2021
Q. I have a Thistle carriage from the 1970's and when it was moved, they lost one of the springs. I'm wondering if there are suggestions for finding old parts like that. They were rounded and nowadays they don't make them like that anymore.
Jolene Bordeaux
- Severn, Maryland
----
Ed. note: Please attach a photo of the spring in e-mail to mooney@finishing.com, together with anything about them that you can measure, for posting here so people know what kind of spring you're looking for. I don't think I quite believe that nobody makes springs of a given sort anymore. I saw extension springs in the local hardware store this morning, and if you google "extension springs" I think you'll quickly find something suitable. Good luck.
Next page >
is old RFQ/RFPs, so most readers should probably skip it. But if you're looking for a little snippet of info you can't find anywhere, you're certainly welcome to view it :-)