Live! From beautiful Pine Beach New Jersey: Welcome to the world's most popular metal finishing website
topic 38769
Paint Adhesion to Electroless Nickel Plating Problem
An ongoing discussion from 2005 through 2014 . . .
2005
Q. I have Nickel Plated Aluminum housings that we then prime and paint with a Green Matte CARC paint. The paint adhesion is always a problem. We do a good job pre-cleaning the nickel plate and we also use a "scotch-brite" pad to roughen the surface prior to applying the primer. But we still get a lot of peeling and cracking of the paint. Sometimes so bad that the entire primer/paint film just peels off cleanly from the nickel plated aluminum. The nickel plating is an electroless nickel, .0002"/.0004" thick. I wonder if there are any other "tricks of the trade" to improve the paint adhesion on the nickel plated
surface.
Bob Diamond
- Hauppauge, New York
---
2005
A. What electroless nickel (EN)? Look at the ASTM B733 [link by ed. to spec at TechStreet] spec and they now specify 5 grades from low to high phosphorous. They're all very different and for each "grade" there are different brighteners (including metallic brighteners such as CADMIUM) and stabilizers (like LEAD) that when co-deposited can result in various properties unlike other electroless nickels (not to mention RoHS, WEEE or ELV compliance issues! ).
In the 60's when EN was either high phos or bright mid-phos, it was a bit easier to simply state "electroless nickel." In the modern age when there are a plethora of formulations for specialty purposes, it needs further description! Find out specifically what bath your plater is using -- most platers use one or two or more. My firm runs SEVEN! To complicate the situation even more, ask the plater how old the bath was? If a new bath takes 20 gallons of the nickel bearing A-component, when the initial 20 gallons has been depleted and another 20 gallons added back, this is described as "1 metal turnover" or 1 MTO. Typical EN baths last for 5 - 10 MTO's -- new baths look as would likewise paint differently than a bath with 8 MTO's, for example.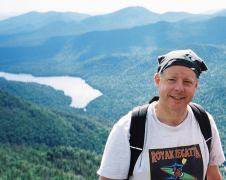 Milt Stevenson, Jr.
Anoplate Corporation
Syracuse, New York
---
2005
A. EN coatings are very passive, like stainless steel, and getting paint to stick is difficult. However, if you treat the electroless nickel deposit with a solution of 30 g/L of sodium or potassium dichromate at 85°C for a minute, you will usually get enough adhesion to hold the paint.
Ron Duncan
- LaVergne, Tennessee
It is our sad duty to note Ron's passing on Dec. 15, 2006. A brief obituary opens Episode 13 of our Podcast.

---
---
To minimize your searching efforts and to offer multiple viewpoints, we've combined some threads into the dialog you're viewing. Please forgive any resultant repetition or failures of chronological order.
---
---
Poor powdercoating adhesion to EN plated castings
2006
Q. My company purchases aluminum investment cast boxes and has them machined to required dimension. We are presently electroless nickel plating (12µm) the boxes and powdercoating them; however we have a high failure rate on powdercoat adhesion to nickel plated components. Is there a primer or pre-treatment process you could advise?

thanks,
Rajan Govender
- Pinetown, South Africa
---
(2006)
If you immerse the EN coating in a 30 g/L solution of sodium or potassium dichromate at 85 °C for 30 to 60 seconds prior to coating, you should get adequate adhesion of the powder coating.

Ron Duncan
- LaVergne, Tennessee

Ed. note:
It is our sad duty to alert the readers to the passing of Ron Duncan on Dec. 15, 2006.
---
January 15, 2010
Q. Follow up question. Can you use the same process for EN-Phosphorus coating?
SIDEBAR QUESTION: And what is a good method for cleaning Tin plating over Aluminum 6060-T6 before Powder Coating.
Thank you,
Rich Kapolka
- Exton, Pennsylvania
---
January , 2010
A. Hi, Rich. Most EN plating is EN-Phosphorous, so yes, Ron's answer applied to your coating.
SIDEBAR ANSWER: Letter 29546 may be helpful for cleaning the tin. But it may depend on the situation -- if there are only a few parts, scrubbing with pumice and a tampico brush is straightforward. Good luck.
Regards,
Ted Mooney, P.E.
finishing.com
Pine Beach, New Jersey
Striving to live "Aloha"
---
---
Can electroless nickel plating be powder coated?
January 14, 2008
Q. Hi.

I'd like to know if it is possible to apply a standard powder coating over an electroless nickel finish please?

Thanks
Gareth Walson
Hobbyist - UK
---
January 15, 2008
A. Hi, Gareth. Could you please tell us your situation to make the question a bit less abstract? It's possible to sand blast the electroless nickel for tooth, chromate it, then apply a self-etching primer and get some adhesion. But not knowing how old the EN is, whether this is one old item or production of thousands of new ones, thus what steps you are willing and unwilling to do, or it is practical to do, or how good the adhesion needs to be, it's hard to help you very much. Thanks!
Ted Mooney, P.E.
finishing.com
Pine Beach, New Jersey
Striving to live "Aloha"
---
January 18, 2008
A. I agree with Ted. Anyhow, here's an abstract answer. It is possible if you prepare the surface properly. Even so, the adhesion will generally be less than with carbon steel.
G. Marrufo-Mexico
Guillermo Marrufo
Monterrey, NL, Mexico
---
March 8, 2008
Q. Sorry, my apologies for not providing more information. To put my request into context:

I have a halligan tool that has its working ends made from high alloy steel that has been heat treated for maximum strength, then permanently press fitted and pinned to a 1 in. stress proof or high strength lightweight aluminium bar. The whole thing has a very tough and durable electroless nickel finish.
I found out to my cost that after much cleaning, priming and painting of the bar, the paint layers did not adhere very well as there is no 'key' on the surface. Subsequently even knocking it slightly chips off the paint I applied. Hence my question if powder coating will apply to such a surface and if it will remain durable. I imagine that as well as stripping off the paint I applied, the electroless nickel will also need to be stripped for the best results?
Gareth Walson
- UK
---
August 13, 2008
A. Hi, Gareth. Electroless nickel is a combination of nickel and phosphorous that creates a passive and almost a glass-like alloy. It's corrosion resistant, wear resistant, and slippery. It's often used as a mold surface because things tend to not stick to it. Yes, it is difficult to paint, especially a tool that will be so deliberately banged around. If you can get down to the aluminum, either with a chemical stripper made for electroless nickel (contact a plating shop) or by sandblasting, then you should be able to apply an etching primer to the aluminum and paint it. But I think I'd leave it electroless nickel plated instead of painting it :-)
Good luck.
Regards,
Ted Mooney, P.E.
finishing.com
Pine Beach, New Jersey
Striving to live "Aloha"
---
---
Primer failure on autocatalytic nickel-phosphorous plated steel
May 30, 2014
-- this entry appended to this thread by editor in lieu of spawning a duplicative thread
Q. We are struggling identifying a root cause of paint failures to our down stream customer. We have cabinets and doors plated per ASTM B733 [link by ed. to spec at TechStreet] AUTOCATALYTIC NICKEL-PHOSPHOROUS COATING ON METALS TYPE V, SC3. Extensive failures on the doors, minor (seams, border areas) on cabinets. Failure is primer coming off nickel surface. We are familiar with adhesion issues on nickel plating. We have doors that are flat and doors pressed with ribs to provide extra structural integrity. Unpresssed doors are not experiencing failures. Question: Can pressing under high ton press prior to nickel application increase the likely hood of paint/primer adhesion problems to plated surface? Thought: The pressing causes smoothing of surface, reducing adhesion characteristics. Thanks in advance.
mark mcgovern
prog mgr - sykesville, Maryland, usa
---
April 22, 2015
A. You should switch to anodize (not hardcoat or water sealed) for the aluminum and Zinc Plating on the steel. Also if RoHs is not an issue, Sherwin Williams P60G2/R7K44 works as a metal prep for any substrate.
David Lagarde
- Frederick, Maryland USA
---
---
Painting over electroplated ABS
July 8, 2018
appended
Q. In the middle of finalising a product (replica production).
Total of 7 Parts- Some are getting electroplated to have a metallic finish.
The 3 largest parts need to be spray painted to look like the item I am reproducing. These parts on the real item are steel, and are then powder coated.

I was hoping to get them electroplated as thick as possible (50 micron) and then spray paint over the top.

Is it possible to spray paint over electroplated ABS parts?

Would appreciate any help or advice!

Thanks :)
Glenn Yench
Restorer. - Sydney, NSW, AUSTRALIA.
---
August 2, 2018
A. Hi Glenn,

You should be able to paint over electroplated surfaces, should be able to get good adhesion. If you use a wet system, rather than powder coat I'd suggest you start with a good etch primer (sometimes called a wash primer) to key to the surface, followed by a normal primer.
Brian Terry
Aerospace - Yeovil, Somerset, UK


If you have a question in mind which seems off topic, please Search the Site