60,000 Q&A topics -- Education, Aloha, & Fun
topic 37360
Hard chrome plating on 316 stainless steel
A discussion started in 2005 but continuing through 2019
2005
Q. Hi I work for Park Industries in Perth, the solution I use is Atotech hr70 hard chrome, we specialize in hydraulic rams, I have poor adhesion on stainless steel when grinding (chrome peeling) any help overcoming this problem would be appreciated
Paul Court
Perth WA Australia
---
2005

A. Everyone wants to blame the xxxx plater. If their plating passes required QC tests, then the problem is the grinder!
The grinding shop is where almost all of the problems like this lie. Too deep a cut per pass, wrong feed and/or speeds, wrong wheel grit or resin and inadequate or wrong coolant are the most common causes.
Management is the ultimate cause for not having done their homework on wheels, and feeds/speeds or by allowing or causing grinder operators to rush the operations.

James Watts




- Navarre, Florida





---

2005

A. Paul,
Some possible causes of imperfect adhesion are:

a) presence of grease or oxides on the surface
b) interrupted current supply
c) failure to etch the part or incorrect etching solution

you have to tell us your full process before we can hazard a guess

kind regards,

Peter Van de Luecht




- Melbourne, Vic, Australia




---
---
September 30, 2010
Q. Hi, I'm new to hard chroming business in Malaysia, and finding solution to hard chrome stainless steel and aluminum. I'm told that neither of these metals can be hard chromed. Is it true? Because I've learned that some people are chroming it.
Darren Teoh
plating shop owner - Penang, Malaysia.
---
October 4, 2010
A. Hi,Darren.

Both stainless steel and aluminum can be hard chromed, but will require different pretreatment sequences than steel requires. Not all plating shops will be familiar with these pretreatments. Guffie's book is a good introduction =>

Another thing to remember is that stainless steel and especially aluminum are much softer than hardened steel. Chrome plating is often applied to hardened steel, and it can give a very hard and wear resistant surface. But if the underlying metal is soft and the chrome plating is thin, the plating will simply crack under loading like the hard shell of an egg or a sheet of glass on a sofa. Regards,
Ted Mooney, P.E.
finishing.com - Pine Beach, New Jersey
Striving to live Aloha
---
---
December 20, 2011
Q. We are trying to plate hard chrome on stainless steel type 660 (also referred to Nitronic 60) we are close but still having small spots of adhesion issues. Thoughts on how to activate would be helpful.
Chris Basti
- New Hampshire, USA
---
December 22, 2011
A. You might try a Wood's nickel strike under the chrome. It helps on high nickel SS.

You will save a lot of time and get more replies if you let us know what you have tried. Most will not answer because invariably it comes back "that is what I tried".
James Watts
- Navarre, Florida
---
---
October 7, 2013

-- this entry appended to this thread by editor in lieu of spawning a duplicative thread
Q. We are trying to do hard chrome plating for the below part ID, but partial plating taking place. Could you suggest us the method that we need to follow activate the part before chrome plating.

part details:
Material: Stainless steel 316
ID Bore:615 mm ( Chrome plating required 40-60 microns in ID)
Length: 830 mm
Thickness: 40- 60 microns in bore
Current used: 5000 Amps

1.Does the part required to give any initial strike current?
2.What must be the distance between Anode to Cathode?
3.What chemical and process should be used for activation of SS 316 before chrome plating?
Sudheer Babu
- Chennai
---
October 10, 2013
A. Provide a lot more information to get a good answer.
What is your current process?
What is you anode arrangement in the chrome tank?
What do you mean by partial chrome plate in the bore??
Convert 5000 amps to amps per sq dm or sq inch.
Etch has nothing to do with the problem as you described it.
James Watts
- Navarre, Florida
---
October 11, 2013
Q. James Watts,
Current process:
1.Degrease,
2.Rinse, Plating at 35 Amps/dm2
3.Anode arrangement is confirming Lead anode inside the JOB (ID plating required) with a gap of 2".
4.Partial plating means, plating is taking place on entire surface of the job, only few ares plating taking place.

I think for stainless steel needs to be activated before chrome plating which is right chemical for activation?

For Inner diameter(ID) plating how much current is required?

What shall be the distance between Anode to Cathode in ID chrome plating?
Sudheer Babu
[returning]
- Chennai
---
October 15, 2013
A. Hi,

Read the article I have written in the library here at finishing.com [www.finishing.com/library/anders/anderschrome.html] . Translate it into English.

All material like stainless steel, and other metals like Inconel and Hastelloy shall be activated for a long time in the hard chrome solution with a low current 2,5 Volt and see after hydrogen bubbles, and be slowly raised to the direct current. A big part must have the same temperature as the solution; it can take 8 hours or more.

Regards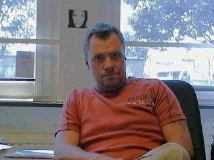 Anders Sundman
4th Generation Surface Engineering
Consultant - Arvika, Sweden
---
---
150 micron Hard chrome plating on steel grade 316
September 3, 2019
Q. Respected all,
Sir my question is 150 micron hard chrome plating on steel -- is it possible? If possible please let me know what's the process of it.
S Ahamed
Shop - Kolkata, West Bengal, Indian
---
September 4, 2019
A. Hi S Ahamed,

150 microns of hard chrome on steel should not be a problem. Hard chrome is often used to recover parts that have suffered from excessive wear.

If you are not a chrome plater, the process is to find a local reputable plating company and have them do it for you (hard chrome isn't for beginners or amateurs!)

If you are chrome plater, then it is just a factor of time, however, with a large build up of chrome you'll probably need masks and robbers and careful placement of anodes to try to limit the effects of uneven build up of coating.
Brian Terry
Aerospace - Yeovil, Somerset, UK