60,000 Q&A topics -- Education, Aloha, & Fun
topic 37073
White Spots on Tin Plating on Brass or Copper
A discussion started in 2005 but continuing through 2019
2005
Q. Dear Platers/ Professionals,

I have a long-time pressing matter over the issue of "Black Spots & White Spots" after the raw material Brass-C2600 (Temper: 1/2H) is plated with Tin.

Additional notes: Thickness of raw material: 0.25mm & Width: 57 mm

After our formal meeting with our plater, we were told by them that the spots could be due to:
(i) storage conditions has to be in cool condition to avoid spots from surfacing (prefer air-con).
(ii) porosity of raw materials that causes the spots to protrude out of the plated layer

Are the above reasonings sound to you all?

Need some of your guidance in these issues. Appreciate if you could reply.

Thank you for considering this thread and thanks in advance for submitting your solutions.

Yours Sincerely,
Alan Chow (QA)
Hoshin Kenzi (Metal Slitting) - Singapore
---
2005
A. Hi!

If those spots became visible after a certain period (two weeks and more) and not just after plating, they might have been "produced" by a Zn from a brass, that is diffusing through Tin ... We call this "Tin plague" .
This can (and must) be avoided with a 1 or 2 micron thick layer of Copper (or better is Nickel) over the brass. Then you can plate these parts normally with Tin.

Best regards!
Dimitrij Us
- Kranj, Slovenija (EU)
---
2006
Q. Hi Dimitrij,

Thanks for your reply and answer.

Really appreciate your help.

Have not been following up this thread for quite some time, just happen to find it on the search engine on this topic which I remember posting quite sometime back.

Now the same supplier is giving me coils that are having problems like black dirts and black spots on the topside of most coils. After cleaning using DI water , its even worse.

In fact, all these plated coils come with Ni under-coat over the Brass, C2600-1/2H.

Based on the platers' Cert of Conformance (COC) reports: Nickel (Ni) coating is maximum of 39.37u" (=1 um), the results states 0.65 µm to 0.8 µm.
and
Tin (Sn) is min of 78.74 µin (= 2 µm), results states 2.5 µm and above.

I am not sure how these black spots can erupt on the coils.
Can Dimitrij and plating professionals out here advise and enlighten me on this issue?

Thanks a million.... Alan
Alan Chow
[returning]
Hoshin Kenzi (S) Pte Ltd - Singapore
---
November 2, 2010
A. Hi

Spots and discoloration issue always happened on tin plated surface. Most of the issue was caused by insufficient washing and air blow-off. You may also check the machine parts (after plating process). Maybe some residue remains in certain corners, and outflows as the wetting state changes, after washing and air blow become very thin and colorless spot; few days later, the color appearance.
Heng Zhou
- Singapore
---
---
White Stains on Immersion Tin Surface
2006
Q. I have heard of yellowing and I have heard of black stains due to tin oxide. What I have after Immersion Tin is so far unique.

It is a form of whitish stains and cannot be removed. The Immersion Tin surface is ok and solderability is also there but the surface has these partial white stains.

What are these stains? Where can they come from?

Has anyone else had experiences like this?
Paul Robinson
Research for industrial problem - Tauberbischofsheim, Germany
---
2006
A. Hi Paul,
The immersion tin process I used in the printed circuit board industry contained a microetch and a pre-dip prior to immersion tin. I know stains can be caused from ionic contamination that is present on the substrate. We had to change our microetch and pre-dip frequently. Are you using a white or grey immersion tin? You mentioned the stains could not be removed, is it possible they are under the tin coating? You could try running a sample coupon down the line with your normal load. Soak the coupon in isopropyl alcohol for 2 minutes prior to the pre-dip or immersion tin (whichever is applicable). If you don't experience any white spots on the coupon, ionic contamination is likely the culprit. Hope this helps!
Mark Baker
process engineer - Malone, New York
---
---
White spots a few minutes after tin plating on copper
February 25, 2014
Q. hi,

Can you please tell me why white spots appear all over the copper bus bars after I Tin plate them. They appear around 1 or 2 minutes after I take them out of the plating tank. It does not help whether I rinse the parts with water or don't after plating.

Thanks,
yousaf zia
- Al Khobar, Saudi Arabia
---
February 28, 2014
A. Hello Yousaf,
First we would have to know if these spots are just discolored spots, or are they spots with a granular structure? If we knew this we either could address the chemistry or filtration.
Mark Baker
process engineer - Malone, New York
---
---
August 22, 2016
Q. Sir,

We have found white mark or spot on copper tin plated bus bar. Please help me out what is the reason for it.

Is it related to Humidity?
Nikunj Bhatt
- AHmedabad,Gujarat,India
---
August 2016
A. Hi Nikunj. People will cheerfully try to help if they can. But we don't know whether you are the plating shop, the fabricator or the end user ... we don't know if this bus bar was plated in your shop 10 minutes ago, or suffered ocean transit for 10 weeks, or has been in service for 10 years. We have no photos indicating whether the spot is pinhead sized or covers the whole bus bar.
Please get back to us with 3 or 4 paragraphs detailing your situation and photographs to , and I'll try to help.
Regards,
Ted Mooney, P.E. RET
finishing.com - Pine Beach, New Jersey
Striving to live Aloha
---
---
July 10, 2019
Q. Hello !

Currently we are facing quality issues due to white appearance on the surface; the base material is copper C110 and finishing is tin electroplating.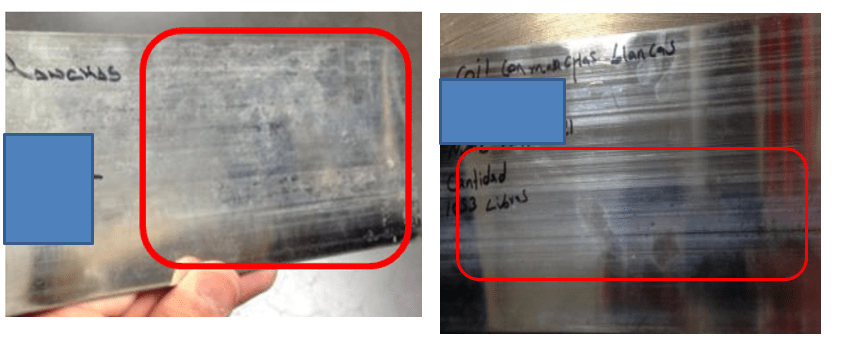 Supplier [plater] stated this is "due to environmental storage conditions", but we do have the following facts to disagree on that statement:

- material is rejected on both: just after material is received (incoming inspection) and warehouse (some weeks after receiving).
- when the pallet is rejected not each coil has this issue meaning that 1 out of 3 coils on the same pallet has this white appearance.

- this issue happens once or twice a year... different month [July & October].

- we do have another plater supplying the same material with no issues.

Hope you can help me on this issue.

thanks!
yoshi can
- Coahuila, Mexico
---
July 2019
A. Hi Yoshi. Based on the facts and photos that you presented I would agree with you, but it probably doesn't do much good beyond saving you the effort of wasting time & money improving those storage conditions :-)
... because the chances are slim that based on your description & pictures here a reader can gain sufficient insight into the problem to propose a solution, transmit that info to you, and get a reluctant plating shop to make the changes. Realistically you may be faced with either carrying on as is or finding another shop :-(
Photos can be misleading, but it looks like the color on the material is very striated anyway. So out of curiosity, what makes striated color variations acceptable but blotchy color variations not? :-)
Regards,
Ted Mooney, P.E. RET
finishing.com - Pine Beach, New Jersey
Striving to live Aloha
---
July 11, 2019
Q. Hello Dear Ted Mooney, P.E. RET... Thank you for you quick response.

Regarding your question:

"So out of curiosity, what makes striated color variations acceptable but blotchy color variations not?" The answer is that both striated and blotchy color variation are not acceptable.

Regards!
Yoshi Can
[returning]
- Coa, Mexico
---
July 22, 2019
A. The tin solution will not rinse off, it has to be run thru an alkali, then it will rinse freely, if not alkaline washed after plating, then exposed to air for a few days, you will get then white smut.

Robert H Probert
Robert H Probert Technical Services

Garner, North Carolina
finishing.com is possible thanks to our supporting advertisers, including this shop: