World's most popular finishing site / Internet's friendliest corner
topic 36471 p2
Testing Silver at Home for the average consumer
Simplest tests include magnet, Archimedes test, heat conductance, bell-like ringing, mustard stain test, and vinegar test -- but several different tests must be done. Acid test is best!
A discussion started in 2005 but continuing through 2019
---
< Prev. page (You're on the last page of this topic)
---
April 14, 2013
Q. How do you tell the difference between solid silver and silver solder?
Kayla Ferguson
- Spooner, Wisconsin, USA
---
April 15, 2013
A. Hi Kayla. Solder is for joining things, not making things. It might be used to connect a cup to a base, for example, or a handle to a teapot -- but a cup or base or handle or teapot would not be made out of solder. At least that's my understanding.
Regards,
Ted Mooney, P.E.
finishing.com - Pine Beach, New Jersey
Striving to live Aloha
---
---
May 6, 2013
Q. Hi there, I have an antique concho belt bought at an estate sale. Each medallion is stamped on the back "madeinspain" with a capital "E" in a circle also stamped on the back of the medallion. It has tarnished, black does come off when wiped, could it be silver? Thank you for your response.
Stephanie Benbenek
- Greer, South Carolina
---
May 9, 2013
A. Hi Stephanie. It could be, but I doubt it. I'd guess tin or pewter, assuming it's non-magnetic. Black tarnish is certainly not exclusive to silver, and silver tarnish doesn't usually wipe off easily. I think the overall thrust of the thread is that testing will beat guessing :-)
Good luck and Regards,
Ted Mooney, P.E.
finishing.com - Pine Beach, New Jersey
Striving to live Aloha
---
---
October 11, 2013
Q. I have like 4 canisters that stack and sit in a holder with Chinese or Japanese wording, hallmark is a seal with ball on nose. Magnet does not stick to them
Penn Tinklenberg
- Milaca, Minnesota, US
---
October 2013
A. Hi Penn. There are hallmarking books in the library if you wish to try to figure out who made this set. But the fact that they are not magnetic only says they're not steel. They could be stainless, tin, zinc, copper, brass, pewter, silver-free "nickel silver" ... almost anything. You need to run additional tests if you wish to know what metal these are made of. good luck!
Regards,
Ted Mooney, P.E.
finishing.com - Pine Beach, New Jersey
Striving to live Aloha
---
October 23, 2013
Q. I have been given two silver coffee/tea sets with sugar and creamers. Both are very old. Great grandparents on both side. I am in my 60s. One says made by Rogers and has a name called Princess and has a long number carved in it. Not the 92....whatever.

The other has a name like Belkin or something like it and nothing else.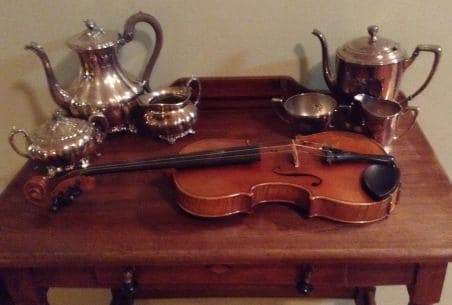 I need to figure out if it is Silver. Where can I take them?
Paula Houghm
- Mpls, Minnesota, USA
---
October 23, 2013
A. Hi Paula. The simplest test is to see if they say "Sterling". If they do, they're silver. If they don't, the chance of them being silver is fairly slim. Unfortunately silver plated holloware, with few exceptions, is pretty much valueless =>
I see "We buy gold" signs on every other street corner these days; I think any of those places can identify silver as well. Also, an experienced antiques dealer might have some knowledge of these. Even sterling isn't worth a lot; browse e-bay and try to find some similar items (although you'll usually see 0 bids, meaning they are not saleable at the advertised price). Better to try to enjoy them than to try to sell them :-) Good luck.
Regards,
Ted Mooney, P.E.
finishing.com - Pine Beach, New Jersey
Striving to live Aloha
---
January 17, 2014
Q. I found a tarnished bread tray at a thrift store. The hallmark is for Webster and Sons. It is a star within a web. The model number is 109. The tray is tarnished and appears to be silver or plated. There is no sterling or plated markings on it. The tray is very soft. I can put a bulge in it by pushing with my thumb. It was warped when purchased, but I easily twisted it back into shape. Scratches do not reveal a different color underneath. This tray really has my curiosity peaked. If this is a alloy under the plating, any ideas what it would be?
Andy Janes
- Moncton, NB, Canada
---
January 20, 2014
A. Hi Andy. If you search ebay for Webster and Sons, you'll see generally similar items with the same star within a web. It is probably silver plated nickel silver (nickel silver contains no silver). Hopefully you like it because it's really not valuable or saleable. Good luck with it.
Regards,
Ted Mooney, P.E.
finishing.com - Pine Beach, New Jersey
Striving to live Aloha
---
March 26, 2014
Q. I am trying to figure out if a rock is real silver.
Trinity Amanda shaw
- Moosup Connecticut United States
---
Hi cousin Trinity. You probably feel that all of the previous 3 dozen postings are inapplicable to your rock, and you might be right. Still, it's best to explain why in your question :-(

Regards,
Ted Mooney, P.E.
finishing.com - Pine Beach, New Jersey
Striving to live Aloha
---
---
July 16, 2014
Q. Hi I have a pair of plain corinthian column candlesticks about 7 inches tall. They appear to be silver. There is no wear to a base metal. The markings are obscure and I can't trace them anywhere. There is what appears to be the initials AB in old scrolled victorian script and the second mark is An A over an O in a shield.These are stamped into the side of the base area. I have done the bell ringing and the vinegar test with good results. Can you enlighten me further?
John Dodd
- ipswich suffolk great britain
---
July 2014
A. Hi John. If you can send a pic of your Hallmarks there is a slim chance someone will identify it. From a verbal description, unfortunately no chance (from my experience posting hundreds of these messages for 20 years now). Candlesticks are usually weighted, so even if they do turn out to be sterling, you probably can't get a scrap evaluation until they're broken open and ruined, so try to just enjoy them :-(
Regards,
Ted Mooney, P.E.
finishing.com - Pine Beach, New Jersey
Striving to live Aloha
---
July 16, 2014
Q. Thank you for your reply. These are not weighted. They are cast and hollow but quite heavy. Just done the ice cube test and this melted extremely fast leaving the sticks ice cold within seconds. Someone has scraped deep into the base of one revealing that they are one solid white metal.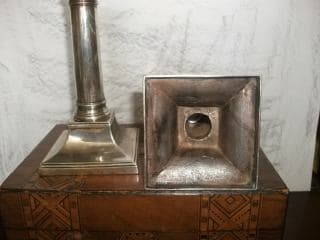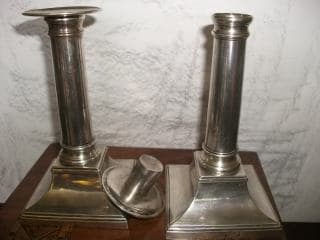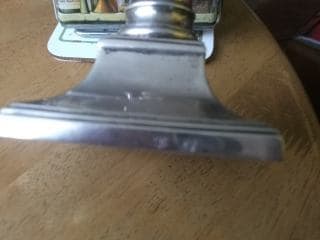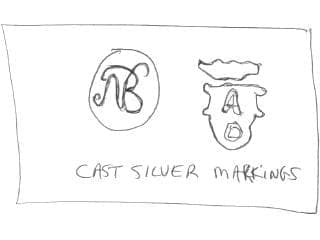 Actual dimensions are 15 cms by 8 cms so not English. Could be some obscure Continental mark. They look early Georgian to me, possibly around 1760.They have removable drip inserts at the top. Lady told me they came back from Germany during WW2.

John ;)
John Dodd
- ipswich suffolk great britain
---
December 31, 2014
Q. Found a silver ring and wondering if it's worth keeping. I tried the magnet and also the pencil method but the ring is too thin and too small to tell. This silver ring has a letter NV on the other side and a letter S on the other side, both on the inside of the ring. I have no doubt that the diamond on it is not real but still want to make sure if the silver ring is real.
lala Fletcher
- Anchorage, Alaska,United States
---
December 2014
A. Hi Lala. This thread is about how to test silver, rather than about how to identify silver from its markings, so we haven't repeated this before on this page: there is no hope at all of a reader identifying your ring from a verbal description of the markings. We have half a dozen pages about hallmarks, and with hundreds of such postings and a million readers, nobody has ever identified a single one from such lettering in 20 years now -- sorry, it's not going to happen :-(
That means, unfortunately, that you're not going to know whether it's silver or not unless you do some more tests. Apologies for the bad news, and good luck.
Regards,
Ted Mooney, P.E.
finishing.com - Pine Beach, New Jersey
Striving to live Aloha
---
---
January 6, 2015
Q. Mystery Set of Very Old Candle Sicks - Silver? Maker? Era? Marking?
Have come into possession of a pair of heavily patina candle holders. I have looked in vain to find any marking. I have only done the ice test and melts very fast. I do not want to try the chemical test due to ruining the patina.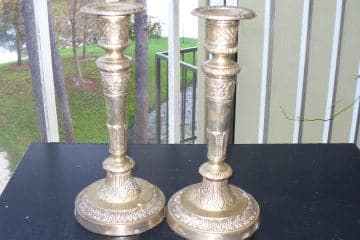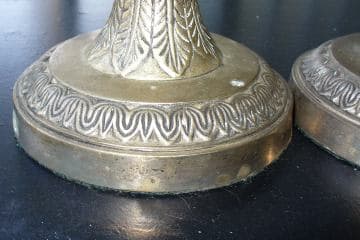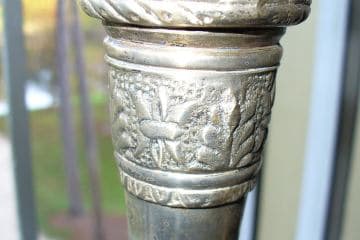 If anyone may have any information as to a possible maker, age, metal content or anything you may know, please respond. It would be very helpful.
Keith Wolk
Appraiser - altamonte springs Florida. USA
---
November 14, 2016
Q. Hello Sir,
I have tested a piece a silver with help of acid, by rubbing on a stone.
It turned to cream colour /milk colour, but when I gave it to an assayer, he confirmed purity of silver as 68%

Whether i am correct?
Tell me a proper method to identity it?
m ruthwik
- india
---
February 24, 2017
A. So I am done quite a bit of testing and have concluded that the bleach test is the best for determining if an item is indeed silver.

For control, I used a 1959 Quarter (known 90% silver 10% copper). As test subjects I used 3 spoons that I thought were silver. Later I tested a necklace I bought at Walmart (labeled silver) and a cross stamped (sterling).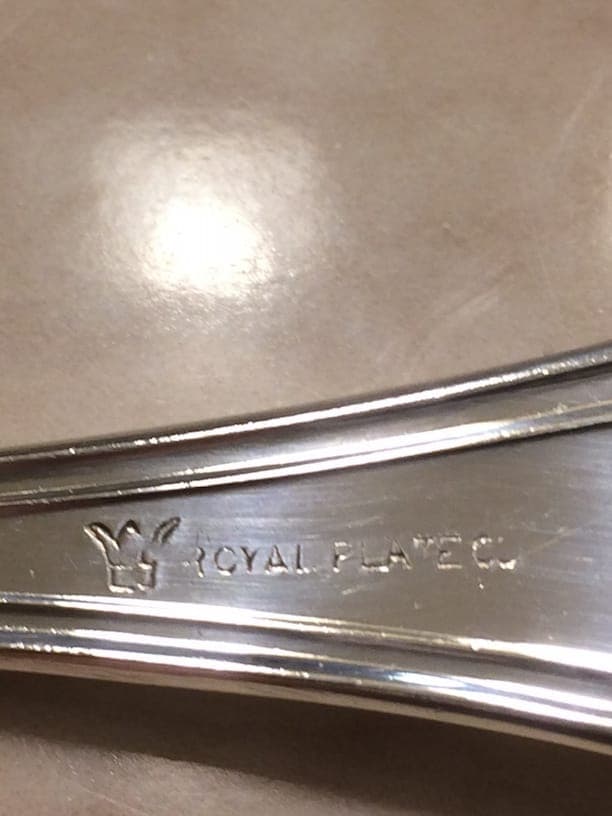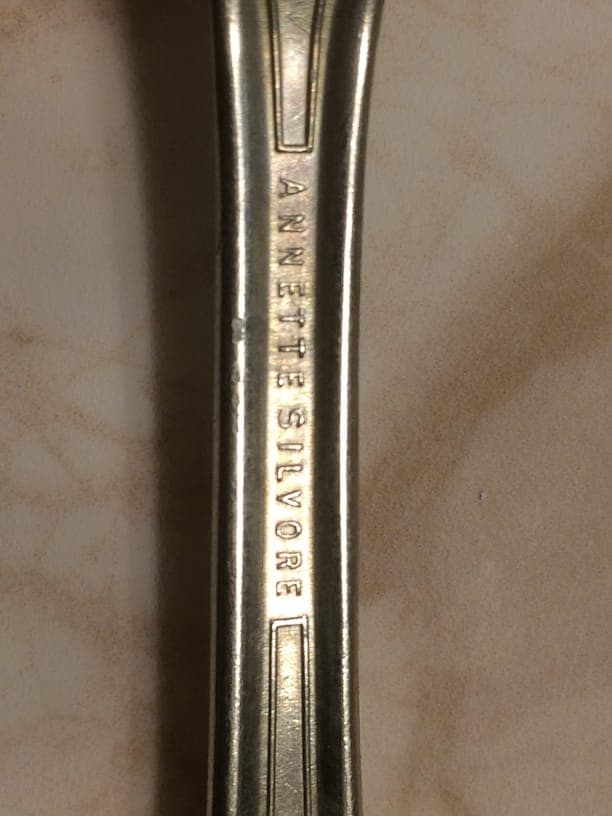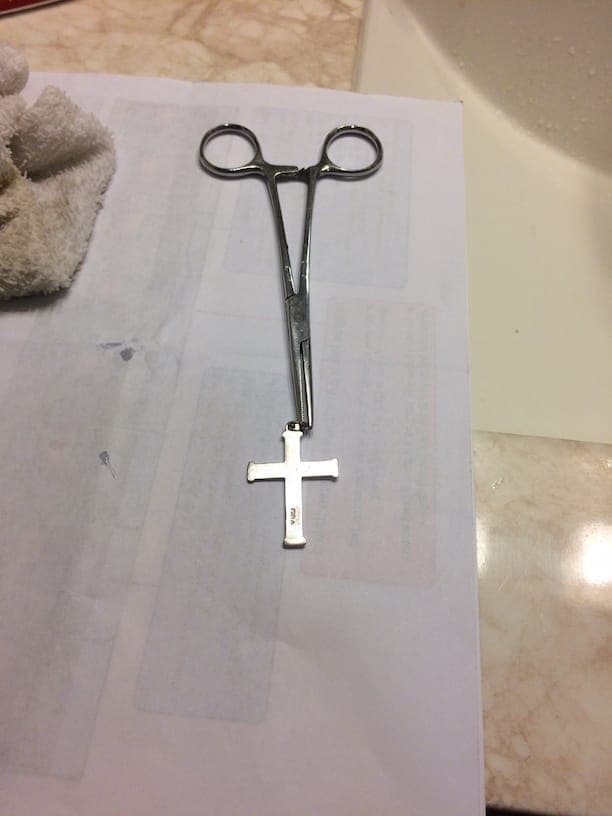 With the spoons, using a stainless steel spoon for control, I tried testing: magnetism, heat conductivity, electrical conductivity, weight differential and bleach. Bleach was by far the best definitive test.

All subjects were non-magnetic. Putting each spoon in a cup of ice water and measuring the temp 6.5" from the tip of the spoon was inconclusive. Measuring electrical resistance of ohms over 4cm was inconclusive. Measuring the weight of 2 quarters, 1 nickel and 3 dimes (known silver) against modern equivalence was too close to call.

However, the bleach test is very conclusive. Attached is a picture of the 3 spoons ("Royal Plate Co", "Annette Silvore", "Brazil Silver") in question, along with the 1959 Quarter, after each were partially submerged in bleach for 5 minutes. (to note I had a handful of random modern coins in the bottom of the bleach vessel for stability, in case there is concern of that), (I also believe 2 minutes is probably sufficient and most likely less damaging to the test object).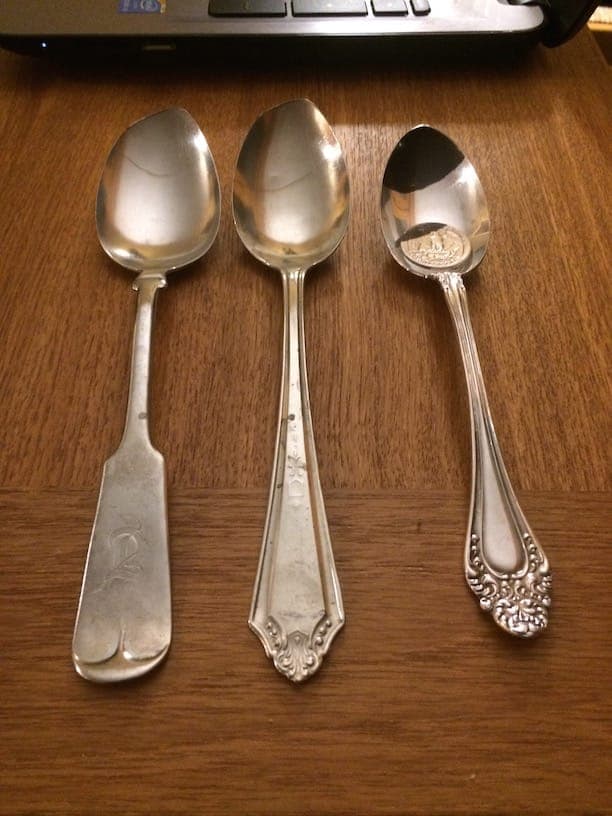 You can see that 2 of the spoons were hardly effected by bleach but the 1959 Quarter and the "Royal Plate" spoon turned "Black".

This did put me in a bit of a panic but I was able to clean off the "black" with silver cleaner. In fact, if you look at the "Royal Plate" spoon after cleaning, the "bleached" section is "cleaner" than the rest of the spoon.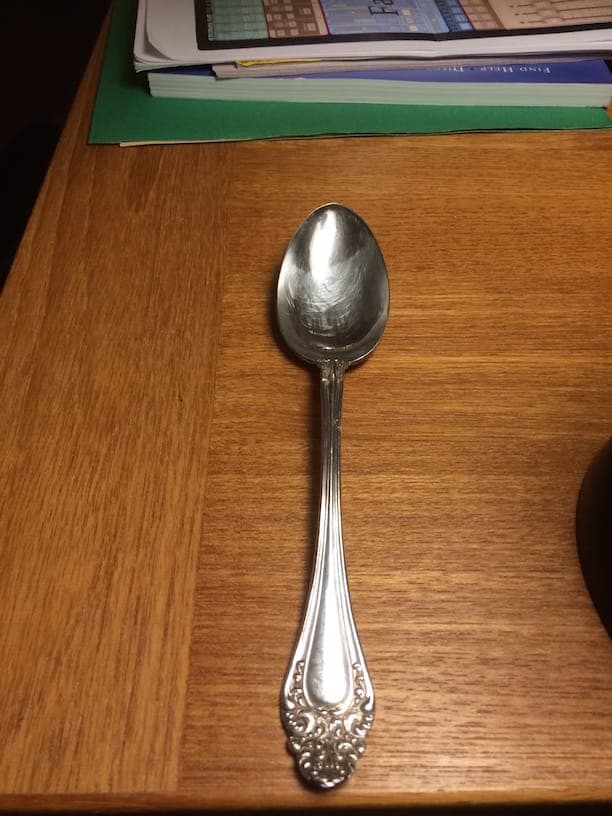 I think I will re-dip the entire spoon after I get some new cleaner (as I am almost out).

After this first test was complete I tested a necklace I bought from Walmart (labeled silver, sterling I think), and cross stamped "Ster" for sterling silver I believe.

I think silver jewelry nowadays is either coated with something, or mixed with Germanium, to help prevent tarnishing.

Testing the necklace and cross you can see they both turned "black" but not as definitively as the spoon or quarter. Particularly with the cross, it looks as though there is perhaps a layer of something trying to protect the silver. But there is definite "blacking" to show the object is made from silver.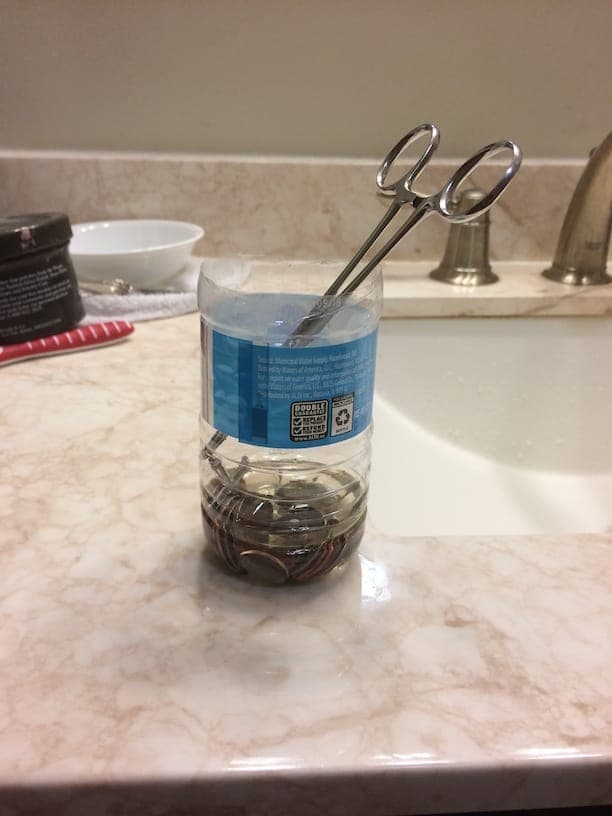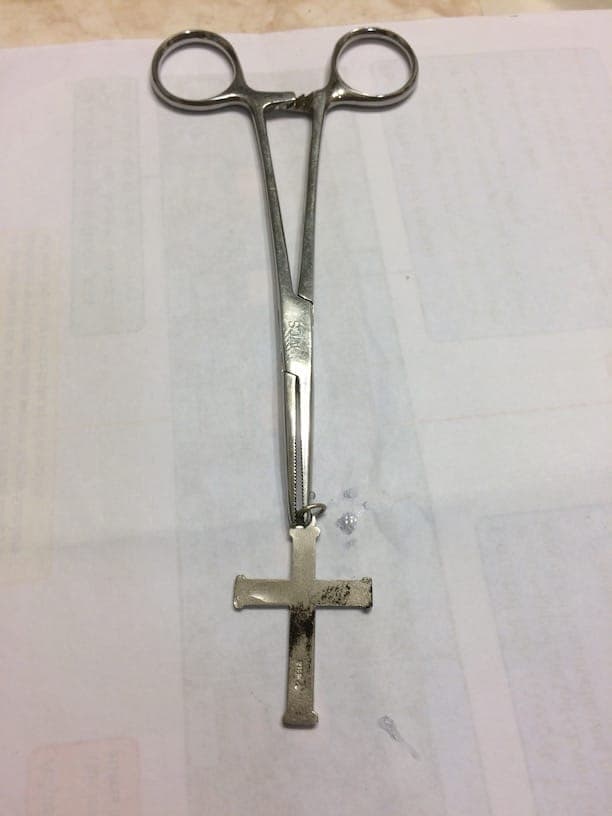 FYI, in the pics of the necklace you can see the "vessel" I used for bleach. There is also a picture of the necklace soaking in vinegar in hopes to remove the "blacking" but that did not work. For me, only silver polish removed the "black" and it takes "A LOT" of effort.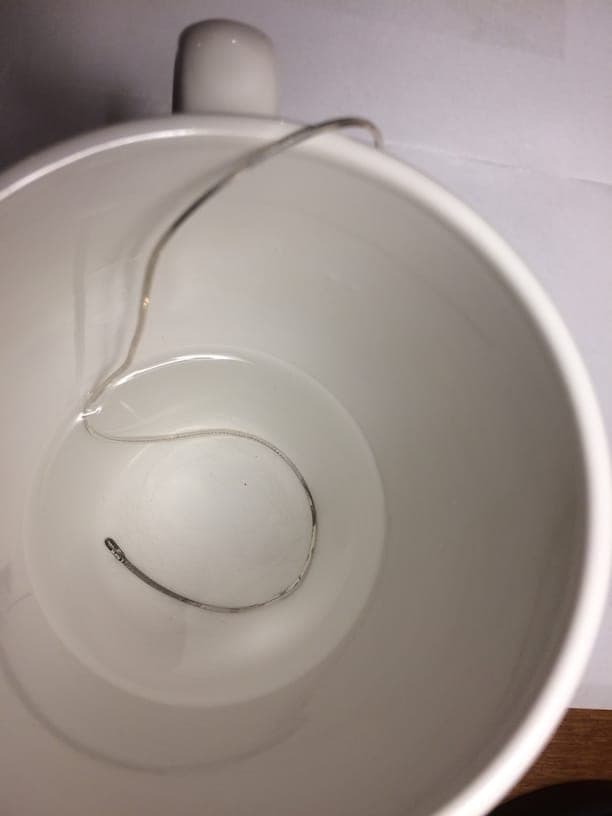 In conclusion, I found the "bleach" test to be very definitive but I would be conservative on the length of exposure to limit the "clean up" time from the test.

Blessings
Greg
Greg Nolte-Rudoll
- Inver Grove Heights
---
---
Why does silver tea set remain slightly 'goldish/yellowish' despite endless polishing?
January 18, 2019
Q. Hi I have a tea set with no markings on it; I have done the ice cube test, match test, bleach test, you name it I have done it and they all pass. However, even after cleaning and cleaning they still have a gold-ish tinge to them. Very faint. Any ideas as to what this mystery metal could be or is it possibly silver?
Nene Cinese
House wife - Vaughan, Ontario, canada
September 20, 2019
Q.
White metal alloy passed all home tests for silver: magnetic, ice cube, ring, and silver solution and yellow brown color. And 18 kt acid don't turn milky white, but line stays and 22 kt takes it out. And I believe it is lapidary scrap containing 60 percent silver and possibly gold and aluminum because specific gravity is off from silver, and aluminum and gold getting too heavy for aluminum and too light for Pure silver and testing positive on 18 karat acid without turning milky white.
I am believing that it's got aluminum and gold in lower KT and the 18 KT acid not turning milky white makes me think it could be 6 KT inquarted for later acid refining by the lapidary scraps. I acquired from a friend who used to be a diamond cutter and jewelry maker and I know it is not plated and has a gold-ish white color and can see at the end of bar casing the metal is solid and not plated and gold.
Charles Nelson
Hobbyist - Tulare California USA
----
Some related finishing.com threads which might interest our readers:
adv.