Where the world gathers for
plating, anodizing, & finishing Q&As since 1989
-----
Aluminum grinding and mirror polishing Q&A
January 4, 2022
Q. Hello Guillermo,
You seem to know a lot about the industry! Do you know any good metal polishing shops in Monterrey?
Thanks
Jonathan Egan
Manager - Chicago
privately respond to this RFQ ^
Ed. note: As always, gentle readers: technical replies in public and commercial replies in private please (huh? why?)
---
---
↓ Closely related postings, oldest first ↓
---
---
2005
Q. Good afternoon Sirs, I have some questions, I need quote one aluminum plate of 16"x24"x0.500", but the customer requirement is "aluminum tooling plate with grinding and mirror finished". The Customer show me a sample and it's likes a mirror.

The customer comment me that he need the grinding finished by motives of flatness.

My question are:
1.- It is possible to grind the surface of the aluminum plate? and how it is this possible?
or
2.- Somebody would say me where I can buy the aluminum plate with this mirror finished?
Afredo Parra
automation company - Cd. Juare Chih.
---
2005
A. Aluminum is very soft so it tends to clog most every kind of abrasive wheel thus leaving deep scratches. It is better to machine very fine with a cutting tool, then take it to a mold polishing shop that has experience with aluminum. Then, have it chrome plated and polished back again. Another option is to nickel+chrome plate it w/o final polish if a shiny aspect is desired and severe wear is not an issue.
Guillermo Marrufo
Monterrey, NL, Mexico
---
2005
A. It is possible using the blanchard grinding process. You will typically get around a 25 RMS on Cast Aluminum Tooling Plate (Mic-6, Alca Plus). You can find more information on these products from Alcoa or Ryerson.
Bryan Parker
- New Mexico
---
2005
A. Alfredo,
Read what Bryan wrote: I agree with him.

Regards,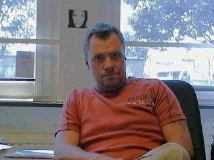 Anders Sundman
4th Generation Surface Engineering
Consultant - Arvika,
Sweden
---
2005
A. RMS 25 is far from being mirror. I doubt any grinder will give you mirror finish on aluminum. You need a lapping machine or manual polishing. Of course you can have it plated for better hardness and durability.
Guillermo Marrufo
Monterrey, NL, Mexico
---
2005
A. To make the mirror polish, it's best if you can find any articles in the web with the words "lapping".

The search can include computer heat sinks web pages.

I think you need to reach about 1000-grade polish before any real reflections appear.
Yong Tze Shoong
- Gudang, Johor, Malaysia