The world's oldest & most popular finishing site, and striving to be its friendliest corner
topic 35639
Can you paint chrome legs on a table
2005
I have a very table and chairs that was my mothers, it was bought in the 50's, it has chrome legs on the table and chairs. there are a very very small spots of rust, can you paint over chrome and if so what with? and what kind of prep should be done first
thank you
Edna Gardner
house wife - Firest, Virginia
---
2005
The professional way of doing it right would be as follow: Take the parts to a chrome plating shop for electro-strip then a blast...glass or sand. Request that they leave an alkaline detergent rinse to give you time to paint. Metal parts will rust immediately otherwise. You may spray some oil ( WD-40 [paid link to product info at Amazon] or Mineral oil) on it, especially if you do not painting the item the same day the items got electro-strip.
Once you are ready to paint, you either remove the alkaline detergent by water hosing it down or use thinner to remove the oil.

Items need to be very clean before paint.

Another way is to go directly to a powder coating shop and have them blast the parts before you paint. Better if you have a buddy that has a sand blasting cabinet in their garage. Now since you are at the powder coating shop to get a quote for blasting, get a quote for powder coating color. Powder Coating is much cheaper than electroplating services. Powder coating is Awesome. They offer matte, glossy, semi-glossy, crinkle coating at a reasonable cost.

Now if you are determined in doing it yourself by cutting corners, you need to wash the part with water and soap. Dry. Then hand sand the parts with #4 0000 steel wool [linked by editor to product info at Rockler]. This should remove any rust build-up and prime the surface to accept paint. Wipe with lacquer thinner [paid link to product info at Amazon] (steel wool contains oils). Then paint. Paint does not like to bind to smooth surfaces.

Happy Restoration...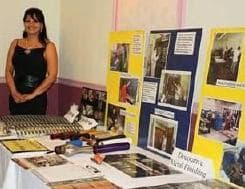 Alicia Moreno
Escondido, San Diego No., California