Where the world gathers for
plating, anodizing, & finishing Q&As since 1989
"How to polish stainless steel beer kegs"
-----
2005
I am a home brewer and have a few 15 gallon stainless kegs that are used in the brewing process. Often times there are spill-overs that are very messy and hard to clean up. The kegs are sand blasted and dull. Cleanup would be so much easier if the kegs were polished not to mention they will look much nicer. Please give me some advice on how I should begin to polish them.

Thank you,
Mark
Mark Bettez
home brewer - Gardner, Massachusetts
---
2005
The "right" answer would be to get the kegs electropolished, as is often done for food preparation products. That is because any mechanically polished finish under a microscope resembles a plowed field, with contaminants entrapped below rolled-over metal, and very small scale nooks and crannies and metal shards. Electropolishing dissolves away all the high points, leaving an undisturbed metal surface.

But if you price that service and it's not affordable, it is theoretically possible to polish these items with a buffer, although the sandblasting may have work-hardened them, making a tough job tougher. letters 5154, 12650, 14004, 26313 are a start.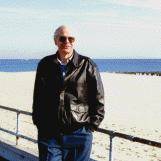 Ted Mooney
, P.E.
Striving to live Aloha
finishing.com - Pine Beach, New Jersey
---
2006
If I wanted to polish those kegs, I would sand them, depending on how deep the scratches are is what grit sandpaper I would choose....keeping in mind the thickness of the keg also.
Start with say a 220 grit sandpaper and work up, all the way to 1200 grit or even 1500 grit.(if you can find it)
Also remember to "cross thatch" your sanding, meaning go one way with the sander till your satisfied all the previous scratches are sanded out. then move up a grit and sand the other way..start at 220 grit then go 320 then go 400 then 600 then 800 then 1000 then 1200 then 1500 if you can find it...time consuming yes very costly yes very.
sandpaper is not cheap and neither is your time
When you are happy with the sanding then guess what, time to polish that baby till it hurts your eyes.
For this a green rouge would do perfect with a braided cotton cloth and a high speed buffer.
I polish stainless on rich men's yachts that's what I do for a living and there's always room for improvement.
hope this helps,
Daniel Dorie
self - Sturgeon Bay , Wisconsin
---
2007
Polishing this much stainless will be no fun, however it will go four times faster and take a quarter of the time (still a substantial amount of time though) if you use a light oil to polish with. Use good quality psa adhesive abrasive discs, on a random orbit sander and use a liberal amount of polishing oil at all times and you will be able to accomplish your job without spending hundreds of dollars on sandpaper.
Good luck!
Albert Zuger
- Brooklyn, NY, US