topic 5154
Getting a Mirror Finish on Stainless Steel
2000
i am attempting to branch out and am fixing high end motor coaches (buses). Repairing one now and am replacing stainless steel panels. what I'm trying to find out is how or what do I use to polish the new panels back to a mirror finish, by the way the paint work and graphics have all ready been done. some one suggested a jewelers rouge or something like it but since I'm not a jeweler, that is greek to me. any help would be greatly appreciated
Leonel A. Guajardo
- New Braunfels, Texas
---
2000
Leonel:
If you want to get a mirror finish on parts that are already painted, etc. and cannot be electropolished, you can get materials from any lapidary supply house to polish the surface. Yes, a jewelers' polish will work (these are commonly an aluminum oxide or ceric oxide paste). Usually you have to do it in a series of ever smaller sized grit to get the mirror finish without grooves.
Good luck!
Lee Kremer
Stellar Solutions, Inc.
McHenry, Illinois
---
2000
Apparently you are working with large pieces of material and I think you already have them painted. Jewelers rouge, or iron oxide is a compound commonly used with buffing wheel applications. However, a green rouge or chrome oxide maybe better. It seems like this type of system may be the way you have to go. Even this maybe difficult to do if you want to retain the paint design work on the part. Any system you work with is a material removal process; therefore masking or great care is required.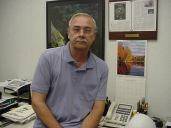 AF Kenton
Hatboro, Pennsylvania
---
2000
jeweler's rouge [linked by editor to product info at Amazon]and similar iron oxide derivative products are probably not the ideal solution for your buffing problem in this instance. Buffing compounds utilizing ultra-fine aluminum oxide (varies, but in both the paste and bar type materials these are usually "WHITE" materials). You might want to contact a number of distributors or suppliers of "buffing supplies" or metal finishing products in your local area.
David A. Davidson
- Bartlett, New Hampshire
---
2000
Man don't use ferritic rouge at any price! You will set up surface corrosion conditions and your mirror will become a moonscape.
Hamish Hunt
Melborne, Australia



If you have a question in mind which seems off topic, please Search the Site