Where the world gathers for
plating, anodizing, & finishing Q&As since 1989
"Zinc plating rusts in shipment by sea"
-----
2002
Q. Does anyone here have a good idea on the equivalency between neutral salt spray test (ASTM B117 [affil link] ) and ocean shipping (unwrapped in box) for zinc-dichromate coating on steel substrate? How many hours to white rust is equal to, say 10 weeks on ocean?

Thanks,
Haidong Z
[last name deleted for privacy by Editor]
Caterpillar - Peoria, Illinois
---
2002
A. Hello Haidong. There is no real correlation between salt spray hours and hours in shipment on the seas; but corrosion on offshore platforms is so extreme that they require their special protocols, and travel by sea can be much the same thing but for a shorter period. So the only sure correlation is that 10 weeks at sea will be no worse than 10 x 7 x 24 = 1680 hours of salt spray (which is far more time than a zinc plus dichromate finish will survive in a salt spray cabinet).
I believe the real answer is that the parts should not be exposed to the environment during transit. :-)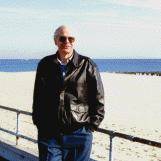 Ted Mooney
, P.E.
Striving to live Aloha
finishing.com - Pine Beach, New Jersey
---
2002
A. There is no direct correlation between the number of hours in salt spray and length of service in the field. ASTM B117 [affil link] attempts to clarify this in several paragraphs at the both the beginning and end of the standard. The best use of salt spray is as a process control tool. (If a given process lasts x number of hours in salt spray, then doesn't ... something is wrong with the process.) Cindy
Cynthia L. Meade
- Sylvania, Ohio, USA
---
---
2003
Q. We are using cold rolled steel sheet for manufacturing chassis (base for holding components) for our mini hi-fi systems. After press-working the part is zinc plated with blue passivation(chromate).

This component has got rust in market. The analysis of rust reveals 52% ferric oxide and 23.5% zinc oxide.The plating thickness was 5 microns.

Zinc oxide forms protective layer and prevents further corrosion.

The rusting is reported from Mumbai (India), a seashore city with an extremely corrosive environment.

Can you suggest the reason of failure of zinc coating?
Debashish Tarafdar
Component Sourcing Engineer - Gurgaon, Haryana, India
---
2003
A. I don't believe the plating thickness is adequate for the environment, so you are on the edge of an acceptable plating process if everything else goes perfectly. Depending on the shape of the parts and your QA methods, it's possible that there is very little zinc in the low current density areas. Other than that, it is possible for things to be wrong up and down the process. But I'd probably start by spec'ing 8 microns or more, with a minimum thickness specified for the LCD areas.

This, of course, is guesswork since I haven't seen the parts, and don't know what salt spray and other QA requirements you apply. You could switch to an alloy zinc plating but I am guessing that these parts are pretty cost sensitive.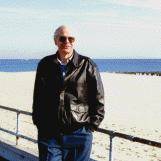 Ted Mooney
, P.E.
Striving to live Aloha
finishing.com - Pine Beach, New Jersey
---
2003
A. Two of the most common methods of increasing corrosion resistance of zinc plating are:

1. Plate a thicker coating of zinc on the part.
2. Use a higher quality chromate passivate on the plated coating.

Also, there was once a problem that I observed, where the manufacturer took Zinc Plated and Chromated parts and immersed them in oil prior to shipment to extend the service life. It was demonstrated that it was a sulfonated oil and dramatically reduced the life of the plated part. Elimination of their oil dip returned service life to the predicted values.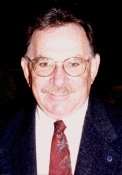 Ed Budman
[dec]
- Pennsylvania
With deep sadness we advise that our good friend Ed passed away Nov. 24, 2018
---
2003
A. The only plating I would suggest that would survive my hometown Mumbai's delightful sea breeze is E-Coat or Zinc-Iron Plating but my guess is that you will have difficulties in sourcing either in Gurgaon; so you will have to compromise by using zinc plating to 12 microns with Olive passivation.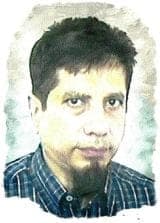 Khozem Vahaanwala
Saify Ind

Bengaluru, Karnataka, India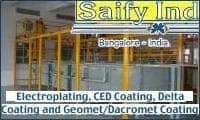 ---
---
Multiple threads were merged: please forgive repetition, chronology errors, or disrespect towards other postings [they weren't on the same page] :-)
---
---
2005
Q. Dear Sir,

These square nuts were manufactured and zinc plated in August 04. Some nuts started to rust 2 months ago, severe rusted nut in the paper cartons were discovered last weeks, will second zinc plate help? What is the consequence in term of rust resistance?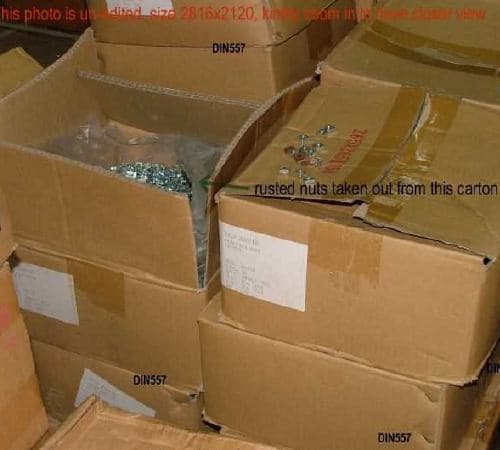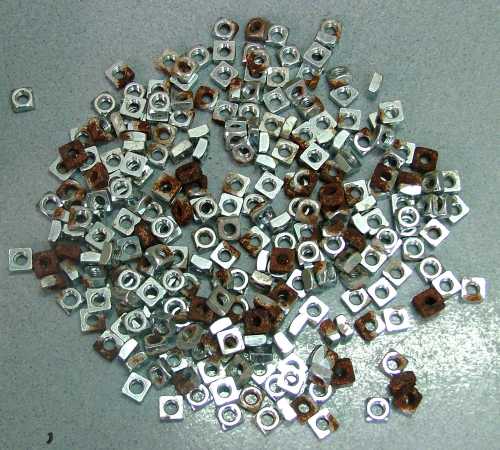 Look forward to hearing your opinion.
Nick Yap
- Malaysia
---
2005
A. As the rusting tendencies still existed after plating, either the thickness of the coat was less or the coating got removed from some location. Thus even in presence of small moisture, electrolytic cell forms leading to depletion of zinc and subsequent rusting. Now what you can do is clean the nuts with kerosene oil then dilute HCl, followed by NaOH and finish with emery, then try plating again. However, it is not a commercially feasible solution.
manuj kaushesh
- solan, HP, India
---
2005
A. Hi!
Maybe, just maybe were these nuts packed in PE bags, while they were still hot?
Poor rinsing after plating (and passivation) is leaving some salts on the surface. These salts with vapor which condense in closed PE bag can lead to this state of material.

This is just my suggestion, maybe real reason is somewhere else.
Dimitrij Us
- Kranj, Slovenija (EU)
---
2005
A. I WILL ADD JUST THIS TO WHAT MR.DIMITRIJ HAS SUGGESTED
1.IMPROPER OR NO CHROMATE
2.CONTAMINATED CHROMATE
3.IMPURITIES IN BATH.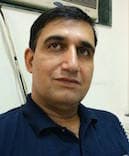 Ajay Raina
Ludhiana, Punjab, India
---
2005
A. The picture indicates red rust. Red rust has nothing to do with the chromate. If the problem is in the chromate you will have white rust.
The main question in red rust is - how many microns of zinc did you plate?
The zinc thickness required depends on the conditions that the parts face. For indoors 8-10 microns will do.
Only if you have enough zinc on the parts you can consider problems coming from moisture, PE, etc.

As I already mentioned, I see no white rust on the picture, I assume you do not have the right amount of zinc on parts.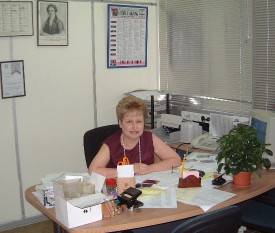 Sara Michaeli
Tel-Aviv-Yafo, Israel
---
2005
A. I would agree with Sara -- seems you got a bad batch with too little zinc plate. Red rust indicates the iron substrate is corroding. A higher resolution photo might show it, but I can see no visible evidence of white rust expected from zinc.

You also seem to indicate the problem parts came from just one of the multiple cartons shown in your photo. Are these boxes all the same product and only one box had rusted parts inside? A likely scenario would be that the barrel plating set-up had a bad or intermittent electrical connection resulting in thin or no plating. Poor cleaning could be the culprit as well.

If the problem was isolated to just that one batch, send the pieces back to the supplier asking for top quality replacements and for detailed info on their QC measures.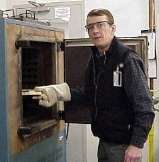 Thomas Hanlon
, Materials Engineer
aerospace finishing - East Hartford, Connecticut, USA
---
2005
A. It's a combination of factors; varying plating thickness, a sea journey without moisture absorbent packing, and too long a storage time before parts were opened.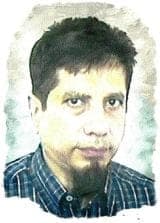 Khozem Vahaanwala
Saify Ind

Bengaluru, Karnataka, India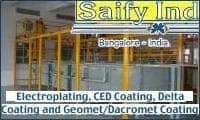 ---
2005
A. I fully agree with Khozem. We have found that many fasteners that are Zinc Plated and imported to South Africa over sea freight sometimes have this problem.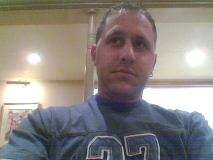 Gary Joseph
Johannesburg,
South Africa
---
---
Multiple threads were merged: please forgive repetition, chronology errors, or disrespect towards other postings [they weren't on the same page] :-)
---
---
Residual Film and foul smell on Zinc Plated Parts
July 28, 2008
Q. Hi,
we are seeing some white dull residual film and a foul smell on zinc plated steel parts sent by sea freight from India to the USA. The shipment was on sea for about 40 days. Can you suggest any improvement in the zinc plating process to maintain the bright finish and avoid the foul smell?
Ninad Diwakar
Manufacturer of steel fabricated parts, User of Plated parts - Nasik, MH, India
---
July 31, 2008




A. Ninad

You realize, that unless you are packaging your parts in an inert atmosphere, you are subjecting the zinc to a rather lengthy marine environment. You could:

1] contact your chromate or specialty chemical supplier and ask them to provide a recipe that will allow you to ship parts overseas without detriment (thicker coating, better chromate, top sealer, etc.)

2] ship your parts by air and avoid the marine environment, or

3] outsource your parts to overseas so you do not need to ship them:)

Willie Alexander




- Colorado Springs, Colorado






---

August 1, 2008




A. Mr, Diwakar,

This must be due to White rust formation of zinc. You have to improve your plating process, use of better long life chromates with sealant on top of it. In spite of all, proper packing is most important for plated articles.




P. Gurumoorthi




electroplating process chemicals - Chennai, Tamilnadu, India





---
---
Multiple threads were merged: please forgive repetition, chronology errors, or disrespect towards other postings [they weren't on the same page] :-)
---
---
November 8, 2010
Q. Hi,

We are importing some fasteners (1.50" thread) which are zinc plated (8-12 microns) with Trivalent white (clear) dichromate. These are packaged in cardboard carton boxes which is lined with plastic to prevent moisture ingress.

The parts are palletized (but not shrink-wrapped) and placed in a 20' container; they spend about 4-5 weeks on board a vessel at sea.

We are finding recent evidence of significant white rust formation (and a few spots of red rust) in the parts. The plating thickness was checked & is correct to specification. In salt spray testing per ASTM B117 [affil link] , we show white rust formation after 10-hours.

Any recommendations on what can be done to avoid white rust formation on these parts? We are unable to ascertain the root cause of this problem. Any assistance you could provide would be much appreciated. Thanks for any help you can provide!
Andy Sagar
Engineer - Houston, Texas, USA
---
November 8, 2010
A. Hi, Andy

If the parts get white rust in 10 hours, the chromate step is inadequate. If the parts get white rust in transit, likely possibilities are that they were packaged wet or, again, the chromate step is in adequate.
10 years ago or so there were two types of chromate, an inadequate and very rarely specified trivalent chromate with salt spray resistance of less than 10 hours, and a very robust hexavalent chromate with salt spray resistance 10x-20x greater. Then the world became concerned about the toxicity of hexavalent chromates, and the major plating process suppliers developed new proprietary trivalent chromates that could (at least in theory) match the salt spray performance of the hexavalent chromates.
I would certainly ask the plating vendor for full details of the proprietary trivalent chromate they are using, whether it includes a topcoat, etc.
silly :-) If you are buying this service from a place that puts cadmium in children's jewelry, sulfides in wallboard, and anti-freeze in dog food, I think you'll need to go there and verify for yourself exactly what they are doing about trivalent chromating process though. Good luck.
Regards,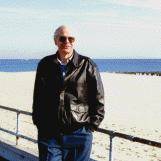 Ted Mooney
, P.E.
Striving to live Aloha
finishing.com - Pine Beach, New Jersey
---
November 11, 2010
A. As Ted implied, dry --bone dry-- is mandatory. There is a good probability that the cardboard is either acidic or emits sulfur fumes. Some vinyl will emit chlorine fumes. All of this is bad!
One partial help is to use VPI paper in the packing. It definitely will help some, but will it be enough?
James Watts
- Navarre, Florida
---
November 14, 2010
A. Hi SAGAR
You have not mentioned your requirement of White Rust and I do not also know which place on the earth Ted is showing his finger!
There are trivalent chromate passivations available which gives WR from 30 hrs to 250 hrs and with the help of top coats it can go up to 400 hrs. You will have to send your auditor to the plater and have a good study of the process.
Products plated and passivated with trivalent chromate has to preferably hot air dried at a heat "not too hot to hold" i.e say up to 60+ °C, Parts have to be handled with care without allowing friction, and packed compulsorily only after 24 hrs- 36 hrs of curing.
It is advisable to use VCI packing material.
You should first know what you want and you also should know how get what you want from your vendor. Or the result will be as Ted said.
Regards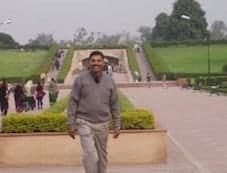 T.K. Mohan
plating process supplier - Mumbai, India
---
November 15, 2010
A. Thanks for the good ideas, T K., and sorry that my reference to China was obscure :-)
I was guessing that when someone chooses to import zinc plating -- a commodity service which is locally available in every corner of our world -- that the choice is pretty much all about price. If the plater then supplies manifestly bad plating that can't survive even 10 hours of salt spray, when the minimum requirement has been 10X that for many decades, then I am guessing that the problem may be that the bargain-basement plater is minimizing costs either by packing things wet, by homebrewing an old fashioned generic trivalent bath, or other big problems, as opposed to the problem being that the low-price plater has purchased an expensive modern proprietary bath but it operating it slightly out of spec :-)
I could be way off base -- but I don't think we can assume that this problem is just a matter of fine tweaking :-)
Regards,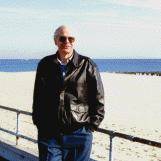 Ted Mooney
, P.E.
Striving to live Aloha
finishing.com - Pine Beach, New Jersey
---
November 16, 2010

Ted, By putting down what I thought was nothing but to have a good smile! nothing else.
Regards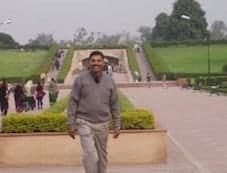 T.K. Mohan
plating process supplier - Mumbai, India
---
November 24, 2010
A. Hello Mr Sagar,

The condensation that happens on account of temperature changes inside the packaging whilst at sea on account of day/ night temperature variations are enough reason for white rust formation to start without probing deeper.

If the screws were originally manufactured with the intention of shipping them, I would suggest that you request for oiling the screws after plating, as you cannot apply too thick a topcoat over the thread pitch that you mention that would be sufficient to keep white rust at bay during shipping.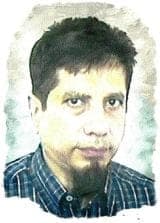 Khozem Vahaanwala
Saify Ind

Bengaluru, Karnataka, India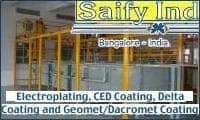 ---
January 2, 2011
A. I agree with Mr. T. K. Mohan and with Mr. Ted, Please ask your supplier to hold passivated parts at least 36 to 48 hours before packing. Ensure components are dried at elevated temperature as said by Mr. Mohan.

Ask your supplier to pack in vacuum boxes/ take out all the air present in boxes.

Regards,
Sanjeev Raman Parashar
- PUNE, Maharashtra, India
---
January 7, 2011
A. The package may have to include silica gel bags to absorb any condensed moisture that may be present due to temperature changes during transits.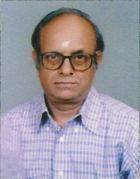 Subramanian Ramajayam
consultant - Bangalore, India
---
January 20, 2011
A. 1. The package is highly important when parts are in marine environment.
2. If I understand correctly, the salt spray test was performed after the shipping by sea. First of all you have to check in NSST prior to the shipping to make sure that your parts have good quality. It there is a decrease between the NSST results, prior and post shipping - it means that you have to improve the package.
3. Ted is right, something is wrong here. Sending cheap nuts overseas ...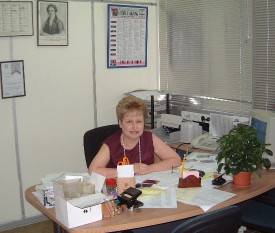 Sara Michaeli
Tel-Aviv-Yafo, Israel
---
(you are on the 1st page of the thread) Next page >
---