Where the world gathers for
plating, anodizing, & finishing Q&As since 1989
-----
Prevention of corrosion on new SS lines and vessels
2005
When new SS (316L) lines and SS (316L) vessels are installed in a new plant, do they need any kind of treatment to prevent them from corroding in a long term?

Does this treatment have to be done on a regular period. If so, what is the suggested frequency?

Is there any compulsion from the regulatory bodies like FDA to have such procedures in place?

I would like to know if there is a standard set of procedure available to follow while commissioning a new Biopharmaceutical mfg. facility with respect to lines/ vessel cleaning

Thanking you,
Chandrakant Kathote
biopharmaceutical manufacturing - Bangalore, Karnataka, India
---
2005
Yes, it is necessary to have the entire system cleaned and passivated with a CIP system or equivalent.

There are FDA validation procedures that are required to be able to startup and maintain the lines and tanks. Every company is different in what it does, but most companies will do regular maintenance, cleaning and repassivation every 6-12 months, as necessary. If you are getting a lot of rouging it may take further maintenance.

Contact us if you need further information or assistance. There are standard procedures available.


Lee Kremer
Stellar Solutions, Inc.

McHenry, Illinois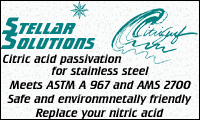 ---
2005
See my post to letter 35040.

It might be a bit late if you have already manufactured the lines and vessels, but if you think that 316L does not have adequate inherent corrosion resistance for the application, then why! oh why! did you use it in the first place?

But if you haven't yet manufactured the items, I suggest you look at using a grade of stainless that is adequate for the job, and then you won't have to repeatedly shut down the operation to repair inadequate material.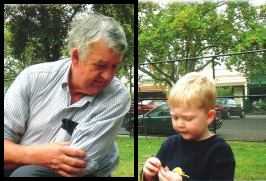 Bill Reynolds
[deceased]
consultant metallurgist - Ballarat, Victoria, Australia
We sadly relate the news that Bill passed away on Jan. 29, 2010.