Where the world gathers for
plating, anodizing, & finishing Q&As since 1989
"Sanding aluminum sheets and tubing"
-----
2005
I am a journeyman carpenter in the museum/trade show/convention industry. I work with a wide variety of materials on a daily basis, all projects are custom & fairly low volume.

One of my favorite materials is aluminum, both for structural & aesthetic applications. I am not a welder, however I often grind, sand & polish what welders fabricate. I have worked for several of the largest companies in my industry for 25 years & have yet to see a sanding protocol that produces an acceptable finish in a reasonable time frame. I commonly sand 4' x 8' sheets in various thicknesses, including laminates with & without phenolic backing.

My current project is fairly typical & serves as a good example. 30 welded curved frames constructed out of 1 1/2" square aluminum tubing w/a 1/8" wall. Each frame represents approximately 34 lineal ft. of tubing. All surfaces show & the desired finish is a clearcoat over a sanded finish. Grinding usually starts @ 36 grit, 6", "Klingspore" followed by 60 grit, followed by sanding w/5" Dual Action sander, usually 80 grit "3-M" paper followed by 120 grit. The spiral DA pattern is generally acceptable for most projects. This is an extremely time consuming process & to date, no welder has come up with a procedure better than my own. I use inordinate quantities of sandpaper & grinding discs, & the entire process seems needlessly labor intensive. I like the size, weight & rpms of a pneumatic DA sander. However, they bog down under heavy loads ( I oil them regularly ) & their cfm demands are too high for most compressors. I do have help & I could be driving half a dozen DA's at the same time. The clutches also seem to wear quickly when used continuously on aluminum. I am currently using 5" electric DA's, these seem to work best since they can tolerate higher load pressure without a notable drop in rpms. The best product I have used to date is Grinders Grease in tube/stick form. This greatly speeds up all machining evolutions ( 5 minutes vs 30 ) & I use a lot less grinding wheels & sanding discs ( 1 vs 5 ). I am contemplating using a variable speed polisher for sanding, but I'm not impressed w/their rpms ( 3,000 to 6,000 ) Using grinders grease on my grinding wheels & sanding discs not only extends their life but also allows me to use much higher load pressure. The faster my rpms, the higher my load pressure, the better my results. My last idea is to use a small hand grinder married to a sanding disc ( 10,000 rpms with substantial torque ).

Whatever I decide to try, my employer signs the PO, so any help & or suggestions would be greatly appreciated by a carpenter wannabe metal finisher. I would very much like to present an intelligent idea to improve these procedures, however I'm fresh out & frustrated.

Thank you for your time and consideration.
Aaron L. Burks
woodshop - Nashville, Tennessee USA
---
2005
Have you ever consulted a manufacturer of abrasive products? You know there have been a lot of changes in abrasives and equip. You might like to look at non-woven products or some of the newer flap discs. There are some discs with holes in them to eliminate loading problems. I suspect you are going to have to do a lot of R & D on your own. Then again, you have procedures in place to fall back on.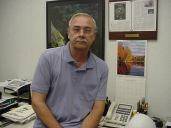 AF Kenton
retired business owner - Hatboro, Pennsylvania
---
2007
Have you tried using zirconium pads or disks? I use 80 and 120 grit zirc belts on my Timesaver Sander, and they produce a high-quality finish in short order, and last a long time. I believe Kling-spore has these products.
Robby
Robert Smith
mfgr. - Garland, Texas, U.S.A