Where the world gathers for
plating, anodizing, & finishing Q&As since 1989
-----
How long can brass stay totally submerged in water?
2001
Q. I am a collector. I recently acquired what is originally a large brass vase with removable cover (largest diameter 11 inches, total height 23.5 inches). It was handcrafted circa 1900 by natives of southern-most islands of the Philippines close to Borneo in the Celebes Sea. The vase was in the form of a table lamp when acquired.

It has an area, about 15% of total surface, that has bluish green deposits that I could remove by slight filing; however, since the artcraft is intricately carved, it is virtually impossible to file them away without damage, plus it will take a lot of time that I don't have. The deposits look like oxides from an acid spill (guessing here).

What is the best way to remove those deposits and restore the original metal?

To everyone who responds, thanks.
Joe Zagala
- Mississauga, Ontario, Canada
---
2001
A. That simply is oxidation on your vase. I don't know how sensitive or old the piece is, but I'd suggest you try "Nevr-Dull [affil link]",
Anahita
- San Diego, California
A. Hi Joe. Anahita's advice to simply use a metal polish or brass polish is fine as long as the item is not truly valuable. But if it is, then you should probably look up "metals conservator" and have a professional handle the problem. Good luck
Luck & Regards,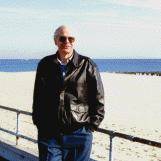 Ted Mooney
, P.E.
Striving to live Aloha
finishing.com - Pine Beach, New Jersey
---
---
2005
Q. I am in 11th grade, and I am doing research on brass for a novel, and I have some questions. I found this website, and read a posted question about brass, but I have a couple more questions to ask. First, How long can brass be left totally submerged in water? (this would be lake water or water in a stream). Can it be left in for -days? -weeks? -months? -years? Also- Does Brass rust after being left in water for long periods of time. If you can help me with this please post a reply. Thank you.
John B.
[last name deleted for privacy by Editor]
student - West Bend, Wisconsin
---
2005
A. Brass does not rust, only iron-bearing materials will rust. Brass will corrode however. There is no good answer to your question as it will depend on the quality of the water. If completely submerged in a clean stream or lake that does not have a lot of offending materials like a low pH or sulfides and etc, it will probably last for many years and only slowly grow a corrosion layer.
James Watts
- Navarre, Florida
---
2005
A. Sorry to be evasive, but the lifetime of brass will depend on a lot of factors, not least of which is what type of brass you use. Furthermore, there will be a major dependence on the chemistry of the water. Brass can undergo "dezincification", when the zinc dissolves out of the brass to leave behind spongy copper. This not only changes its appearance, but also significantly weakens it. The rate at which the zinc is removed will depend on factors such as oxygen content, pH, chloride levels, temperature etc. In an extreme circumstance, attack on the brass could be evident in a matter a few days.

Trevor Crichton
R&D practical scientist
Chesham, Bucks, UK
---
2005
A. As above, lots of factors involved.
But you need to know which copper alloy is to be submerged, and what the environment down there would be.
Consider bronze (copper and tin mainly) (not brass - copper and zinc mainly) cannons lifted relatively intact from sea bed after hundreds of years (cannons often in low oxygen conditions of silt/mud.
Trevor is right, brass is worse and would dezincify, especially in contact with other metals, ask any marine engineer or sea-going boat owner.
For lakes and rivers (presumably both fresh water), corrosion rates would however be much lower.
Regards
Martin Rich
Marine Industry - Plymouth, Devon, UK
---
---
February 5, 2009
Q. In your opinion, how long could brass be kept in a stone box and buried in the earth before it began to corrode? How long would it take for it to corrode altogether? Thank you.
Barbara LeFevre
- Dover, Delaware
---
February 18, 2009
A. Brass pins have been unearthed in the Philippines that are estimated to be from 2000 B.C., Barbara. If you search for articles about historical brass artifacts, you'll get some additional ideas. Please try to describe your actual situation -- not only because the exposure conditions could vary from horrendous (mine water intrusion?) to highly benign (absolutely dry?), but because readers tell us they enjoy responding to human interest situations but they dislike flash quiz style questions :-)

Thanks.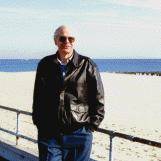 Ted Mooney
, P.E.
Striving to live Aloha
finishing.com - Pine Beach, New Jersey
---
---
September 13, 2011
Q. Hi, I have a 14" tall Carp Fish decor made of brass. I plan to place it above the catch basin of the waterfalls leading to my fish pond. Doing so will partially submerge the bottom of decor (2") under water. It will also be exposed to sun light. I live in the Philippines where temperature ranges from 28-37 degrees F whole year round with frequent raining & typhoons.

Q1. Should I go ahead and do it or should I display it somewhere else, i.e., away from water and sun?

Q2. Is there anything I can do to protect the decor from deteriorating? I read somewhere that even the clear lacquer protective coating will peel off under water.

Q3. The hardware store sells Elastomeric (sort of rubberized) coating for sealing roof leaks. Is it advisable to coat the bottom part of the decor to protect the portion that is submerged under water?

Any advice will be greatly appreciated.
Joey Lee
pond hobbyist - Quezon City, GMA, Philippines
---
---
November 14, 2017
Q. Hello all. This is a related brass/bronze question. I'm writing a novel in which an artifact from a sunken ship comes into play. I was imagining something made of brass, bronze, or copper. The shipwreck area is Lake Superior, which has a temperature ranging from 32-55 degrees F (0-13 degrees C). The depth of the wreck is at my discretion, as this is fiction. However, I like to be as accurate as possible.

1) What kind of damage might such an object sustain (due to the cold fresh water) over a period of 100-200 years? (Tarnish, corrosion, etc.)

2) How thick/heavy would an item need to be remain intact at a depth of 100 feet? I had considered using a wooden box with metal components, but I feel that might deteriorate significantly.
Thanks for your help!
Kristie Boman
- Denver, Colorado, USA
---
November 17, 2017
A. It's only a guestimate, of course, but after 150 years submerged in cool fresh water, a small coin sized piece of brass would probably be corroded beyond recognition. Bronze or copper would survive in much better condition, original imprints likely being discernible.

Of course it depends on the composition of objects made long ago, and the conditions - was it buried in mud, subject to tidal action?

If your scenario depends on the object being in recognizable, possibly usable condition, I'd go with bronze, although copper might do about as well.

If your scenario changes to warm, tidal saltwater, then bronze.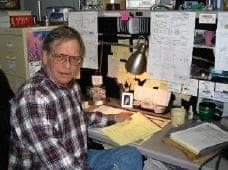 Jeffrey Holmes, CEF
Spartanburg, South Carolina
---
November 16, 2017
A. You may want to take a look at the Riace Bronzes that were found in 1972 in the sea near Italy and date from the 5th Century BC. They likely have been in the water for at least a couple of thousand years.
Neil Bell
Red Sky Plating

Albuquerque, New Mexico
---
November 19, 2017
A. Hi there. I was just at the Athenian Archeology museum researching this very issue. They have several recovered sculptures in marble and brass with extreme underwater (fresh and sea water) corrosion. I sent some images to this finishing site: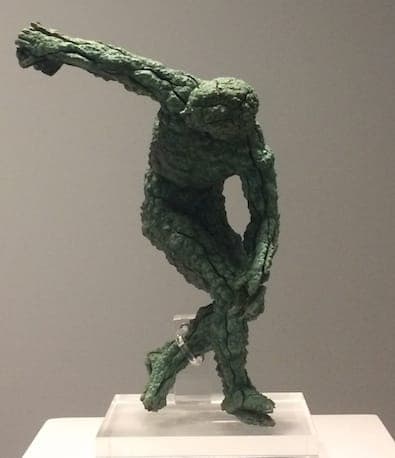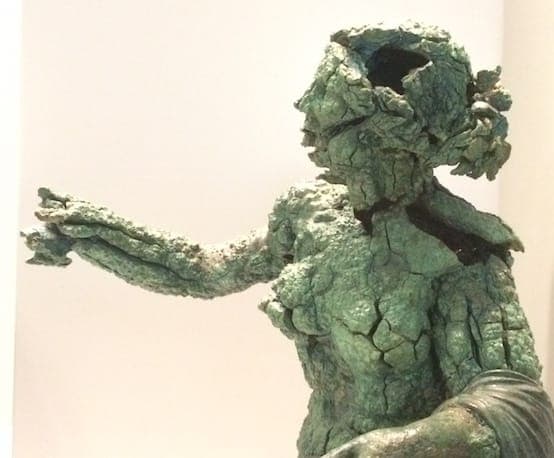 Best
Raphael
Raphael Lyon
Artist - Brooklyn, New York. United States
---
November 22, 2017
A. Two small thoughts
Until probably the 19/20 century "Brass" commonly referred to Bronze. Hence 'Brass cannon' are invariably bronze a copper tin alloy not copper/zinc brass.
Secondly, you might like to look up 'antikythera mechanism'
Images and fascinating videos of reconstruction - and food for thought for a writer.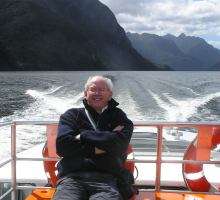 Geoff Smith
Hampshire, England
---
---
May 15, 2019
Q. Hi I found a pot buried in my back garden. It must have been buried for at least 20 years. I cleaned it up and now it is sparkling. It looks like brass. Is this possible or should it have corroded more?
Oscar Hanlon
Ms - United Kingdom
---
May 17, 2019
A. Hi Oscar,
Corrosion rates are affected very much by soil moisture and chemical characteristics, so there's no good answer to your question. One interesting tidbit, though, is that for many metals, the oxidation layer on the surface actually protects the substrate from further oxidation~ think of the 'verdigris' you see on statues. There's even a type of steel that was engineered to rust itself a nice protective layer and then stop! But even that is subject to environmental factors, and if it's damp and salty enough, all bets are off.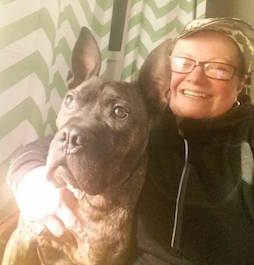 Rachel Mackintosh
Lab Rat and some other things - Greenfield, Vermont
---
---
September 8, 2019

I have what looks like a brass button for overalls. I found it in a spring close to Lake City off the Swanee river. It was on an old civil War wreck. It was green on the back when I brought it home in 1970. The green fell away and it is in perfect shape.
Greg H
[last name deleted for privacy by Editor]
- Brunswick, Georgia USA
---
---
Can Brass Vase Be Filled with Water for Flowers?
September 5, 2020
Q. Hello,

Sorry if this is a daft question but if I put water in a brass vase (for flowers) is that ok to do or is it going to damage the brass overtime? The vase is already vintage and I don't want to damage it.

Thank you :)
Holly Hannah
- Scotland, United Kingdom
---
September 2020
A. Hi Holly. We added your inquiry to a thread where you can read lots of perspectives on the issue. The short answer is that water is going to be be reasonably non-harmful to a brass vase.
Luck & Regards,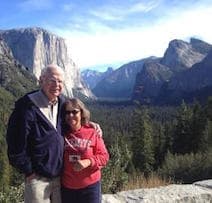 Ted Mooney
, P.E. RET
Striving to live Aloha
finishing.com - Pine Beach, New Jersey