Where the world gathers for
plating, anodizing, & finishing Q&As since 1989
-----
Clear coat sealer/varnish for cast iron

Q. I too have a wrought iron birdbath; and realizing this not what you should use for birds as this will harm them of the metal contents, But wondering is there is a sealant to use to cover & still be bird friendly?
Charnae Smith
- Springfield, Oregon
March 5, 2023
A. Hi Charnae. I have heard several times that galvanized cages are bad for parrots because they peck at them and ingest excess zinc, but I haven't previously heard about iron being bad for birds in general. Do you have it on good authority that iron is bad for birds? Did a vet tell you, or can you suggest an article you read on the subject?

But as vets often remind us, birds aren't people. So it's probably not likely that anyone knows which paints are and aren't bad for them. So if you want to protect the iron, one clearcoat is probably as good as the next for the birds :-) Luck & Regards,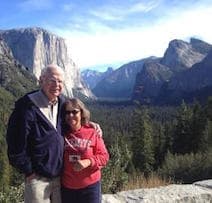 Ted Mooney, P.E. RET
Striving to live Aloha
finishing.com - Pine Beach, New Jersey



---
---
↓ Closely related postings, oldest first ↓
---
---
Q. Hello,

I'm looking for advice on what sort of finish I should use on my cast iron hand pump (at my cabin's kitchen sink.)

Four years ago I re-did the old thing by hand sanding it down to remove all rust and the former paint job, and then just painted on a Rustoleum brand high gloss metal paint. Didn't prime it, as Rustoleum didn't require that.

Rust is coming through again, though. I'm a bit lost as to what is available-- is there a type of product I can use myself that will last longer? Is it 'food grade'? Or should I have some sort of ceramic/baked on finish done? What sort of shop would do something like this? auto paint shop or a ceramic craftsperson?

Any help appreciated.

Thank you!
Patrice Bee
- Okanogan, Washington
2001
A. I have seen some beautiful work done on parts of a sailboat by a local 'powder coating' company. I'm not real sure of how it's done but I believe it would be worth looking into for your pump. Even though it is called 'powder', the finish comes out a a super tough painted looking finish. - Good Luck!
Robert Cowan
- Pensacola, Florida
2006
A. Powder coating, in simplest terms, consists of charging the part with static electricity, and then spraying plastic onto it as a very fine powder. Then the part is baked in a oven whereby the plastic flows into a liquid that covers the part. When it cools, the part has been coated. It is considered an environmentally friendly process because it achieves pretty much the same thing as painting, and in some ways better, without requiring any solvents.

I would expect the powder coating shop to do phosphatizing before the powder coating, which will help to deter rust.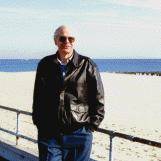 Ted Mooney
, P.E.
Striving to live Aloha
finishing.com - Pine Beach, New Jersey
---
---
Multiple threads were merged: please forgive repetition, chronology errors, or disrespect towards other postings [they weren't on the same page] :-)
---
---
Q. I purchased two cast iron French garden statues from a dealer. He promised to send info on how to turn the rust a green color and inhibit future rust but he has gone out of business with no forwarding address. Can anyone please help with any possible treatments for the statues? They are about 5' high.
Stuart Hanford
- Lebanon, Pennsylvania, USA
2002
Q. Sorry I can't help you but if you find the answer to your question I would love to know.
Thanks,
Nicholas Subryan
- Bridgetown
A. You can colour it black. Here is recipe!
20 gm tannic acid
15 gm phosphoric acid
1 lit. H2O
Spray or paint on thoroughly degreased object! Lacquer it if you want !
Goran Budija
- Cerovski vrh Croatia
A. You can paint Cast iron in any color you like.
It is best to paint it with a paint called Hammerite Rust Cap [affil link]
since it can be used directly on rusted surface. You only need to brush the loose iron off.

You can also use two colors of lacquer to get an antique look on the surface.

First apply the darker color on all the surface and then spray the lighter color onto a cloth and apply the color with gentle strokes (not to much)

Try using black and gold or Black and Bronze.

Good luck!
Thorsteinn Jonsson
- Keflavik, Iceland
---
---
Q. I have an outdoor fountain made of cast iron. I need a clear coat sealer to keep it from rusting. Any suggestions? Thanks.
Steve Johnson
- Columbia, South Carolina
2005
Q. Would like to know if you found anything. I, too, have a cast iron bird bath that I need some sort of sealer to stop it from rusting. HELP...PLEASE....SOMEONE.
Kathleen Leffew
- North Carolina
2005
A. According to a metal sculpture workshop I took in preservation of metal/bronze items, the best coating is marine varnish with a UV additive. Even with that, the maintenance on the item should be every 6 months for upkeep. There is a book by Ron Young "Contemporary Patinization" that explains the care of outdoor fountains from rust and bird poop.

"You must put a stop to rust..."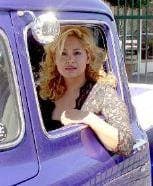 Alicia Moreno, La Kromadora
Escondido, San Diego No., California
2005
A. I was looking for an answer to this and have found on other sites a reference to a product called POR-15 [affil link]. I have not tried it yet, but will give it a shot. I just thought I'd share.

It is ridiculously expensive though :-(
Robert Champney
- Orlando, Florida USA
February 27, 2008
| | |
| --- | --- |
| | Ed. note: Readers, to the extent possible, please suggest generic types of finish: polyurethane, varnish, epoxy, lacquer, wax, preserving oil, single-component or 2K clearcoats, etc., rather than a brand or source ( huh? why?) |
---
---
Varnishing cast iron?
Q. I have some 19th century containers made of cast iron. Now that the old paint and rust have been taken care of, and liking the look and color of the cast iron, I thought about using a transparent finish instead of re-painting. Since rust prevention usually includes a primer coat of paint followed by the finish coat paint layers..., what about varnishing?
William O'Neill
surgeon. - Stavelot, Belgium
February 12, 2009
---
---
Clear lacquer for cast iron bathtub
Q. Can anyone one help, we manufacture cast iron baths and some of the baths are polished on the outside of the bath and are lacquered. The problem we have is that some eventually start to rust under the lacquer, this can happen prior to fitting (thank goodness) so somehow we are getting I guess moisture trapped under the lacquer. So my question is does anyone have experience in this and have a process that can eliminate such problems.
Regards
Steve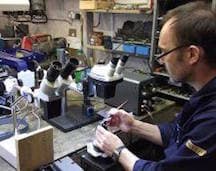 Steve Thompson
- Lincolnshire UK
August 21, 2013
A. The full process details would have been more helpful, but try heating the cast iron bathtub at 120 °C for about 30 minutes Effective Metal Temperature. That will drive the moisture out from the porosity inherent in the casting. Allow to cool before you carry out the next step but do no leave it long without the protective coating. All the best.
Gurvin Singh
Mohali, Punjab, India
A. Gurvin has a great idea. Another way is to use multiple steps, similar to the steps you are using now but to add a few additional steps. For example, you may need to use more than one coat and not just go straight to the lacquer, instead use a primer prior to final top coat. You may find it's best to use a color that mimics the original coloring or go with something more common like black.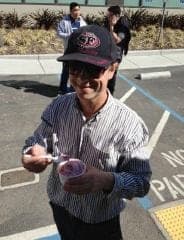 Blake Kneedler
Feather Hollow Eng. - Stockton, California

Hi and many thanks for the responses, much appreciated. I will update once we have come to a resolved state of play.
Regards
Steve
Stephen Thomspson
[returning]
- Lincolnshire, UK
---
---
Q. I have a school Bell from 1886 ... what is the best clear coating product to keep it from rusting?
Barbara Kathryn Barnes
- Kenner, Louisiana
February 26, 2018
A. Hi Barbara. I'm surprised that it's made out of cast iron rather than brass or bronze. Have you tested it with a magnet? But I think the thinner single-component coatings like Everbrite [a finishing.com supporting advertiser] are probably better towards not distorting the peal of a bell than heavier two-component coatings. If it actually is brass or bronze you might also consider brass lacquer [affil link] because this is periodically redone fairly easily.
Regards,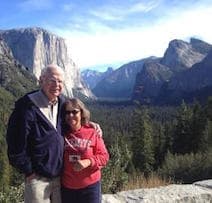 Ted Mooney
, P.E. RET
Striving to live Aloha
finishing.com - Pine Beach, New Jersey
---
---
Q. Please help, I have a iron cast sculpture angel that was painted a cream color that was starting to rust. In one year outside it's starting to rust more. Paint is flaking off. How can I preserve it with clear sealant before it gets worse. I don't want to repaint it, just seal it to prevent further flaking.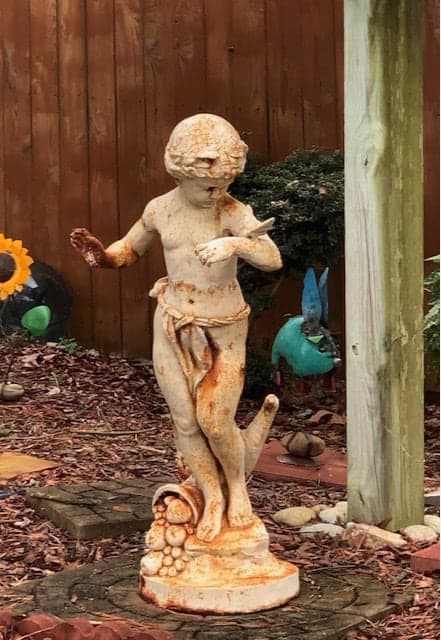 Bjean stutts
- Maumelle, Arkansas
February 17, 2019
A. Hi Bjean. Unfortunately I think your plan to maintain that lovely statue may not work. Clearcoats are not shrink wrap; they will not stop the rust or the paint from flaking. Applying them on top of flaking paint and loose rust will likely only result in the clearcoat and paint coming off together.
But try a thin penetrating clearcoat like Everbrite [a finishing.com supporting advertiser] and hope for the best; they have a page about protecting rust finishes Eventually you may want to have the statue abrasive blasted and phosphated before painting.
Regards,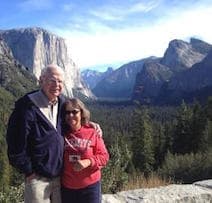 Ted Mooney
, P.E. RET
Striving to live Aloha
finishing.com - Pine Beach, New Jersey
February 2019
---
---
Q. I have an antique cast iron fireback, which I have de-rusted and polished. My plan is to attach it to the wall behind my stovetop as if it were a backsplash. I would like to seal it so that it does not rust again. It weighs a ton (not really, but at least 300 pounds), and because of where it will be positioned and its weight, it will be almost impossible to take it down again after it's up. Any help would be appreciated. Thanks.
Harry LEMBECK
retired - Kennesaw, Georgia USA
March 29, 2020
A. Hi Harry. That's as much a question of taste as performance. Easiest and most durable would be blackstove paint (brush on) [affil link]; it's made for the job. But covering up your polishing work with black paint may not satisfy you. You can also just do a clearcoat, assuming the atmosphere is not excessively corrosive. A middle of the road solution, and the one I'd prefer is stove polish [affil link]; it is gray and matte, but does let some of the character show through.
You mentioned the weight of this fireback, which may limit how you can handle it, but ideally it should be spaced out a little bit from the wall rather than being bolted tight to it, and with an air gap on the bottom, because the way such devices best help provide fire protection is by being having air cool the radiant heat they absorb, and they're able to do a better job with air flowing on both sides of it, rather than conducting heat directly to the wall.
Regards,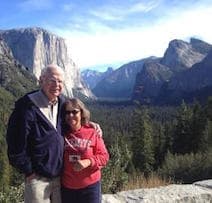 Ted Mooney
, P.E. RET
Striving to live Aloha
finishing.com - Pine Beach, New Jersey
April 2020

Thank you, Ted. I used the stove polish [affil link] you show in your answer to buff it up after I got all the rust off with a wire brush. It looks great, and I think I'm taking it as the middle road you suggest. I especially appreciate your suggestion about the space between it and the wall. It may have to be a small space, because the gap between it and the wall will be small, since the bottom will fit snugly between the burners and the wall. I'm thinking this will help keep it in place. But I have space above the burners and may lift it to accommodate the a gap.

Thanks again. I'll let you know how it turns out.
Harry Lembeck
[returning]
retired writer - Kennesaw, Georgia, USA
---
---
Q. Hi, I am removing the rust from inside my cast iron bird bath,
I want to clear coat the inside to prevent any more rust, but need something that will be nontoxic to birds.
Any ideas?
Thanks
Pat Trish
- Port St. Lucie Florida
March 5, 2022
---
A. Hi Pat. As vets occasionally remind us, birds aren't people, so I can't be totally sure ... but I don't think common clearcoats are toxic to people or birds.
Luck & Regards,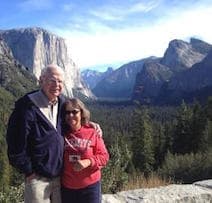 Ted Mooney
, P.E. RET
Striving to live Aloha
finishing.com - Pine Beach, New Jersey