World's #1 on-line resource since 1989
-----
Best and Easiest way to refine gold dust to get 99.9% purity
---
---
A discussion started in 2005 but continuing through 2020
July 5, 2015
Q. This is my first appearance on the site. I'm a hobbyist-artist interested mostly in painting Tibetan thangkas (age old traditional Buddhist scroll paintings). Since very early, painters have used gold dust in painting these thangkas. To make gold dust I dissolve pure gold in aqua regia but, like we all know, we get brown gold dust after precipitation. My objective is not to obtain the solid glittering piece of gold that we get after heating high to the dust, but to get the gold dust that has ink-like flow when painting, for which I still grind the gold dust in the mortar with pestle. But my problem is how to get back that natural gold luster to the brown gold dust so that I get the lustrous golden ink-flow painting?

My sincere regards,
Razen Sakya
- Patan, Bagmati, Nepal
---
July 7, 2015
A. Simplest solution - try Kremer Pigments Inc company; they sell gold powder .... or try to make gold powder by DIY method. Take gold leaf and water mixed with honey and rub it on some hard surface (unglazed porcelain plate). That powder can be used as pigment.

Hope it helps and good luck!
Goran Budija
- Zagreb,Croatia
---
May 29, 2016
A. Gold bad color. Might try washing in water with a little ammonia. Really brightens my gold. Also consolidates it.
ron bragg
- ANGLETON Texas USA
---
---
ACRONYMS:

AP = Acid-peroxide (HCl + H2O2)
July 7, 2015
Q. What purity can one expect using AP on E-Waste? Seems it would be safer and less expensive than Nitric Acid, but what is the purity trade off? Just Curious. Thanks.
Richard Spencer
Retired - Columbus,Indiana USA
---
---
INQUARTATION:

The addition of silver to a gold-silver alloy in order to facilitate the parting of the gold by nitric acid.
July 16, 2015
Q. Sir

Kindly let me know for the INQUARTATION TREATMENT PROCESS

What should be the gold content in the alloy of only gold and silver.

GOLD CONTENT MAXIMUM

SILVER CONTENT MAXIMUM
Thanks,
Vinay
Vinaykumar Kanchagar
- Mumbai Maharashtra India
---
July 18, 2015
A. Hi,
Inquartation means Quarter.
If I have 100 gm 18k gold, it contains (18/23.88)% = 75.37 pure 24k gold and 100-75.37 = 24.63 gm other alloy.
Now you have make it 6k by adding other base metal like impure copper or impure silver.
Inquatz means 75.37 * 3 = 226.11-24.63 = 201.48 gm of base metal added for making grains and do the refining using nitric acid.
226.11+75.37 = 301.48.
(75.37/301.48)% = 25 means 6/24 % =25.
bhupesh mulik
cac admixtures - mumbai,india
---
---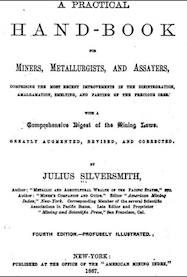 February 15, 2016
Q. For any who has not read it, a book by Julius Silversmith, written in 1867, would be of considerable interest to anyone interested in gold/silver, etc. Downloadable on Google books =>

I have been prospecting Au placer deposits, here in the gold country, Nevada County, California.
This winter thus far has produced a great number of very hard pounding and extended rain storms, unlike any I have seen in all the winters I can recall in my 46 yrs of life.

The result of this unusual weather has been an incredibly large movement of sands and gravel and ancient riverbed containing Au deposits, from the estimated 146 million cubic yards of untouched Au/gravel deposits here, as I never before could imagine.

Thus (although gold not visible with the naked eye in all of it) I have been able to recover hundreds of lbs of ancient riverbed washed out by the enormous amount of high currents from the abnormally hard and extended watershed.
Some of this ancient river bed has gold flake visibly embedded and visible throughout it.

To the chase:
I'm seeking an easier process, other than using a hammer to smash the ancient riverbed into pieces and then using a gold pan to pan the crushed riverbed to recover the gold.

Also the process of recovering the enormous amount of gold dust and particles from the water I have been using to pan the crushed up gold out of the ancient riverbed.

It looks as if there is as much visible gold particles in the water after I break the pieces of ancient riverbed up and pan the gold out as there is at the bottom of my gold pan, and I believe I am losing it all thus far.

Another prospector and I spoke and he said, the oceans of the world have a content of 30% gold, but it remains unrecovered due to the lack of a economical process to recover the gold in them.
I'm needing to process and recover the gold from a few gallons of water that has particles and dust in the water that I have used to pan the gold from the ancient riverbed with.

For those who just got the new idea of northern California gold prospecting:
This was and is not a good idea. Disregard this new idea you have formed as imaginary, pure fantasy and complete craziness.

A prospector's life here is freezing cold, rough and rugged, bleeding busted open old scars and skinned up broken cold toes and hands, elbows, knees; broke and broken up, backache, leg limping, soaking wet and freezing cold hungry, and alone, in the middle of these unforgiving rugged freezing mountains.

Basic survival is a full time 24/7 job everyday and there is in no way any guarantee that one won't die frozen, starving and alone, unknown and unfound, or drowned up here in these rugged mountains of northern California from something as trivial as a sprained ankle, or small as a broken bootlace.

Saying this and needless to say more, all and any operational help will greatly be appreciated.
Greg Ferguson
- Grass Valley, California, U.S.A.
---
May 7, 2016
A. I try not to use Aqua regia on gold anymore because when I use the Aqua regia I notice a lot of the gold disappears. I think some gold is lost through vapour. Maybe you should try to collect the vapours from the aqua regia. If you melt gold in a blast furnace the wrong way it could vapourize on you if you get it too hot. I don't use mercury anymore but the Old prospectors would roast the gold ore, then they would coat a copper trough with mercury by diluting nitric acid with clean water I think half water and half nitric acid. They would pour mercury into a sock, dip it in the nitric acid water sol'n, then coat the copper trough with mercury. After the copper trough was coated they would mix the ore with water and pour the mud down the copper coated trough. It worked better than a sluice box. The Mercury attracts the Gold like a magnet. Thank you Sierra Nevada for your comment.
Robert Fritchey
Mr. - Denver, Colorado (Denver County)
---
---
May 29, 2016
Q. Stripping circuit boards, pins, fingers using mp. Set up a shop and use gallons of mp and pounds of material. Yield is incredible. Flush and filter with water to correct pH. Not one thing not going according to plan except when melted in a kiln I get dust or nothing at all. Have used borax and no borax. What gives?
ron bragg
- ANGLETON Texas usa
---
July 4, 2016
Q. We are running business of providing Gold Testing Report.

This is a new business for us and I would like to clarify about Refining in this thread.

Some customers come in with a gold piece for testing and they say this is for Refining. This is where we are confused.

He gave 18K which contains PPT of 783.4. This is the result of what our Testing Machine gave as an average after several testings made.

However the customer was unhappy with the results and stated that they did not get the exact results after refining. Then they tested the same gold piece from another Testing Center which resulted with PPT of 777.6.

We are pretty much sure that the other Testing center has made a calculation and reduced the test results from what their machine actually displayed.

Here I would like to know, if there is any specific calculation we need to make for any gold that is for refining? If so, what is the exact calculation?

We do not want to miss our customers and currently some of them are unhappy, stating that they are losing several grams of money after refining and requesting us for the correct results for Refining.

Please help us on this...
JASON YOGANTHAN
Gold Testing - Colombo, Sri Lanka
---
November 23, 2016
Q. I am looking to turn 24ct gold into gold powder to use as painting color to use in thanka( tibetan)painting. Is AR the best method to convert solid gold into fine gold powder(precipitate) will this result in 999.9 grade gold powder?? Is it possible to bind this powder for storage and dissolve this again into paint? And can this powder used as gold paint?
Price dk
- Kathmandu,Bagmati,Nepal
---
January 16, 2017
Q. Driving me crazy but I'm not quitting till I get it correct.
Hello. I have a problem and I think y'all can help. When I take my scrap gold out of the crucible it has a copper color and I don't know how to fix it. Could you help me please ?
Joel Stegner
- Leechburg Pennsylvania United States
---
January 2017
A. Hi Joel. I'm not a gold refiner but I've read that the Conquistadors had a similar problem when they melted the mexican gold they had looted. It turned out to be a mostly copper alloy which had been 'surface enriched' to dissolve away the copper and leave a gold surface :-)
If you've simply melted some scrap, which is predominantly copper but has a very thin plating of gold on it (millionths of an inch thick), why would you feel that the contents of your crucible would be gold rather than copper? Please start by weighing it and telling us its density -- from that we can probably tell you if your metal is mostly copper. Good luck.
Regards,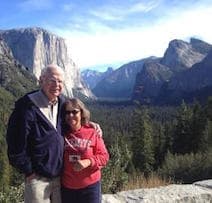 Ted Mooney
, P.E. RET
Aloha -- an idea worth spreading
finishing.com - Pine Beach, New Jersey
---
---
September 30, 2017
Q. Sir,
If scrap gold has iron any problem for Purity and Recovery?
raja natarajan
- tamilnadu,india
---
October 3, 2017
A. Raja,

It depends on the chemical used to dissolve the gold. With cyanide, you will probably have no problems. With acid, you should dissolve all the iron also. Otherwise, the dissolved gold can re-solidify (cement; immerse) back onto the undissolved iron. If possible, manually remove the iron before dissolving the gold.
Chris Owen
- Benton, Arkansas, USA
---
---