topic 34663
Dissolving Steel and NOT Aluminum
A discussion started in 2005 but continuing through 2017
2005
Q. I am looking for a chemical that will dissolve carbon steel and not aluminum (a100 or a380). Basically I have a squirrel rotor from an ac induction motor and I'm looking to dissolve the steel laminations and leave the aluminum cage so I can inspect for porosity etc. Is there a magic chemical? Also, I would like for this chemical to do this rather quickly...not weeks but days, if possible.
Thank you!
Chris Osgood
OEM - Rochester, NY USA
---
2005

A. Reverse current in 15% sulfuric acid should do the trick.




Jeffrey Holmes, CEF




Spartanburg, South Carolina





---

2005

A. I think the inquirer wants to dissolve steel and retain the aluminum; this can be done using REVERSE SULFURIC ACID STRIP. Basically the steel is electrochemically dissolved while the aluminum is oxidized forming aluminum oxide (a.k.a. anodizing the aluminum component).




Milt Stevenson, Jr.

Anoplate Corporation

Syracuse, New York




---
2005

Thanks guys.
Correct, I am looking to keep the Al and dissolve the steel. I'll try the 15% sulfuric with the reverse current.
Chris Osgood
- Rochester, New York USA
---
2005
Q. Gentlemen,
Anodizing is certainly not my field but I didn't notice any reference to the temperature of the acid in the previous advises. I understand the temperature for anodizing must be quite low to avoid attack to the aluminum. Is this correct or is it applicable in the case of this gentleman from Rochester?
Thanks,
Guillermo Marrufo
Monterrey, NL, Mexico
---
2005
A. Some aluminum will be dissolved, but at temperatures below 70 °F the amount will be negligible.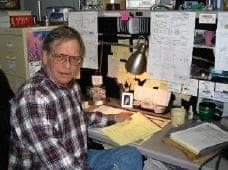 Jeffrey Holmes, CEF
Spartanburg,
South Carolina
---
December 14, 2011
A. Here's another possible solution: Boil the part in alum. I do band instrument repair, and a common problem we encounter in this trade are steel screws or rods seized inside brass parts. One way to remove the steel is to boil the part in a solution of alum and water. This will rapidly rust the steel and it corrodes away to nothing. It has no effect on brass, copper, nickel, silver or gold. I don't know if alum has any effect on aluminum, I did not find any information on that in the 60 seconds I searched google before writing this post. If you try this method, be sure to add water to the solution every hour, as it will boil off rapidly.
Matt Scott
- Wilmington, North Carolina, USA
---
---
October 23, 2017
Q. How can I dissolve low carbon steel?
El Tavasoli
- Montreal, Canada
---
October 2017

Hi El. Under the circumstances I can't understand what your question is. Please introduce yourself and your situation and explain your objection to the answers already provided. Thanks and good luck.
Regards,
Ted Mooney, P.E. RET
finishing.com
Pine Beach, New Jersey
Striving to live "Aloha"


If you have a question in mind which seems off topic, please Search the Site